Christmas in Canaan
R2 - United Kingdom - Odyssey
Review written by and copyright: Samuel Scott (29th October 2014).
The Film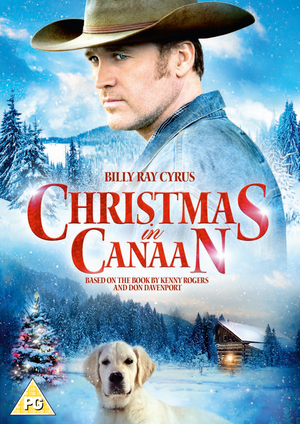 ***This is a technical review only. For reviews on the movie from various critics, we recommend visiting HERE.***

After a fight between classmates DJ and Rodney (Jaishon Fisher and Zak Ludwig), their parents take action to make them spend time together and attempt to overcome the racial barriers that are plaguing their surrounding rural Texas in the 1960s.

The pair's differing personalities and their town of Canaan don't make it easy for them to get along, but caring for a wounded puppy brings them together over the festive period. The boys form an unlikely friendship but will it be strong enough to have any affect on the wide-reaching racial tension in Canaan?

Video


Independent British distributor Odyssey have made "Christmas in Canaan" available to audiences in the United Kingdom for the first time on home media, with this anamorphic DVD release which features a transfer that is in the original broadcast ratio of 1.78:1.

Unfortunately, the transfer here does suffer from several issues, and although the majority of problems are relatively minor, it is difficult to overlook the sheer volume of edge enhancement and jagged edges that tend to litter the screen. It isn't particularly bad enough that it becomes intolerable - far from it - but it is noticeable enough to be an issue. Colours aren't bad, with the palette giving the Texan rural locations good depth and the correct tone for the time period (1960s). The level of detail is quite interchangeable from scene to scene, but for the most part is reasonable, especially facial close-ups during daylight scenes. In long shots, environments do tend to become a little blurry and lack clarity, but remain average for DVD. I did notice one instance of light posterisation, as well as a couple of moments of banding in the sky line. There's no obvious print damage here though, with no scratches or dirt. It's a mediocre presentation for a mediocre film.

The feature is uncut, and runs 86:43.

Audio


Odyssey have provided us with a single audio option; English Dolby Digital 2.0 Stereo. There are no issues with the track, but also no reason for excitement. As a made-for-television movie (Hallmark Channel), a stereo track is what is expected here, though separation is barely noticeable for vast swathes of the feature. Still, the score is clear (if by-the-numbers), the occasional sound effects show good clarity, and there are no issues with hearing the dialogue. The track does feel quite flat throughout, with no real depth, though there are no problems to report such as drop outs or scratches. It appears that the American release from Vivendi received a 5.1 track, so it would have been nice to see that included here.

No subtitles have been included.

Extras


None.

Overall


"Christmas in Canaan" is a standard TV-movie that you would expect to see playing on a weekday afternoon. Its attempts to tackle racism can feel overly simplistic, but overall, this is easy-going viewing for a rainy day.
| | | | | |
| --- | --- | --- | --- | --- |
| The Film: C | Video: C | Audio: C+ | Extras: F | Overall: C |

---
DVD Compare is a participant in the Amazon Services LLC Associates Program and the Amazon Europe S.a.r.l. Associates Programme, an affiliate advertising program designed to provide a means for sites to earn advertising fees by advertising and linking to amazon.co.uk, amazon.com, amazon.ca, amazon.fr, and amazon.de.