The Film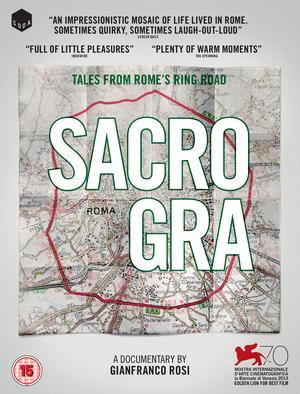 ***This is a technical review only. For reviews on the movie from various critics, we recommend visiting HERE.***

The first ever documentary to win the prestigious Golden Lion at the Venice Film Festival, SACRO GRA follows the stories of those living on the fringes of Rome's ring-road, the Grande Raccordo Anulare.

Gianfranco Rosi weaves a tapestry out of the river of traffic in perpetual motion and the people that inhabit it. The worlds of a nobleman, a botanist, a paramedic, an eel fisherman, and a modern-day prince all intersect while completely unaware of each other, and it is at these intersections that the simple beauties of life are revealed. Far from the iconic sites of Rome, the GRA is a repository of stories of those at the edges of the ever-expanding universe of the capital city.

Video


Independent distributor Soda Pictures have released the Italian documentary "Sacro GRA" on to DVD in the United Kingdom using the original aspect ratio of 1.85:1. The transfer is anamorphic and in PAL format, but doesn't look as good as I had hoped.

When it comes to documentaries, we tend to experience a greater level of inconsistency when it comes to picture quality, mainly because they usually tend to incorporate archival material, staged footage, and footage that was shot on the fly. In this instance, there is no archival footage, but we do have footage where shooting conditions could be prepared, and footage which was shot to capture moments as they unfold. Some of the footage is during the night too, which means the filmmakers had to rely on natural light rather heavily, often meaning that shadow details are not very noticeable. The general level of detail throughout the picture is quite average, with some smaller details in facial close-ups showing good levels of clarity, whilst background items become a little blocky and lack sharpness. There's some light edge enhancement at times, mainly around people in lighter scenes, as well as some occasional moments of aliasing. There's no evident damage such as scratches or dirt, and no issues with compression.

The documentary is uncut and runs 91:23.

Audio


There are two audio options available on this release:
- Italian Dolby Digital 5.1
- Italian Dolby Digital 2.0 Stereo

For my viewing, I opted for the Italian Dolby Digital 5.1 track, which was basic, but did use the surrounds to its advantage on occasion. As with most documentaries, it would be fair to assume this was filmed without any thought of a 5.1 track, so it makes sense that this is a track that is isolated to the front of the sound field for vast swathes of time. Dialogue is clear for the majority of the time, and when it does come across as slightly mumbled, it is usually down to situations out of the director's control (such as a patient in the back of an ambulance). There are certainly no causes for concern with this track. It's an adequate, technically sound effort. It just doesn't rise above an average quality when it comes to channel separation and directionality.

English subtitles have been included, and are optional.

Extras


Just a few bonus trailers for other releases from Soda Pictures (4:56):
- "Camille Claudel 1915" (1:15)
- "Omar" (1:53)
- "The Police Officer's Wife" (1:47)

Overall


"Sacro GRA" was the first ever documentary film to win the Golden Lion at the Venice Film Festival, and brings us into the lives of an interesting array of people. Although good, I unfortunately found myself struggling to get into it and found some of the people being documented to be dull and uninteresting. The disc isn't up to Soda's usually high standards, but I'm pretty sure that is down to the source and not the distributor themselves. Give it a rental before buying.
| | | | | |
| --- | --- | --- | --- | --- |
| The Film: C+ | Video: C+ | Audio: C+ | Extras: E- | Overall: C+ |