The Film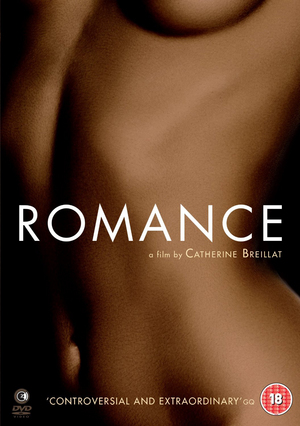 ***This is a technical review only. For reviews on the movie from various critics, we recommend visiting HERE.***

Shockingly explicit, blurring the lines between art and pornography, Catherine Breillatís critically acclaimed Romance is one of the most controversial and notorious films of modern cinema.

A young schoolteacher frustrated by the lack of intimacy shown by her boyfriend begins to look elsewhere for physical affection and embarks on a series of increasingly extreme sexual encounters.

Video


Independent British distributor Second Sight have given "Romance" a release on to DVD in the United Kingdom for the second time. The first release from Bluelight was non-anamoprhic and cut by the BBFC. Second Sight however, have released it uncut for the first time in the country, and given it an anamorphic transfer to boot. It's a good transfer overall, with few flaws.

When the feature first begins I was surprised by how soft the transfer was, however it isn't soft all the way through the run time. The film uses a lot of whites and beiges throughout, whether it be the decor of various buildings, the bedding, or the clothing of Marie (Caroline Ducey). There is good clarity shown between the multiple shades, and skin tones are well replicated. Darker colours such as blacks can have a slightly grey appearance, but aren't bad. Whilst some of the background details can look clunky and lacking in clarity and sharpness, facial close-ups can be very surprising for the format. Every little dimple in the characters' faces can be seen, and strands of out of place hair are noticeable. Unfortunately, these close-up details are quite inconsistent though, as the scene at 69:20 shows, as minute specifics struggle to be noticed, even when zoomed in. There is some slight damage here and there by way of quick specks of dirt, but nothing major and the print is generally clean. There's no obvious aliasing or banding, but there is one brief moire look on the back of a jacket in a nightclub, though nothing dominant (well, apart from some guy in the film with rope).

The feature is uncut, and runs 94:32.

Audio


There is a single audio track available on the disc; French Dolby Digital 2.0 Stereo (192kbps). It's a technically solid presentation, with minimal channel separation. As a feature which has very soft speech at times, all dialogue is surprisingly clear with no issues with inconsistent volume levels or mumbling. There are several scenes which take place in nightclubs, and even though we only have a stereo track, they sound robust and energetic. Depth is good, with subtle effects noticeable. There are no issues to be found with the track such as drop outs or scratches, and I noticed no signs of background hiss.

English subtitles are forced.

Extras


None.

Overall


Those familiar with director Catherine Breillat will have a reasonable awareness of what to expect here. The film is sexually explicit, and sometimes I felt it was designed solely to shock, rather than tell a story. Still, it has plenty of talking points and is an interesting feature. This release showcases the first anamorphic and uncut version available in the United Kingdom, and it has received a technically good disc, even if improvements could still certainly be made.
| | | | | |
| --- | --- | --- | --- | --- |
| The Film: C+ | Video: C+ | Audio: C+ | Extras: F | Overall: C+ |