The Film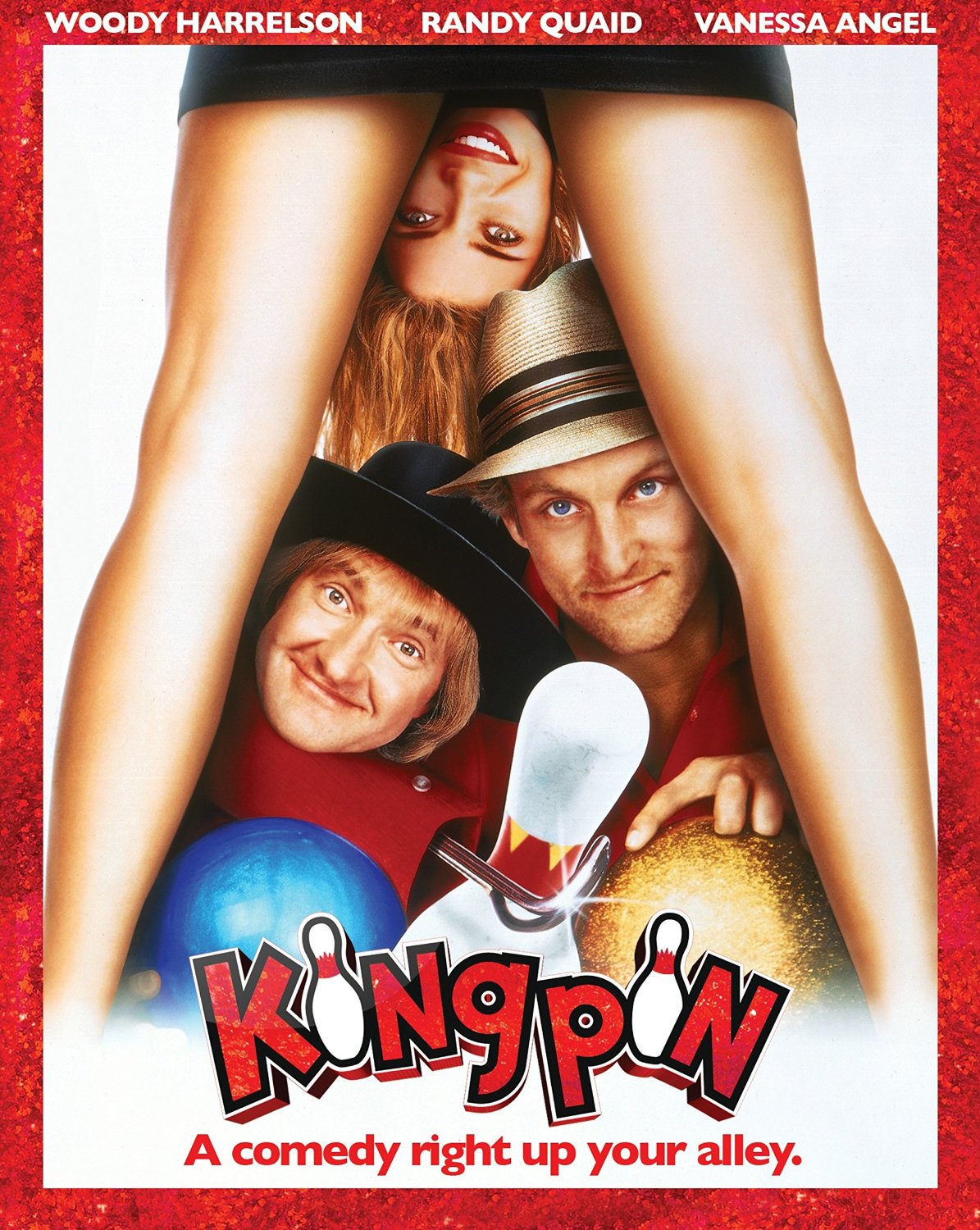 "You're on a gravy train with biscuit wheels."

In 1995, shortly after the release of brothers Bobby and Peter Farrelly's first feature, "Dumb and Dumber" (1994), the filmmakers found themselves unable to even get another job. Unmistakably, "Dumb and Dumber" was a success, and had been number one at the box office the week of its release. But the industry saw "Dumb and Dumber" as the success of actor Jim Carrey, and not the writer/directors behind the film, at least in part because the duo had a reputation around town as difficult doofuses. And honestly, after turning in an original edit of their debut that clocked in somewhere around three hours, they were at least in some regard quite like that picture's title. And in some ways they still are. The brothers are mediocre filmmakers who are occasionally funny, although as equally inconsistent. They have made a few other enjoyable and reasonably successful films, all of which are by no means masterpieces even of comedy. "Kingpin" is the closest they ever came to making a film fit for that classification.

"Plots are for p**sies", the brothers once famously stated; and some semblance of one could always be found in the edit suite, by mere linkage of odd subplots, as was supposedly the case on "Dumb and Dumber". It's odd then — or perhaps not, considering the brothers didn't actually write "Kingpin", their follow up feature; that credit goes to Barry Fanaro and Mort Nathan, with considerable improvisation from the cast — that the tale at the center of what I consider to be their best film is a pretty decent, wholly conventional, road movie P-L-O-T. "Kingpin" tells the story of Roy Munson (Woody Harrelson), a washed up former bowling champ turned conman, who has a hook where one of his hands should be. After stumbling across a respectable bowler, an Amish man named Ishmael (Randy Quaid), Roy concocts a plan to use this ringer on delayed Rumspringa as his ticket to a winner-take-all prize for $1 million at a bowling tournament in Reno, Nevada.

In his innocence, Ishmael agrees to team up with Munson, especially after he learns of the prize money, which he plans to use to help his family back on the farm. On their cross-country journey, Munson and Ishmael meet gangster Stanley (Rob Moran), whom they intend to grift, and his moll, Claudia (Vanessa Angel), who's looking for a way out. But standing in the way of the twosome-made-threesome is Ernie McCracken (Bill Murray), an egotistical a**hole who once double-crossed Munson and is in fact the reason the miserable man no longer has his hand. In the end, the best laid schemes of mice and men and all that, Roy is forced to face his nemesis in the final rounds of the tournament, not the ringer who was sure to win. I won't spoil the ending, although at this point I assume, with constant rotation on cable, many more have seen the picture than when the film was actually released. I will just say part of what makes this tale of not-so-lovable losers so alluring is its completely anti-Hollywood third act, which seemingly and rather knowingly goes against everything suggested in conventional screenwriting programs. And it works, honestly, because the as comedy, and occasionally dark comedy at that, the twist to the tale fits the tone.

A sketch of the plot, or the unexpected reversal in the end are merely individual aspects of "Kingpin", which is a stronger film, and a better film, as a whole, than its separate parts and pieces. As the film meanders along, with uneven asides and an equally inconsistent cascade of comedy, it comes together piece by piece that it is the cast that makes "Kingpin" so close to great. Performances are excellent, in particular from Harrelson and Murray, which sees silly to point out, because when it that not true of either man. Although commonplace today — in fact I don't think I've seen him play any other kind in recent years — Harrelson's Munson was indeed an odd character for him at the time he was cast. Harrelson was on his way up as a leading man in the mid-90's. He was known not for comedy, at least outside of television where he was almost exclusively known for that, but for his controversial dramas like Oliver Stone's "Natural Born Killers" (1994) and Milos Forman's "The People vs. Larry Flint" (1996), the latter released the same year as "Kingpin". With his single hand and a terrible comb-over, constant hangover, unlikable personality and reputation as an exploitive schemer, Munson was a shocking turnabout for the actor. A shock that's been undoubtedly been minimized, perhaps neutralized in light of similar turns in "Zombieland" (2009) and "The Hunger Games" films (2012-Present), among others. And Murray, as "Big Ern", was on the cusp of his mid-career move toward the more dramatic, less comedic roles he's gravitated towards post-Wes Anderson. In one of his final purely comedic parts, he's marvellous. More so when you learn just how much of the film he ad-libbed. As a villain — and a vile one at that, with the hairdo as disgusting as his personality — Murray was rarely better then he is here, at least in terms of pure comedy.

"Kingpin" was not a success upon release, and in fact lost money in theaters and nearly killed the Farrelly's careers. However, the film was granted a second life on video, and broke some ridiculous record relating to top rental charts vs. theatrical. Indeed, the film is quite a cult hit; nearly 20 years removed, with the hindsight of several increasingly mediocre pictures that followed, I'd argue "Kingpin" is the most consistently funny and all around best thing the Farrelly's ever put their name to. In any event, it's my favorite of their films — by a pretty wide margin — and I'm glad that, after several years of delays, it's finally available on Blu-ray.

The Blu-ray includes two versions of the film: the original "PG-13" theatrical version (1 hour 53 minutes 43 seconds) and the "R" rated extended cut (1 hour 57 minutes 14 seconds). Both versions are seamlessly branched.

Video


I always approach any catalog title, no matter the studio or the age of the film, with some apprehension. Dated materials, antiquated mastering and scanning technology, film elements that have been improperly cared for over the years, and whole host of other issues can wreak havoc on even something of relatively recent vintage. Films from the 1990's are often especially problematic, as in most cases these titles were prepared for DVD — a digital medium ostensibly analogous to Blu-ray; at least in that DVD masters were often struck in high definition, thus the materials meet the minimum resolution for the newer format — but may have been made by employing out-modded digital tools. The good news is Paramount's high definition transfer of "Kingpin" isn't a complete gutter ball, and in fact, comparatively speaking, for a modestly budgeted cult comedy, looks quite good on Blu-ray. The bad news: the disc is also not a clear strike, inheriting some problems from its source and others from what indeed does appear to be an older DVD era master.

The 1080p AVC MPEG-4 high definition transfer, encoded in AVC MPEG-4 and framed at 2.40:1 widescreen, has an inconsistent level of detail, a fluctuating layer a film grain that is neither consistently filmic nor excessively noisy all of the time — rather equal parts, well, equally. Softness is an issue noticeable especially in the opening credits; opticals several generations away from the negative are embedded with bits of dirt and debris. Otherwise, the master's quite clean, never especially sharp but more detailed overall than in those opening moments. What is consistent are color and contrast, both especially vibrant and natural for a 90's comedy. Some of the landscape shots of the Amish countryside, in admittedly attractively framed cinemascope, are especially well rendered, with lush greens and some ochre foliage befitting the slightly autumnal setting. The bowling lane interiors, especially in the climax, are also quite colorful.

Unfortunately, the Blu-ray also has signs of artificial sharpening, with noticeable halos in many a wide shot, and a slightly more processed appearance than would be organic to anamorphic 35mm. On the upside, the encode appears competent, with both the theatrical and extended cuts of the film seamlessly branched on one dual layer BD-50, and no noticeable bouts of compression artifacts, banding, or other anomalies.

Audio


There are two truisms when it comes to the audio of Farrelly Brother comedies: one, the soundtrack, at least in terms of music selection, will be pretty good — assuming you like soft rock from the 70's and 80's, and some indie stuff specifically from the 90's for "Kingpin". Two, that the actual sound mix itself is bound to be pretty underwhelming, driven by dialogue, a bit of stereo music, and little else. This is especially true of "Kingpin", a film that for all intents and purposes sounds like it was meant to be released in stereo — despite the fact that it was actually heard in DTS in theaters, and formatted in 5.1 surround on DVD. The Blu-ray's English DTS-HD Master Audio 5.1 mix is ridiculously front heavy, and oddly quiet for a DTS track, which are naturally mixed 4 to 5 dB higher than competitor Dolby. Dialogue and music have an acceptable and appreciable clarity, but surrounds are very quiet with little activity even in the crowded scenes during the bowling tournament climax. Truthfully most comedies don't live or die by their sound, and the often hilarious lines are easily intelligible so this track suffices. The disc also includes dubs in French Dolby Digital 2.0 surround and Spanish Dolby Digital 2.0 surround, with optional English, French and Spanish subtitles.

Extras


"Kingpin" includes a few extras. The Blu-ray ports over both cuts of the film and an audio commentary on the extended cut first recorded in 1999 for the DVD. A retrospective featurette is all-new, plus the theatrical trailer. The disc is also authored with optional bookmarks.

The audio commentary on the extended cut of the film, with Bobby and Peter Farrelly, is a curiously dry, understated, quiet, technical, and surprisingly unfunny discussion. It's not bland or boring, and in fact has quite a bit of trivial information on the project's genesis and production, but there's an odd disconnect between the humorous nature of the film and the commentary that supplements it. I'd only recommend this track to true fans of the film, which, honestly means they probably already heard it before on the DVD.

Much better for the layman is likely "Kingpins: Extra Frames with the Farrelly Brothers" (2.40:1/1.78:1/1.33:1, 1080p; 19 minutes 14 seconds), a retrospective featurette in which the filmmakers bowl a few frames and talk about the difficulties they faced following up "Dumb and Dumber" (1994), the cult of "Kingpin", how its success on video saved their careers, and more. The brothers, Harrelson, Murray, and Quaid also appear in vintage interviews from 1995 and 1996.

Finally, the film's theatrical trailer (2.35:1, 1080p; 1 minute 27 seconds) is also included.

Packaging


"Kingpin" was originally released on DVD by MGM Home Entertainment. Several years ago, during the high definition format wars, MGM originally announced "Kingpin" for Blu-ray as among the launch titles. The disc was delayed, and then plans were subsequently canceled with little fanfare. I was always curious why the film seemingly vanished from radar. It seems at least part of the reason is the rights to the film, originally owned by Rhysher Entertainment, moved to Paramount during that company's acquisition of the Rhysher catalog. Paramount now brings the film to Blu-ray after much delay in a curious package. "Kingpin" is unassuming for most Blu-rays — a single dual layer BD-50 housed in an elite to keep case. But for a catalog title, the embossed and glitter-covered slip seem a little excessive.

Overall


"Kingpin" is and probably always will be my favorite Farrelly film. Its cast (to quote Woody Harrelson in another of their movies, "Bill F**kin' Murray!") and characters, kooky premise and plot, and bizarre mix of sentiment with disgustingly sick sophomoric humor makes it very much a Farrelly film, but just slightly different from most of their other outings. The Blu-ray release of the film delivers in more than one aspect: the video presentation, although not without issue, is certainly watchable, and in fact quite pleasing. Although the audio is a disappointment — excepting that the film is a comedy — and the audio commentary is weirdly dry, the new featurette offers something worthwhile, and the fact that both versions of the film are on a single disc make the high def disc a pleasant and easily palatable upgrade over the DVD. Recommended.
| | | | | |
| --- | --- | --- | --- | --- |
| The Film: B+ | Video: B | Audio: C+ | Extras: C+ | Overall: B |