The Film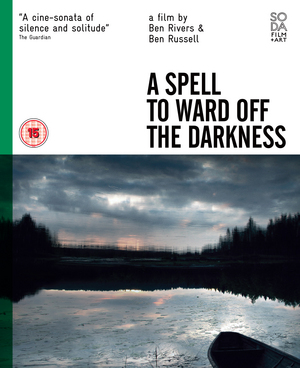 ***This is a technical review only. For reviews on the movie from various critics, we recommend visiting HERE.***

Feature documentary following an unnamed man through three significant events in his life. The journey begins with the man on a small island in Estonia then follows him as he moves to the Finnish wilderness and then finally on to the scene of a concert in Norway where he is performing as singer and guitarist of a black metal group. Robert A. A. Lowe portrays the unnamed man as the directors Ben Rivers and Ben Russell explore the ways in which we shape our space in society while trying to remain true to ourselves.

Video


Independent distributor Soda Pictures have released the experimental documentary "A Spell to Ward Off the Darkness" as a Blu-ray and DVD combo pack under their Soda Film + Art range. The transfer is 1080p, 1.78:1, and uses an AVC MPEG-4 encode. It has a couple of minor flaws, but looks very good.

Directors Ben Rivers and Ben Russell shot the film on Super 16mm, which has been transferred to disc pretty well. I was a little sceptical after the first three minutes, which is a darkened scene with little shadow detail, but as soon as we are taken to the commune, things look up fast. It's a film of three parts, and three very different settings and colour schemes. The first is an Estonian communal 'hippy' type place, the second the open Finnish wilderness, and the third is a Norwegian black metal concert. All three segments have very different colour schemes, all of which appear to be replicated with precision. The vivid greenery surrounding the commune, the skyline of the wilderness, and the heavy blacks of the concert all look stable, and skin tones are accurate throughout. There are some light nicks and scratches in the print, particularly in the scene with Robert A. A. Lowe fishing on the boat at 49 minutes, but they are barely noticeable, and do not take any of the enjoyment away. Some minor compression artefacts could be seen at 75:10, but it isn't a problem that occurs throughout. Details are strong for Super 16mm, though shadow details struggle to appear as well as they perhaps ought to. There are no signs of edge enhancement or other digital tinkering such as digital noise reduction. Overall, a strong presentation.

The feature is uncut and runs 98:43.

Audio


Two audio tracks have been included here:
- English DTS-HD Master Audio 5.1
- English LPCM 2.0 Stereo

For my viewing I opted for the English DTS-HD Master Audio 5.1 track, and was pleasantly surprised with the fact the surrounds aren't used solely for the score like most documentaries. In fact, Soda have done a nice job here of adding some subtle environmental effects which sound very good indeed, especially in early commune scenes. Dialogue is clear at all times, but can often sound a little flat, likely due to the situation in which the audio was recorded. Heavier sounds of the black metal concert have power, but isn't too enthusiastic through the surrounds, leaving what is happening on screen to have as much power as the audio. There are no signs of damage such as drop outs or scratches.

No subtitles have been included.

Extras


The main supplements included with this release are a couple of short films:
- "Let Us Persevere in What We Have Resolved Before We Forget" (19:55)
- "The Creation as We Saw It" (14:27)
The first is based on the island of Tanna in Vanuatu, where Melanesia rites are enacted whilst villagers slowly await the return of the mysterious John Frum who told many prophecies. It won the European Media Arts Festival Dialogue Award in Osnabrück, Germany. The second short contains three mythical stories from the Republic of Vanuatu, an island nation located in the South Pacific Ocean, concerning the origin of humans, why pigs walk on all fours, and why a volcano sits where it does. Both are interesting, but not essential viewing.

The rest of the extras are self-explanatory.
Bonus Trailers (5:29):
- "Piercing Brightness" (0:46)
- "Lebanese Rocket Society" (1:48)
- "My Name Is Hmmm..." (1:27)
- "Watermark" (1:26)
Theatrical Trailer (1:43)

Overall


I'm still not 100% sure what I just watched, as this could be the most unconventional experimental documentary I have ever seen. Almost lost me in the second act slightly, but came back with a bang in the final third. It's a strangely absorbing film, and not something that is in my usual comfort zone, but I enjoyed it overall.

| | | | | |
| --- | --- | --- | --- | --- |
| The Film: B | Video: B | Audio: B | Extras: C- | Overall: B |