The Film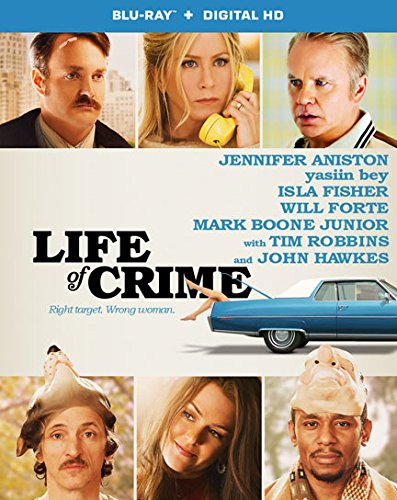 "Let's be honest. This could've been set up a whole lot better."

Before his death in 2013, at the age of 87, western-turned-crime-novelist Elmore Leonard had 60-some novels, short stories, and anthologies to his name. Just less than half of those works have been adapted for screens both big and small. A few of them more than once. And as long as Hollywood's been making movies and television series based on Leonard's oeuvre, they've had problems some — if not most — of the time. Only a small handful of these productions, made without direct involvement of the author, were actually accurate to their source. Fewer still were given Leonard's seal of approval upon completion. For every "3:10 To Yuma" (be that the superior, somewhat forgotten Delmer Daves-directed original from 1957, or still solid 2007 remake) and "Hombre" — which found its way to the big screen, in 1967, under the same title, by way of Martin Ritt and Paul Newman, in revisionist garb — to "Get Shorty" (1994) and "Out of Sight" (1998), or most recently "Justified" (2010-2015), there have been countless misfires, too. The confoundingly crappy "Be Cool" (2005), more miss-than-hit "Killshot" (2008), the sucky "Stick" (1985), and absolutely abysmal "The Ambassador" (1984) are but the brim of the bad-adaptation bucket.

I'll admit, before actually watching "Life of Crime" — which is based on Leonard's 1978 novel "The Switch", and features the talents of a no-name writer/director, and a cast that looks mighty questionable on paper — I assumed the film would be another for the latter camp: mostly awful, perhaps entirely unwatchable. I was certainly surprised then, as I think others will be, to find a feature that's not bad at all. In fact, it's fairly entertaining, funny, and embedded with enough twists and turns to ostensibly keep the plot plugging along for 100-or-so minutes.

Miserable suburban socialite Mickey Dawson (Jennifer Aniston), the wife of crooked real-estate developer Frank (Tim Robbins), is kidnapped by two common criminals (Yassin Bey and John Hawkes), who intend to hold her for a $1 million ransom and extort her husband with inside information about his illegal business dealings. But Frank, who is holed up in the Bahamas with his mistress (Isla Fisher), about to serve Mickey with papers for divorce, decides he'd rather not get his wife back, setting off a sequence of double-crosses and plot twists. The plot — as is often the case with Leonard's crime novels — is both ludicrously labyrinthine in a superficial sense, and yet actually little more than a series of simplistic scenarios-gone-wrong that have a darkly comedic edge. The film devolves into a convoluted game of the kidnappers and the kidnapped, sparring in various forms. To detail the actual twists would spoil much the light fun the film has in its darkest turns, so I won't.

Some have noted a similarity in plot and tone to "Ruthless People" (1986). And, in fact, "Life of Crime" was originally slatted for release way back in the 1980's — before the 90's cinematic renaissance of Leonard's work — but the script was shelved explicitly because "Ruthless People" came out, and the studio was hesitant to retread a premise so soon. What few fail to realize is that the kidnappers-take-a-hostage-no-one-wants-back trope dates to at least O. Henry's "The Ransom of Red Chief", first published in 1907. The Henry short story may have inspired both "The Switch" (and in its filmic form, "Life of Crime") and "Ruthless People", but neither book nor film is guilty of theft from each other.

Now, something I do find at least tangentially interesting is that "Ruthless's" star, Danny DeVito, ultimately produced Barry Sonnenfeld's "Get Shorty" and Steven Soderbergh's "Out of Sight", not to mention Quentin Tarantino's pre-"Jackie Brown" (1997) film, "Pulp Fiction" (1994), through his Jersey Films, igniting the whole Leonard adaptation craze. And then what is perhaps most interesting, at least to me, is that two of the best characters in "Crime" have already appeared on screen, in perhaps the second best Elmore Leonard adaptation, Quentin Tarantino's "Jackie Brown", which was based on "The Switch's" sequel novel, "Rum Punch". Ordell Robbie and Louis Gara, played by the incomparable Samuel L. Jackson and Robert De Niro to perfection in Tarantino's picture, reappear here, in younger form, as a pair of bumbling kidnappers and conmen. "Life of Crime's" greatest triumph, small through it may be, is a retention of the unique, while at the same time working within familiar territory. Mos Def (credited here under his new nom de plume Yassin Bey; apparently preferred without grammatically correct capitalization) and Hawkes manage to make their Robbie and Gara satisfyingly separate from the two towering performers who played the parts before them under Tarantino's tutelage.

In truth, the same goes for the film as a whole. "Life of Crime" is not quite as polished, quick-witted, or as wonderfully written as the back-to-back features screenwriter Scott Frank penned in the 1990's, but it retains an interesting tone — the pitch-black comedy played almost completely straight as is on Leonard's page — that's suitably in the spirit of the original work. The film is filled with frankly fantastic character actors playing quirky, curious characters: from Mark Boone Junior's bizarre situationally-racist Neo-Nazi with a Norman Bates-ian streak, to Will Forte's love-sick father and husband so ineffectively attempting an affair with Aniston's Mickey. And Aniston herself, playing a genuine character rather than a character for the first time in years, gives one of the best performances of her career — not that that means much, outside of that context.

Regardless, "Life of Crime" is a solid film, with sturdy if workman-like direction from Daniel Schechter, who also wrote the screenplay. Rather than adapt the 70's-set novel to the modern era, he's smartly made a period piece, populating it with vintage cars, clothes, music and more. It's a rich backdrop for the colorful characters and at-times crazy plot to unfold, all mounted surprisingly skillfully on a modest budget of $12 million. Even if it's by no means amazing, there are few things "Crime" is guilty of. The most damning criticism I can muster is that the film drags in a few spots, and has a somewhat sloppy and rushed third act. But it's entertaining enough, and the fine performances and period detail distract from the pacing problems.

Video


Captured digitally with the ubiquitous Arri Alexa, the 2K-sourced "Life of Crime" transfers adeptly to Blu-ray, with little issue beyond the at-times intentionally drab and stylized visuals. The 1080p 24/fps AVC MPEG-4 encoded presentation, framed in 2.40:1 widescreen, offers highly textured detail — which is especially rewarding in close-ups. Colors and contrast are frequently, intentionally, drab and dim, plagued by faint crush in the darkest black shadows. Cinematographer Eric Alan Edward's duller, decidedly browner palate befits the 1970's setting. Exteriors, in the dead of a New England (and Toronto) winter, are bleak and cold, with little inviting life or color — however, in daylight, they tend to maintain impressive sharpness. Scenes in the supposed Bahamas and appropriately beach-y and bold: brighter and more brazen with saturated tones, punchier contrast, at the cost of slight blooming and softness to edges. I noticed no instances of banding, artifacts, and various nefarious types of electronic post-processing appear to be a non-issue, just as one would hope — and expect — for a new, all-digital production.

Audio


Mostly dialogue driven, and backed by an era-appropriate rotation of chart topping tracks — not to mention a funky, very bass-y score by The Newton Brothers — "Crime's" English DTS-HD Master Audio 5.1 (48kHz/24-bit) mix has few sonic moments that make much of an impression. That's not to say, however, the soundtrack isn't adequate on its own terms. The music makes great use of the surrounds, and several sequences — especially the first kidnapping and it's aftermath — has a lot of fun little foley effects: broken dishes, clunked heads, and an LP popping and crackling as the needle gets knocked off the mark. Overall, clarity and depth are satisfying, if never downright revelatory. The disc also includes a Spanish Dolby Digital 5.1 dub and optional subtitles in English and Spanish.

Extras


Lionsgate's Blu-ray release of "Life of Crime" features of fairly standard set of supplements: an audio commentary, trio of EPK featurettes, a few deleted scenes, plus pre-menu bonus trailers, optional bookmarks, and an Ultraviolet digital copy of the film.

The disc's audio commentary, with director Daniel Schechter and actor Will Forte, is a dry affair — sporadically informative, with a touch of humor at times, it's ultimately not particularly revealing, lacking significant insight into the adaptation process, or deeper elements of production.

"Behind the scenes of 'Life of Crime'" (2.40:1/1.78:1, 1080p; 10 minutes 6 seconds) is a standard EPK featurette with interviews from the cast and crew.

A second featurette, "Envisioning the Big Picture: Shooting Crime" (2.40:1/1.78:1, 1080p; 9 minutes 16 seconds), appears to be culled from the same press kit and focuses on Schechter's adaptation of Leonard's "The Switch".

The final featurette, "Hit and Run: Choreographing Mayhem" (2.40:1/1.78:1, 1080p; 6 minutes 30 seconds), looks at a few of the action set-pieces in the film — including Ordell and Louis's introductory scene, where the two conspire to rundown a man with their van.

6 deleted scenes (2.40:1, 1080p; 10 minutes 20 seconds, play all):

- "Can I go to the bathroom?"
- "Frank belittles Mickey"
- "Marshall's assistant"
- "Louis and Mickey bond"
- "Mickey calls Frank, gets Melanie"
- "The ladies of Deep Run"

Pre-menu bonus trailers are for:

- "A Most Wanted Man" (2.40:1, 1080p; 1 minute 40 seconds).
- "Life After Beth" (1.85:1, 1080p; 1 minute 49 seconds).
- "The Switch" (2.40:1, 1080p; 2 minutes 31 seconds).
- "Jackie Brown" (1.85:1, 1080p; 1 minute 32 seconds).
- "Thanks For Sharing" (1.78:1, 1080p; 2 minute 31 seconds).
- "EPIX HD" promo (2.40:1, 1080p; 1 minute 34 seconds).

Packaging


"Life of Crime" is lead to Blu-ray by Lionsgate Home Entertainment. The film is pressed onto a dual layered BD-50, housed in an Elite style keep case. First pressings include a cardboard slip-cover.

Overall


With fine performances from an electric cast and solid direction,"Life of Crime" is better than some, if perhaps even most cinematic adaptations of Elmore Leonard's book-bound oeuvre. Still, the film — a take off of Leonard's novel "The Switch" — is decidedly not strong enough to join the ranks of "Get Shorty", "Out of Sight" and "Jackie Brown", all three of which managed to matriculate Leonard's unique way with words onto the big screen so well. "Life of Crime" is enjoyable, occasionally surprising, and darkly funny; it's also a bit of a slog, even at just over 90 minutes. The Blu-ray has satisfying video, respectable audio, but a less impressive collection of generic extras.
| | | | | |
| --- | --- | --- | --- | --- |
| The Film: B- | Video: B+ | Audio: B | Extras: C- | Overall: B- |