The Film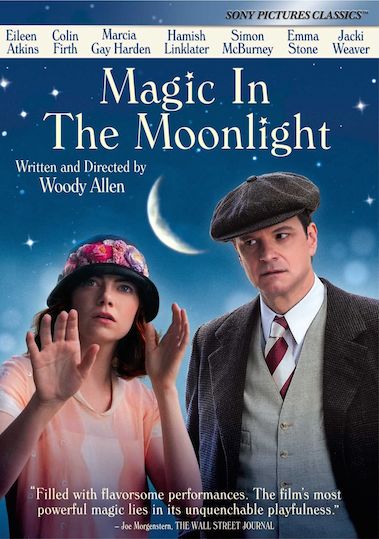 "One of the cardinal rules of magic is that the magician must never repeat his trick because, sooner or later, one begins to notice the move and he's caught."

If "Magic in the Moonlight" had been made by anyone else, it quite likely would've been embraced wholeheartedly by both critics and audiences, and declared clever and original, when granted limited release by Sony Pictures Classics this past summer. Then again, I don't know if anyone other than Woody Allen could get a film like "Magic in the Moonlight" financed and released. Few filmmakers besides him would dare pair up the pleasantly playful Emma Stone with the delightfully erudite Colin Firth, and then cast both against type. Fewer would put them in a movie about sparring con artists — one of whom is a magician that dresses up in yellow-face to perform as the world famous illusionist Wei Ling Soo — and then add a vintage screwball comedy twist, set to a soundtrack comprised entirely of 1920's tunes.

As is, with Woody Allen's named tagged to the credits, "Magic in the Moonlight" met the usual mix of shrugs and scorn in theaters, and I doubt it'll get any attention come award season as its an off-year for Allen, after his recent Best Screenplay nomination. There's an unfortunate amount of baggage attached to his name, which makes it impossible for many to enjoy watching anything the man makes these days, all because they can't separate the artist from the artwork. Others simply dislike his style, sight unseen — and probably more than a few indeed never have. Still others, admittedly myself included, are forced to judge the picture, and any of Allen's newest endeavors, against his prior work. Comparably, "Magic in the Moonlight" manages to supply some mild amusement, but little more than that — and is all the lesser for it. Certainly, it's not as good a film as could and arguably should have been. And as the credits rolled, I was once again left wondering if the writer/director's contract or age — he's forced to churn out one film every year, seemingly for the rest of his life — contributed to what seems to be a film of unrealized ambition, fastened together to meet a deadline, thus reliant on trite cliches and screenwriting tricks for the sake of tidiness over deep, thematic thought.

Make no mistake, I don't mean to suggest "Magic" is entirely devoid of merit. The picture has its moments, and is pleasurable in ways only a seasoned master filmmaker like Mr. Allen could manifest. "Moonlight" has a shining cast, a nice enough plot, light through it may be, and is a funny film in a similarly slight way. And it's simply gorgeous, with lush natural-light photography by Darius Khondji and a picturesque setting on location in the South of France. It's also a lesser feature in its creator's catalog, despite its surface-level splendor, forced to complete not only with the wonderful (well… pungent) sent of "Blue Jasmine" (2013) wafting from across the figurative hall of film, but also the inherent joy of taking a stroll through the yesteryears of "Midnight in Paris" (2011). The latter is perhaps the most watchable film Woody's ever made, and its nostalgic narrative, illuminated in glowing gaslight, looms large, seemingly lurking in the shadows of "Moonlight" and its jaunty Jazz Age scene.

The term "Spiritual Sequel" gets thrown about a lot, but it's perhaps punily apt here, as "Magic" — like "Midnight" — walks a similar path back to France in the 1920's. Only, instead of a wistful writer wondering into the time of his idols Ernest Hemingway and F. Scott Fitzgerald, the cynical Allen stand-in is also an analog for Harry Houdini. An illusionist by trade, Stanley (Colin Firth) is simultaneously a lifelong skeptic, moonlighting between sold out performances as a debunker of mystics, mediums, and other magical phonies. One such faker is the sumptuous Sophie Baker (Emma Stone), a young woman who claims to commune with the dead. At the request of a colleague (Simon McBurney), Stanley attempts to expose Baker, who has not only convinced millionaire heir Brice Catledge (Hamish Linklater) and his mother (Jacki Weaver) of her gift, but accepted the caddish Catledge's sudden marriage proposal, too.

The twist is, the more Stanley studies Sophie, the more he's taken by her act. In fact, the more time he spends with this charming mistress of the occult, the more he's convinced it's not an act at all. She knows things no one possibly could — including the secret of his second career masquerading as a man from the Orient. Fascinated, and forced to confront his own feelings about faith, spiritualism, and the possibility of something beyond this earthly realm, the distant and deeply sarcastic Stanley starts to soften, enchanted by the younger woman before him. He finds he as much to teach; Sophie's more than willing to learn — and love.

Woody Allen's been making films for almost 50 years, and he has nearly as many credits to his name. It's inevitable then, with such an extensive resume, that the filmmaker has occasionally been guilty of repeating himself. (As with any established auteur, there are certain themes, scenarios, character types, among many other things that interest him more than most). And repeat he does, recycling the time period and soundtrack from "Midnight in Paris", the spurious magician-ship of "Scoop" (2006), and creakily reconfigured pieces from half a dozen films he's made before. Allen distracts his audience from the lazy scripting with the warm bright light of a summer by the French seaside, fine performances from game actors willing to play along, and plenty of appropriate period touches — cars, fashions, and sprawling country estates — but the illusion is short-lived, and problematic come the credits. It's an illusion that's impressive at a pacing glance, but fans of the man, and those familiar with his work, will see the seams, and notice the moves. The grander themes — especially its philosophical pondering about the power of belief — amount to a misdirection for well worn rom-com cliches and a classic drawing room mystery conclusion. I imagine "Magic in the Moonlight" was a much more ambitious idea on paper, but, when Allen realized he had to finally commit scraps and scribbles to screen, he fell back on the familiar. "Magic in the Moonlight" is charming, sweet, funny, but its also slight, both of hand and of mind, and not among Allen's best works, although, I still found it very enjoyable on a superficial level.

Video


"Magic in the Moonlight" marks the fourth time Woody Allen has collaborated with cinematographer Darius Khondji; it is their third film together in nearly as many years. Khondji's preference for pushed palettes and Allen's insistence on long, uninterrupted takes — a technique he mastered 35 years ago with the great Gordon Willis — continues to delight. Photographed on 35mm film in 2.40:1 anamorphic widescreen, and shot on location in the south of France, it almost seems a cinematic crime to sit through "Magic in the Moonlight" on DVD. With Khondji bold use of color, delicate natural lighting, the luscious locations, and Sonia Grande's intricate period costumes, this is a film that demands to be seen in the highest resolution possible. Still, Sony's standard definition DVD is certainly impressive on its own terms, replicating the luscious, warm tones of the period and place, and maintaining a consistent level of modest detail in Firth's patterned jackets. On a small enough screen, the image is gorgeous. Anything larger begs for Blu-ray.

Audio


Although technically encoded in English Dolby Digital 5.1, the default track actually only has sound coming from a single speaker in the front. As well it should: "Magic in the Moonlight" may tick on the surround sound light on most receivers, but as has been true since the early days of his work, Woody Allen continues to go mono in the mixing suite. Pretty standard fare: clean and crisp dialogue (at times delivered in a screwball-y fast pace) and 1920's Jazz, with plenty of Cole Porter and other "period" music making up the soundtrack. The disc includes an optional French Dolby Digital 5.1 dub, and English Descriptive Video Service track also in 5.1, and subtitles in English, Spanish, and French.

Extras


Ever the elusive auteur, Woody Allen refuses to record audio commentaries, doesn't participate in behind-the-scenes interviews, and locks away any deleted material that might other wise slip into the supplements section on home video releases of his films. However, Allen's current distributor, Sony Pictures Classics, has started to routinely offer generic extras on their DVD and Blu-ray releases of his films. "Magic in the Moonlight" includes what's become the usual trio: an EPK featurette, another short featurette piece from the red carpet premiere of the film, and the original theatrical trailer. An Ultraviolet digital copy of the film has also been included in the package.

"Behind the Magic" (2.40:1/1.78:1, anamorphic widescreen; 11 minutes 21 seconds) is a featurette with Colin Firth, Jacki Weaver, and Hamish Linklater, in which the actors discuss their characters, the plot, shooting on location in the south of France, their colleagues and more.

Another featurette, "On the Red Carpet: Los Angeles Film Premiere" (1.78:1, anamorphic widescreen; 2 minutes 46 seconds) has Colin Firth, Jacki Weaver, Hamish Linklater, Simon McBurney, and others offering soundbites and platitudes at the film's LA premiere.

A theatrical trailer (2.40:1, anamorphic widescreen; 2 minutes) has also been included.

Included in the case is a code for an Ultraviolet digital copy of the film.

Packaging


Sony Pictures Home Entertainment brings Woody Allen's "Magic in the Moonlight" to DVD under their Sony Pictures Classics label, housed in an unassuming package: DVD-9, eco-keep case.

Overall


Superficially charming, sweet, funny, but slight, Woody Allen's "Magic in the Moonlight" preys on nostalgia — for both Allen's finer features, and the glories of the Golden 1920's and days gone by. But it's also blessed with fine performances, fantastic cinematography, and carefully curated period production design. "Moonlight" is not prime Allen; not even among his better features of late, but it's enjoyable all the same. Sony's DVD release offers a surprisingly strong video transfer and perfectly adequate audio — albeit, as mono mixed in a faux 5.1 track. Fans of the director shouldn't hesitate to pick this up. Just don't expect miracles. Also a suggestion: spring for the Blu-ray, if you're HD-equipped. I know I'm going to switch out my copy for the more filmic textures of high definition, because "Magic in the Moonlight" is just too pretty to relegate to a rudimentary video format like DVD.
| | | | | |
| --- | --- | --- | --- | --- |
| The Film: B- | Video: B+ | Audio: B- | Extras: D | Overall: B- |