The Film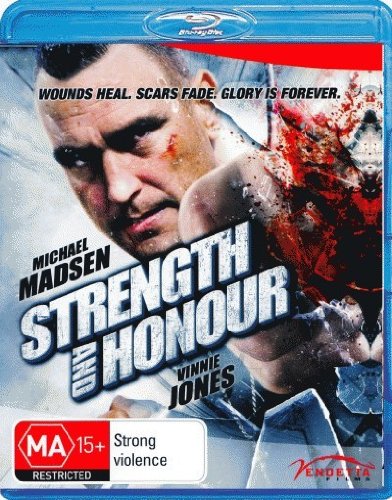 ***This is an A/V and Extras review only. For reviews on the movie from various critics, we recommend visiting HERE.***

What man wouldn't risk his own life to save his own son?

Michael Madsen and Vinnie Jones star in this action-packed Irish flick. When a young boxer (Madsen) accidentally kills his friend in the ring he vows never to fight again. However, years later when he discovers his only son is dying of the same hereditary heart disorder which took his wife, he is forced to break his promise. Falling into a dark future he must decide whether to fight the most feared man around (Jones) and risk it all for his son's future.

Strength and Honour is a story of hope and love, sacrifice and devotion, set against the violent underground world of bare-knuckle boxing.

Video


Independent Australian distributor Vendetta Films have released the drama "Strength and Honour" on to Blu-ray using the original aspect ratio of 2.35:1. The film receives a 1080p transfer and uses an AVC MPEG-4 encode. It's a reasonable effort for a low budget movie.

Filmed on 35mm using Arriflex cameras, there is a very light natural layer of film grain running throughout the transfer, which becomes slightly heavier in some of the darker scenes. Details can vary scene to scene, but for the most part, look pretty good, with faces in the darkened crowds of particular note. Close-ups show the more minute facial details well, but can also have somewhat of a waxy appearance, leading me to believe some digital noise reduction might be present. Outdoors scenes are well lighted, but there is an obvious drop in quality in the strength and vividness of colours in scenes which take place in more restricted locations, such as the inside of a caravan or in the pub. Blacks are deep but sometimes stray a little to the grey side. There is some noticeable edge enhancement from time to time, but it is far from being overbearing, whilst I could also see some gentle banding in the sky during a couple of scenic shots. There are no problems with print damage such as scratches or dirt, though there are some compression artifacts present. Overall, a good effort, and the problems aren't bad enough to be a major cause for concern.

The movie is uncut and runs 94:58.

Audio


Two audio options are included:
- English DTS-HD Master Audio 5.1
- English Dolby Digital 5.1

For my viewing, I obviously opted for the lossless English DTS-HD Master Audio 5.1 track, though you could be forgiven for not realising it is available, considering the disc mentions plain DTS instead. The sound design here is technically solid. It won't win any awards, but what it will do is immerse the viewer in the crowds of the gypsy boxing, whilst the LFE channel helps us to feel every bare knuckle punch. The score is quite formulaic for the genre, but makes good use of the surrounds, as do the more prominent effects. Dialogue is clear at all times, and volume levels are consistent. There are no issues here such as dropouts, scratches, pops, or background hiss.

No subtitles have been included.

Extras


The only extra of any real note, is a very short selection of deleted scenes (2:45). This includes a scene with Madsen and his wife on her death bed (not a spoiler), a scene with Madsen and his son playing with toys, and a scene with Madsen talking to his postman. The scenes are okay, and were probably rightly removed from the final edit. It would have been nice to get some sort of commentary or introduction though.

The rest of the extras are self-explanatory.
Image Gallery (26 pages)
Bonus Trailers:
- "The Heavy" (3:08)
- "The Storm Warriors" (1:59)
Theatrical Trailer (2:14)

Overall


If you can get past the god-awful Irish accent of Vinnie Jones, there is a good drama here, set against the background of gypsy bare-knuckle boxing. Worth a rental.


| | | | | |
| --- | --- | --- | --- | --- |
| The Film: C | Video: B- | Audio: B | Extras: D- | Overall: C |