The Film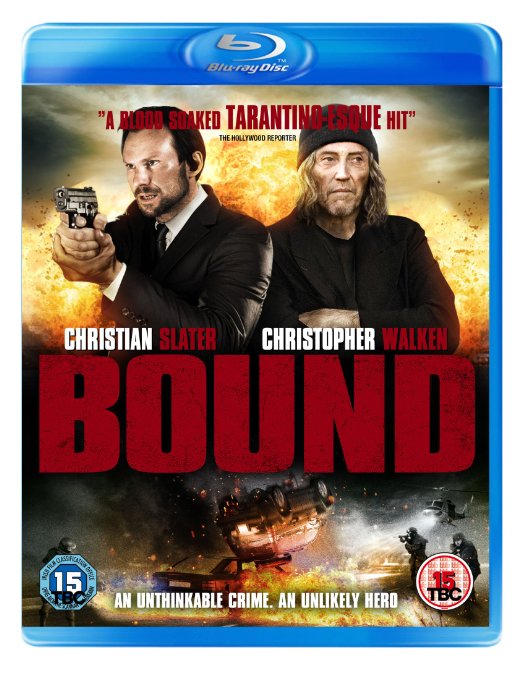 ***This is an A/V and Extras review only. For reviews on the movie from various critics, we recommend visiting HERE.***

An unthinkable crime. An unlikely hero.

Spies, cops, and armed children cross paths on a day of danger, mystery and possible transformation. Bound unfolds over twenty minutes on one New Orleans afternoon, experienced through the lives of five unusual characters who unknowingly are connected to an extraordinary smuggling operation as religious conspiracy collides with urban crime.

Video


Independent British distributor Signature Entertainment have released "Bound" on to Blu-ray in the United Kingdom using an aspect ratio of 1.78:1 (the original aspect ratio is 1.85:1). The transfer is 1080p and uses an AVC MPEG-4 encode. Although Signature's far from perfect track record leaves a lot to be desired, this is one of their better transfers.

Shot on digital using a Red One MX camera, the feature has the shiny look one would expect, but with a certain intentional dullness and overblown contrast levels. The best thing about this transfer is the amount of detail. Close-ups look immaculate with every make-up contour, bit of stubble, out of place hair, and minute clothing detail all looking stunning. Mid-range details also look great, especially metal fencing and urban foliage. Long range shots are favourable too, with shots of skylines showing impressive distant detail. The dull and muted colours are well utilised and suit the tone of the feature well, but when some vividness and pop is required, then brighter colours make their presence known. Blacks are generally deep with little crush, though do verge towards being ever so slightly greyish at times. Damage wise, there is nothing to report with it being such a new film and a digital transfer, though it should be noted that some shimmer and compression artifacts are noticeable.

The feature is uncut, and runs 95:51.

Audio


Two options are available:
- English DTS-HD Master Audio 5.1
- English LPCM 2.0 Stereo

For my viewing, I opted for the English DTS-HD Master Audio 5.1 which, like the transfer, was much better than I had expected considering previous Signature titles I have viewed. Straight from the start, the loud and obnoxious score thumps through the LFE and surrounds, and continues to keep a strong presence throughout the feature's run time. The choice in score isn't what I would have selected and is quite formulaic, but it works well. It must also be said that there is nothing subtle about the sound effects. Explosions and gun shots pack a lot of punch, and the gangs' car engine rumbles nicely along the road. Channel separation is strong, and directionality is competent, but could be a little better. Their are no problems with drop outs, pops, scratches, or background hiss.

No subtitles have been included.

Extras


Nothing at all.

Overall


An enjoyable enough intertwining story, with an understated cast that includes Moon Bloodgood, Anthony Anderson, Christian Slater, and Christopher Walken. The technical presentation is strong, but the lack of extras is a disappointment.


| | | | | |
| --- | --- | --- | --- | --- |
| The Film: C+ | Video: B+ | Audio: B+ | Extras: F | Overall: C+ |