The Film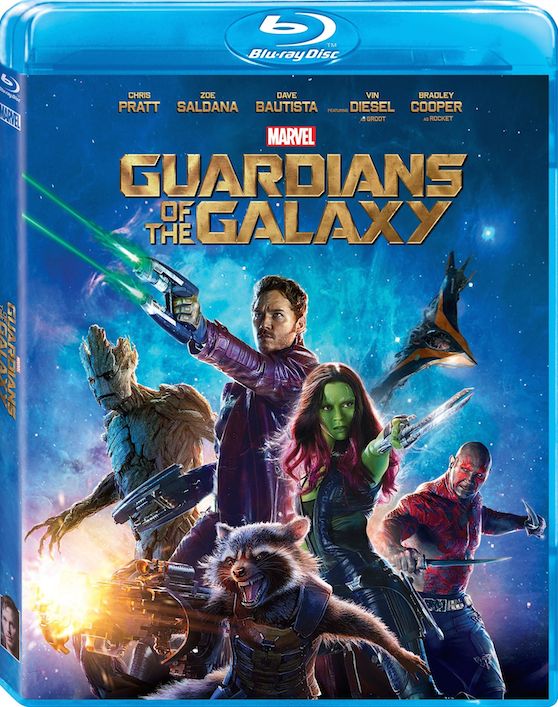 Three years ago if you'd ask me what movies Marvel will likely make in their second phase, never in a million years would I have picked "Guardians of the Galaxy" as one of them. Aside from having several forgotten runs in the bronze, copper, and modern age of comics (with characters that make up the team having appeared much earlier and in other comics not their own) these rag tag characters were never considered in Marvel's "A" list, not even "B" for that matter (which Iron Man was considered until he got his own movie franchise). They were "C" listers at best and even a 2008 relaunch didn't really grab anyone's attention (it was cancelled in April 2010 with issue 25). In recent years they were given a fresh and new focus at the hands of writer Brian Michael Bendis and illustrated by Steve McNiven in 2013 as part of the Marvel Now! initiative. The book featured a new cast of characters that make up the team and was an instant hit. A year later James Gunn would debut these characters in their own film.

"Guardians of the Galaxy" was seen as a considerable risk for the studio, they hadn't done any cosmic adventures yet (not counting the Asgard scenes in the "Thor" movies (2011, 2013) of course), this was a film that featured characters many people - especially those in the mainstream where unfamiliar with, the lead role went to a TV comedy actor and the film came with a hefty $170 million budget. Lots of warning signs that would have made most studios walk away calling the producers crazy. Well the risk certainly paid off as the film would end up as the the highest grossing film of 2014 at the North American box office with a taking just over $333 million. The risks ended up being among the reasons the film succeeded. The cosmic adventure allowed Marvel to expand their cinematic universe, the characters were fresh and interesting to movie goers that are perhaps bored with the typical superhero mould and Chris Pratt nailed it making him a bonafide star. The huge budget helped realize this fantastic world and to deliver arguably the most interesting, adventurous and entertaining film in the Marvel Cinematic Universe.

In 1988 a young boy, Peter Quill (Wyatt Oleff) is abducted by a spaceship shortly after he witnesses his mother (Laura Haddock) succumb to cancer. 26 years later we see Peter (Chris Pratt) going by the name of Star Lord as an intergalactic scavenger on the hostile planet Morag searching for a mysterious orb. An orb he was paid to track down by a broker on Xandar. Having secured the orb Quill returns to Xandar to collect the bounty on the orb, but he discovers that it brings a lot of problems with it - he finds himself hunted by his former partner and mentor Yondu Udonta (Michael Rooker) for its value. Meanwhile, Ronan the Accuser (Lee Pace) wants the orb so he can trade it to Thanos (Josh Brolin) in exchange for Thanos destroying the planet Xandar and thus sends the adopted daughter of Thanos, Gamora (Zoe Saldana) after Quill to retrieve the orb and finally bounty hunters Rocket Raccoon (Bradley Cooper) and Groot (Vin Diesel) try to take down Quill because he has a bounty on his head. Nothing goes according to plan and all four unlikely characters find themselves arrested by the Nova Corps for disturbing the peace and shipped to a Prison colony known as the Kyln. It's here they meet Drax the Destroyer (Dave Bautista) and form an unusual alliance to escape and to take the orb to someone who can shed light on the unusual artifact. Turns out the orb contains one of the powerful Infinity Gems and the group unwittingly becomes Guardians of the Galaxy ensuring the stone doesn't end up in the wrong hands, including those of Ronan and especially Thanos.

So, what makes "Guardians of the Galaxy" so good? It starts with the script. James Gunn and Nicole Perlman have written a wonderful yarn, that weaves interesting characters, equally interesting worlds, action and spectacle with a plot that's simple but effective. The world building they've done is necessary to create a sense of realism, these planets are in many ways supporting characters adding to the richness of this film, much like George Lucas was able to do in his original "Star Wars" series (1977-1983), an obvious influence.

The characters are all wonderfully realized, have depth and most importantly are all relatable (yes, even the Racoon!). There may have been doubt in the casting of Chris Pratt, but one thing's for sure - he is absolutely perfect in this role. He brings a terrific sense of fun, charm and bravado to this character making Star Lord easily one of last year's most memorable onscreen characters. Zoe Saldana plays yet another alien to perfection. Relative newcomer to film, Dave Bautista delivers an equally riveting performance as Drax playing the straight guy to Pratt's Quill and adding the much needed muscle to the group. His tragic past is highlighted by his nuanced performance, all coming from a professional wrestler no less. Whoever's idea it was to cast Bradley Cooper as the voice of Rocket should be given kudos. Rocket is the most "damaged" of all the characters, but also the funniest, his sharp wit and sense of humor brings much to the table, and his sidekick Groot is voiced by none other than Vin Diesel and in the words of Rocket "... his vocabulistics is limited to "I" and "am" and "Groot," exclusively in that order." easily the fastest check Diesel has banked, but even with his limited vocabulary he manages to bring weight to the character (matched with the incredible VFX used to bring him to life of course). They all work well together, its an ensemble that delivers in every respect.

The film's visual effects are impressive, in fact just saying they're impressive doesn't do it justice. Every level from the creature design, to the environments, the ships and the cosmic battles. This is an example of how visual effects can benefit a story in a positive way and not just there for the sake of it. The film is presented in a lush and colorful manner thanks to the images produced by DP Ben Davis the filmmakers have crafted something truly special that will make any sci-fi fan salivate. The production design by Charles Wood only helps enhance the overall world, Wood seems to be the go-to production designer for Marvel having worked on "Thor: The Dark World" (2013) as well as the upcoming "Avengers: Age of Ultron: (2015) and "Doctor Strange" (2016).

An added injection of fun is pumped into this film via it's eclectic and enjoyable soundtrack that features classic pop and rock hits from the 70's and 80's. Each song brings a sense of fun and excitement to the scenes, so much so that the soundtrack itself became a best seller, despite featuring songs that have been available for decades.

The only downside I could see is that the primary villain, Ronan, wasn't much of a threat (despite having harnessed the Infinity Gem) and Thanos did virtually nothing but give orders while sitting on his galactic throne, I suppose Marvel is waiting to unleash him in future films, in many ways he's treated as a cameo which is a little disappointing. The film's simplistic plot doesn't really offer much but the creative and immersive worlds and charismatic characters make you quickly forget the minor simplicities of the script. Overall "Guardians of the Galaxy" is easily Marvel's finest achievement, I'd even say it's better than Joss Whedon's "The Avengers" (2012). I simply can't wait for more adventures featuring this rag tag bunch of a-holes!

Video


Presented in the film's original theatrical ratio of 2.40:1 and mastered in HD 1080p 24/fps using AVC MPEG-4 compression, Marvel's transfer for this film is simply beautiful. The HD image is sharp, crisp, clear and infinitely colorful. The detail is astounding and most impressive are the lush and vibrant colors of the film's world and environments. Textures look terrific, black levels are deep and bold and the print is clean. Depth to the image is brilliantly rendered, and overall this image certainly has the "wow" factor - it's reference quality through and through.

Audio


Four audio tracks are presented on this disc in English DTS-HD Master Audio 7.1 surround mixed at 48kHz/24-bit as well as tracks in French (Canadian) Dolby Digital 5.1 surround, Spanish (Latin) Dolby Digital 5.1 surround and English Descriptive Video Service Dolby Digital 2.0 surround. For the purposes of this review I chose to view the film with its English DTS-HD 7.1 track. Much like the image the sound is fantastic, it's a bombastic, complex, immersive audio experience. Dialogue is clean and clear, directional effects sound natural and the film's action and spectacle really shine with aggressive surround, matched with a score that makes effective use of the multiple channels. It's prefect. Optional subtitles are included in English for the hearing impaired, French (Canadian) and Spanish (Latin).

Extras


Disney and marvel have included a collection of decent extras that feature an audio commentary, two featurettes, a series of deleted and extended scene, a sneak peek, gag reel and a series of bonus trailers. Below is a closer look at these supplements.

First up we've got a feature length audio commentary with director/co-writer James Gunn. Gunn candidly discusses the making of the film as he breaks down the film's production, on developing the world, breathing life into the characters, on working with the cast among other things. Gunn is a very charismatic filmmaker and his infectious personality comes across on this track, he's a very engaging speaker and offers an informative and entertaining track.

"Guide to the Galaxy with James Gunn" is a featurette (1080p) which runs for 20 minutes 56 seconds. This clip takes a look at the production process and on how director Gunn managed to weave these characters into the Marvel Universe and on creating the world, ships, creatures etc.

"The Intergalactic Visual Effects" featurette (1080p) which runs for 7 minutes 11 seconds, this clip takes a closer look at the incredible visuals created to help bring this film to life.

Next up are a series of deleted & extended scenes (1080p) that can be viewed with optional audio commentary by James Gunn and run for a total of 4 minutes 22 seconds, they can be viewed individually or with a 'play all' option. The scenes included are:

- "Kyln Will Have to Do" which runs for 46 seconds.
- "Sisterly Love" which runs for 1 minute 47 seconds.
- "No, I'm the Stupid One" which runs for 31 seconds.
- "Fake Laugh" which runs for 27 seconds.
- "Dancing Guard" which runs for 50 seconds.

The disc also features an "Exclusive Look at Marvel's Avengers: Age of Ultron" sneak peek (1080p) which runs for 2 minutes 27 seconds, this is a look at the next instalment into the "Avengers" franchise - easily one of the most anticipated films of 2015.

A fairly rudimentary but fun gag reel (1080p) is also featured and runs for 3 minutes 54 seconds.

Sneak peeks are bonus trailers (1080p) for:

- "Captain America: The Winter Soldier"
- "Marvel Cinematic Universe"
- "Ultimate Spiderman: Web-Warriors"
- "Guardians of the Galaxy: The Universal Weapon" app
- "Marvel on Disney XD"
- "Disney Infinity: Marvel Super Heroes"
- "Disney Movies Anywhere"

Packaging


Packaged in a standard blu-ray keep case.

Overall


Buy it, watch it multiple times - it's that good.
| | | | | |
| --- | --- | --- | --- | --- |
| The Film: A+ | Video: A+ | Audio: A+ | Extras: B | Overall: A |