The Film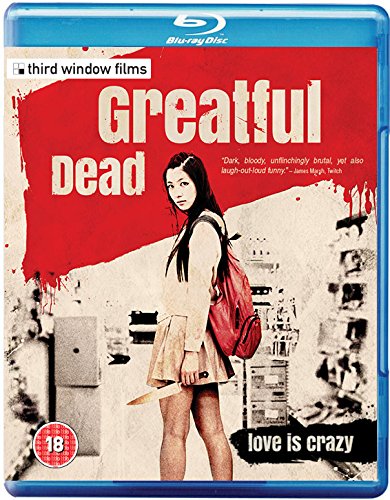 ***This is an A/V and Extras review only. For reviews on the movie from various critics, we recommend visiting HERE.***

Love is crazy.

Nami (Kumi Takiuchi) is a young woman with numerous hangups sprouting from a dysfunctional childhood. She inherits a small fortune that allows her to pursue various interests, many of which are highly abnormal. For example, Nami loves to spy on people who, not unlike herself, have gone crazy from loneliness. She calls these people "solitarians". Perhaps due to a father fixation, her favourite spying targets are old men with stiff boners. One fateful day, Nami spies on an elderly gentleman (Takashi Sasano) watching porn DVDs at home. She soon transitions from a peeping tom into a full-fledged stalker.

Video


Independent British distributor Third Window Films have released "Greatful Dead" on to Blu-ray for UK audiences using the original aspect ratio of 1.85:1. The feature is 1080p, and receives an AVC MPEG-4 encode. It's a good transfer, with only a couple of issues.

The opening couple of scenes of the movie have a much darker feel than the majority of the rest of the run time, and they also have a heavier grain structure. These scenes also don't have as much clarity as what is to come, so after the first five minutes you become quite surprised at how good the film actually looks. Colours are excellent, particularly the blacks which are deep and inky with minimal crush. Skin tones appear accurate and lighter colours add a good sense of depth among the shadows in internal scenes, and across skylines in external scenes. The level of detail can vary scene to scene, but is generally of a high standard. Facial close-ups look immaculate, and small intricacies in the decor of buildings (the old man's house especially) look great. Shadow details are good, though sometimes smaller minute details are difficult to make out in a sea of darkness. Unfortunately, there is some banding across large areas of blackness, and to a smaller extent, across the occasional skyline. Also, there are several moments where compression artifacts are quite noticeable for around a second at a time. However, neither of these issues are problematic enough to cause major concern. The print itself is clean bar one or two very minor white spots, and there are no scratches.

The feature is uncut and runs 98:05.

Audio


Third Window have provided us with a single DTS-HD Master Audio 2.0 Stereo track in the original language of Japanese. Although it was a little surprising to not find a 5.1 track included here, the stereo mix does what is required well and is certainly capable of still delivering a good amount of depth. Dialogue is clear at all times, and never sounds mumbled or distorted. Effects, especially violent thuds, sound decent despite the lack of LFE channel, whilst environmental effects still have good (albeit basic) separation between the front channels. Volume levels are consistent, and there are no issues to worry about such as drop outs, scratches, pops, or background hiss. A technically efficient, problem-free track.

Optional subtitles are included in English, and are clear and easy to read at all times.

Extras


The sole extra on this release is an interview with director Eija Uchida which runs 22:06 and is 1080i. It's a standard interview asking all the questions you would expect, and Uchida, although he stumbles at times in getting his answers out, gives good responses. He talks about how the film came about, how he tackled so many different subjects, mixing action and comedy within a sad story, the script-writing process, the casting decisions, personal attachments to the script, and much, much more. There are a lot of questions here, with short yet informative answers.

Overall


Third Window start 2015 with a solid release of what turns out to be a very interesting and macabre title. Recommended.

| | | | | |
| --- | --- | --- | --- | --- |
| The Film: B | Video: B | Audio: B+ | Extras: D+ | Overall: B |