The Film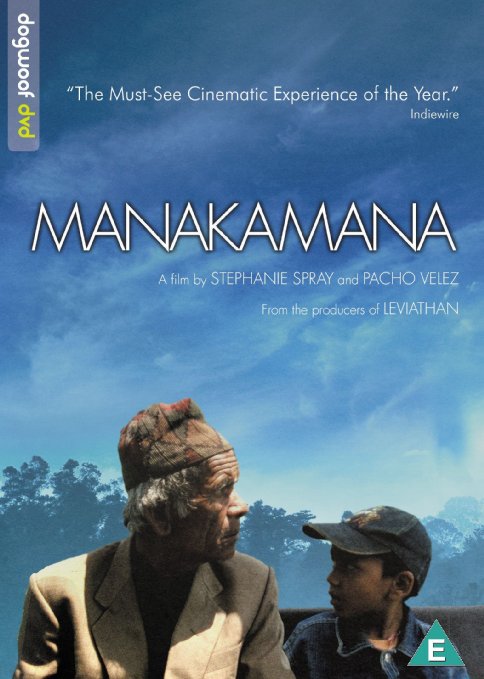 ***This is an A/V and Extras review only. For reviews on the movie from various critics, we recommend visiting HERE.***

The Hindu Manakamana Temple is almost a mile above sea level, instead of a lengthy journey on foot, worshippers can now take a 10-minute cable car journey up in to the mountains to pray at this sacred place. Using a 16mm camera co-directors Stephanie Spray and Pacho Velez join a varied mix of subjects on their pilgrimage.

The scenery is mesmerising, as are the characters - a diverse mix of commuters - from a group of old women discussing how much things have changed, a group of young men taking selfies, an elderly man and his grandson, a mother and daughter eating ice-creams, a married couple and their chicken and a herd of goats. Every shot follows a different set of passengers as we learn about them and their lives.

Video


The documentary specialist distributor Dogwoof, have released "Manakamana" on to DVD only (at time of writing) in the United Kingdom, using an aspect ratio of 1.75:1 (the original aspect ratio is 1.85:1 according to imdb). The transfer is anamorphic, and looks pretty good for a 16mm source on DVD.

Now, this documentary doesn't really have a wide range of locations. In fact, it has a single location of a cable car that travels up towards Manakamara Temple. This does mean that we have a pretty similar palette for the whole two hour run time, which doesn't really extend past the green foliage of the hillside, the skin tones of the travelers, and their clothing, which, apart from the metalheads, is quite consistent colour wise due to the traditional style of dress. The greens of the hillside do look good, and details are distinguisable, whilst skin tones look natural throughout. Details are also reasonably good, especially when it comes the patterned clothing of the travelers, or out of place hairs. Apart from some minor specks of dirt here and there, the 16mm print is clean and exhibits no signs of damage such as scratches. Overall, this is a solid transfer with no major causes for concern. Although it is far from reference quality, it is one of the better looking 16mm documentaries I have seen on DVD. I do imagine an upgrade to high definition would be a nice jump in vividness and depth though.

The documentary is uncut and runs 118:30 PAL.

Audio


Two audio tracks have been included:
- Nepali/English Dolby Digital 5.1
- Nepali/English Dolby Digital 2.0 Stereo

For my viewing, I opted for the Nepali/English Dolby Digital 5.1 track, and was very pleasantly surprised. Despite the fact that the entirety of the documentary takes place in cable cars traveling up a hillside, the track is immersive enough that you feel as though you are actually sitting across from various travelers. The thuds of the cable cars reaching the final drop off point, or the tension of the cable pulling the cars, show great use of the sound stage, and utilise the surrounds and LFE well. One scene has us in what appears to be an open air cable car as goats are transported up the hill, and during these ten minutes the wind swirls around the surrounds showing distinct separation between the various audio channels. There are no issues such as drop outs, pops, or scratches, and I noticed no signs of background hiss.

English subtitles are available for all Nepali dialogue and are burnt in. Only one person in the feature speaks English, and her speech does not include subtitles.

Extras


The first of three additional scenes is entitled "Yogi Ascetics" (11:12) and has two older gentlemen, one holding a tin of some unknown substance in the air, and one playing the most annoying musical instrument I could possibly imagine listening to in such a repetitive manner for ten minutes. It was probably a very good idea to not use this scene in the final product.

The second of the additional scenes features "Retired Manakamana Cable Car Engineer and Friend" (10:59) is one of the better scenes on the disc, including those that made the final edit. It's a very informative scene which has a retired cable car engineer give a history of the Manakamana Cable Car and some brief tidbits about Manakamana in general.

The final additional scene, "Blind Passengers From Pokhara" is exactly what it says in the title and runs 11:17. This is quite an amusing scene, and the three passengers are obviously very close friends. One of them is a bit scared of being in a cable car and not really knowing what is happening, describing the movement similar to that of being on a swing.

The rest of the extras are self-explanatory.
Sensory Ethnographic Lab Trailers:
- "Foreign Parts" (1:31)
- "Leviathan" (2:29)
- "Sweetgrass" (2:35)
Theatrical Trailer (1:38)

Overall


After the first ten minutes, I wasn't sure I was going to like this, but I soon felt roped in. It's an interesting idea for a character study, and for the most part, it works well.

| | | | | |
| --- | --- | --- | --- | --- |
| The Film: B- | Video: B+ | Audio: B+ | Extras: D+ | Overall: B- |