The Film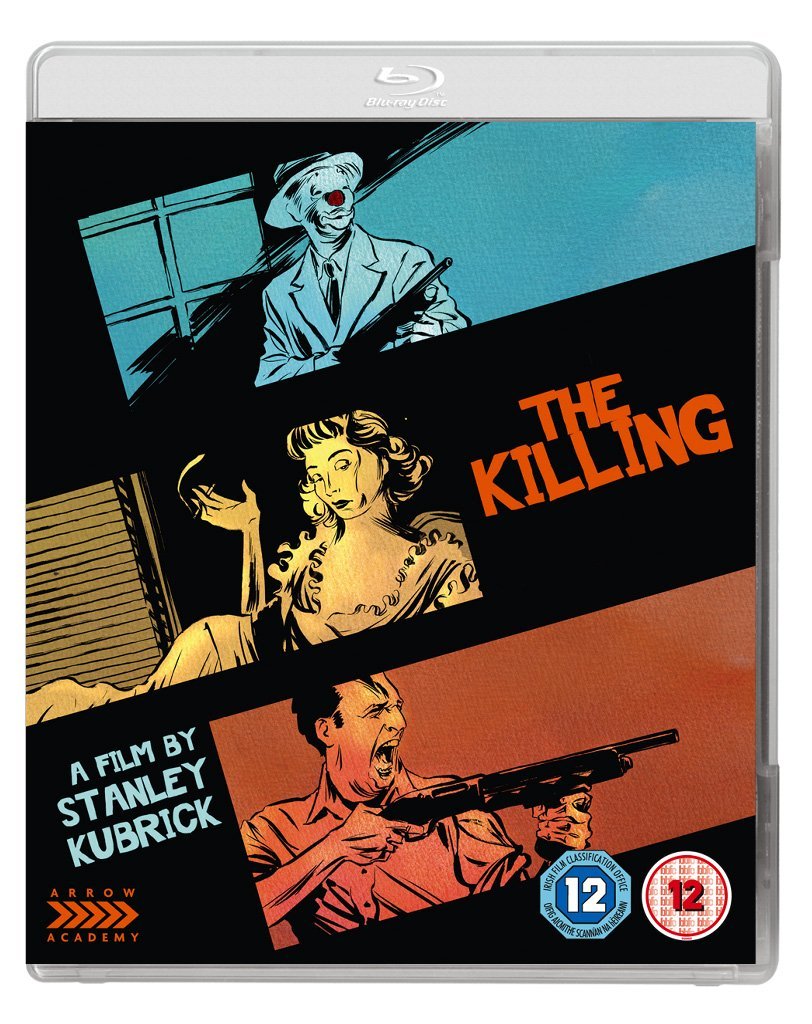 ***This is an A/V and Extras review only. For reviews on the movie from various critics, we recommend visiting HERE.***

An ex-con, a corrupt cop, a reformed alcoholic, a wrestler, a sharpshooter and a pair of inside men: these seven men intent on executing the perfect robbery and taking a racetrack for two million dollars. But this is the world of film noir, a tough, sour place where nothing quite goes as planned…

For his third feature Stanley Kubrick adapted Lionel White's Clean Break with a little help from hard-boiled specialist Jim Thompson (The Killer Inside Me), and in doing so created a heist movie classic, one to rank alongside John Huston's The Asphalt Jungle and Quentin Tarantino's Reservoir Dogs. The robbery itself is one of cinema's great set-pieces, as taut a piece of filmmaking as you'll ever find, expertly controlled by Kubrick, who called The Killing his "first mature work".

Starring Sterling Hayden (Johnny Guitar, The Godfather), perennial fall guy Elisha Cook Jr (The Maltese Falcon, The Big Sleep) and Marie Windsor (The Narrow Margin) as his duplicitous wife, The Killing is quintessential film noir, still as brutal, thrilling and audacious as it was almost six decades ago.

Video


Arrow Films have released Kubrick's third feature film "The Killing" on to Blu-ray in the United Kingdom as part of their acclaimed Arrow Academy range. The feature is set to an aspect ratio of 1.66:1 and receives an AVC MPEG-4 encode. It is of course, 1080p.

Arrow have licensed the 2k transfer from Criterion, and it looks absolutely magnificent. It isn't problem free, as there are some occasional very minor nicks here and there in the print, especially during some of the obvious stock footage from the horse racing scenes. There are also a couple of vertical scratches during the final twenty seconds or so which are quite noticeable. Apart from these very minor issues, I have nothing but praise for how good this (almost) seventy year old film looks. A layer of consistent natural film grain runs throughout, and the image is surprisingly stable when put against comparable features released on Blu-ray. Details are excellent, especially in the mid-range, and close-ups look great, with even the most minute detail coming to the forefront. Shadow details look fine and are without major issue, adding some nice depth to the darker scenes. Black levels are consistent, with high levels of clarity between shades. Apart from the minor points I have already mentioned, there aren't any issues to complain about. This is a high-end transfer.

The feature is uncut and runs 84:18.

Audio


Arrow Films have provided the film with a single lossless English LPCM 1.0 track, and it is generally a very good track with just one niggling issue. Unfortunately, there is some very low key background hiss during a number of scenes. Apart from this, there really isn't anything to take issue with. Dialogue is audible and concise at all times, and even though there are restraints from a single channel track, there is still some reasonable depth with regards to the score and some of the more subtle sound effects, especially the thuds, and glass breakage during the bar brawl at the race track. There are no major signs of damage to the track such as scratches or pops, and there aren't any drop outs to speak of. If it hadn't been for the slight hiss at times, this would have been excellent.

Subtitles are available in English for the hard-of-hearing.

Extras


The first extra can be selected via the audio menu, and can not be found under the extras menu. It's an isolated score and effects track which is presented in LPCM 1.0. This isn't really my type of extra, but I did sample various parts of it and it sounded fine. I know a lot of people love this sort of thing, and for them, this is a great inclusion and I'm glad it is available.

The main extra, isn't really an extra at all - it's an additional Kubrick movie entitled "Killer's Kiss" from 1955. Presented at an aspect ratio of 1.30:1 and receiving an AVC MPEG-4 encode, it doesn't look quite as good as the main feature, but it is still in great condition. Apart from a couple of very small specks here and there, there is nothing to particularly complain about transfer wise, whilst unlike the Criterion release, we get a lossless audio track accompanying the film which doesn't have any major issues either. "Killer's Kiss" was Kubrick's second film, and clocks in at just 67:22.

Next up, we have "The Evolution of a Master" interview with critic Michael Ciment (25:41). Shot in 2014, Ciment is the editor of French based film magazine Positif. In this interview, he talks talks about Stanley Kubrick's early years, from his photography days as a teenager, through to his first films. Within the interview we get footage of some of the films including "Fear and Desire", as Ciment talks about Kubrick's films relationships with conflict, and how conflict is at the centre of his films, whether it be war or in relationships. Ciment is informative, and gives a lot of solid information here. Well worth watching.

The interview with actor Sterling Hayden lasts 15:50 and is taken from the French television series "Le Journal de cinema" and took place on November 22nd 1970. In a mix of French and English (English dialogue has burnt in French subtitles), it is interesting to hear that Hayden learnt what he calls 'military' French whilst stationed with the US army in Yugoslavia. He discusses what got him interested in cinema, his favourite film he was in, Stanley Kubrick and Dr. Strangelove, and more. It has to be said, this is a fascinating interview, and a wonderful inclusion on this release.

An Appreciation by Ben Wheatley (11:52), is exactly that. British director Wheatley (Sightseers, Kill List) talks about why he loves Kubrick's movies so much, and how his experiences with "2001: A Space Odyssey" opened his eyes to the fact there were filmmakers, not just actors. He discusses his favourite moment from "The Killing", the modest budget "The Killing" had compared to his later features, Kubrick's imagery, and more. Wheatley is such a likable speaker, and as he has worked with Arrow on their extras in the past (Invasion of the Body Snatchers), I hope we see more of him in future releases as he gives a great perspective from the eyes of a current acclaimed director.

There are also theatrical trailers for both "The Killing" (1:47) and "Killer's Kiss" (1:45).

Away from the disc we get a reversible sleeve featuring original and newly commissioned artwork by Reinhard Kleist and a collector's booklet containing new writing by Peter Kramer, Barry Forshaw and filmmaker Ron Peck, illustrated with original archive stills.

Overall


This is the presentation that Kubrick deserves. An essential purchase.

| | | | | |
| --- | --- | --- | --- | --- |
| The Film: A- | Video: A- | Audio: B | Extras: A- | Overall: A- |