The Film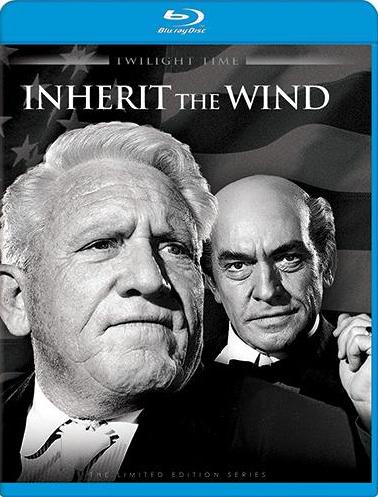 "Inherit the Wind" is a courtroom drama based on the real-life Scopes ďMonkeyĒ Trial of 1925. A defence attorney (Spencer Tracy) faces off against a fundamentalist prosecutor (Fredric March) in the case of a young schoolteacher (Dick York), brought to trial for breaking a ďwicked lawĒ that forbids the teaching of evolution in local public schools. Creationism versus evolution is the still-relevant theme of the film, which passionately asserts "the right to think".

This is one of the great films of cinema, a true triumph that is thought provoking, stunningly directed and well acted. It is a story that stays with you with lingering impressions of film as true art, and I am so happy Twilight Time has released this great film on Blu-ray allowing viewers to experience it with crisp and vibrant clarity like itís never been seen before.

This is a film that I have always returned to over and over again. It's a film that showcases what acting truly can achieve. This is the fictionalized version of a real moment in history - the one and only famous 1925 trial known as the Scopes "Monkey" Trial. Now, I live in Tennessee and so this has always been a huge subject in my states' history. The low down of the story is that a substitute teacher named John Scopes taught the idea of evolution, which was against the law in 1925 in Tennessee and so there was more or less a big show trial. The film itself uses this subject but in reality there is another purpose to the film.

It showcases and uses the underlying subject of McCarthyism, which was one of the worst moments in American History. McCarthyism is the idea to accuse one without evidence. Mainly people were accused of being communists and spies, and using the idea of treason without any regards to facts. Many people were accused, destroyed and blacklisted between 1950 and 1956.

Starring some of the all-time greats of cinema, Spencer Tracy, Fredric March, Gene Kelly, Dick York, Harry Morgan, Donna Anderson, Claude Akins, Noah Beery Jr., Florence Eldridge and Jimmy Boyd, this is a film I hold high on the pedestal, and the interactions between the performers prove that itís a fine example of exemplary screenwriting and directing.

Directed by the extraordinary Stanley Kramer who has given us the likes of "The Defiant Ones" (1958) and "Judgment at Nuremberg" (1961) he has a way with creating and expressing shocking and touchy subjects. Here, he has explored the darker tones of life and subjects that touched the nerves and emotional attitudes of people, touching on the ideas of racism, war and the evolution and the greed of people. He created some of my favorite films of all time and "Inherit the Wind" is one of them.

This is based on the play of the same name written by Jerome Lawrence and Robert Edwin Lee and adapted for the screen by Nedrick Young and Harold Jacob Smith. I want to make it clear that this is not based in historical reality because many things were added and created for entertainment value, however the basis of the subject and the idea is real, and so the movie expresses itself into a believable reality that shines a light on the dark days of humanity where the logic of science was ignored. From the play to the screenplay, the subject stands out in fascinating ways for the viewer.

This is truly a fascinating film that was nominated for four Academy Awards including Actor in a Leading Role, Writing, Cinematography and Editing, I still canít understand how it was not nominated for Best Film? Or how it didn't win Best Actor (Burt Lancaster won for his performance in "Elmer Gantry" (1960))? Itís a film that should have won every award it was nominated for. Itís a touchy subject even today, evolution and creation battling it out and I cannot imagine what it was like back in the day when this movie came out. Being from Tennessee the Scopes Trail was a main subject growing up in my school years and this was a movie that was shown in my history class even though they changed a lot of the facts. It's still representative of the subject and also of the idea of control by not being able to express all sides of beliefs.

Video


Presented in the film's original theatrical ratio 1.66:1 widescreen, and mastered in high definition 1080p 24/fps using AVC MPEG-4 compression, this is the best I have ever seen it. I remember the VHS version and even seeing the DVD version and they were not anything to talk about, but seeing it so lovingly crafted on this Blu-ray is spectacular and truly something to talk about and own. The black and white image looks solid, grain holds up and black levels are nice and rich.

Audio


A single English DTS-HD Master Audio 1.0 mono track us included. The film is mostly dialogue based, and this mono track does a decent job of presenting it. Depth is limited, but it's suitabke considering the simplicity of the audio mix. Subtitles are included in English for the hearing impaired.

Extras


Something I absolutely love about most of the Twilight Time Blu-rayís is the isolated music score. The mastery of the films music score is always a plus and I love being able to experience the music score in an isolated format - a great feature for any movie buff and most of all music buff. Hearing composer and songwriter Ernest Goldís music this way is a welcomed feature.

The disc includes a theatrical trailer (480p) which runs for 4 minutes 5 seconds.

A bonus trailer (1080p) is included for "MGM 90th Anniversary" which runs for 2 minutes 6 seconds.

Plus you get the wonderful booklet by film historian Julie Kirgo which is always a wonderful added bonus.

Packaging


Packaged in a standard eco Blu-ray keep case, this edition is limited to 3,000 copies only.

Overall


I canít write any more praise than I already have. Itís a great Blu-ray that expresses the film perfectly. Something that should be owned.

Check out Abraham Phillips' review site A Bucket of Corn, for more great reviews.

Available to purchase exclusively only at Screen Archives Entertainment.

Like Twilight Time on Facebook by going here.
| | | | | |
| --- | --- | --- | --- | --- |
| The Film: A+ | Video: A+ | Audio: A | Extras: C | Overall: A- |