The Film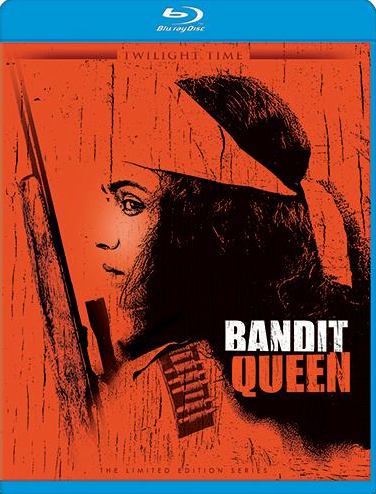 "Bandit Queen" tells the story of Phoolan Devi (Seema Biswas). Born a lower-caste girl in rural India's patriarchal society and "married" at 11, she was repeatedly raped and brutalized, finding her freedom only as an avenging warrior - the eponymous Bandit Queen.

As the movie starts you instantly know that you're about to watch something very deep and harsh as the film opens with a quote from the Manusmṛti which is the Hindu religious scriptures. It states:

"Animals, drums, illiterates, low castes and women are worthy of being beaten."

This one-of-a-kind film is directed flawlessly by Shekhar Kapur. It's an Indian autobiography based on the real life Bandit warrior and folk icon, Phoolan Devi. This is one of those movies that has sadly and tragically been overlooked upon release. First premiering at the 1994 Cannes Film Festival, it would go on to win the National Film Award for Best Feature Film in Hindi, as well as the Filmfare Critics Awards for Best Movie and Best Direction for that year.

Phoolan Devi was an interesting soul. In 2001 she was assassinated at the very young age of 37. Now I want to make something clear. She was a criminal, who, after being released from jail, became a politician. She also became a folk legend, much like Robin Hood. Devi lived a horrible life of abuse and rape at the hands of men, ending up becoming a revenge-seeking angry woman. In retaliation, she formed her own gang, went to the village of where she was brutalized and shot and killed 22 villagers, executing men in front of their families. She was known as a feminist Robin Hood style character by the media. In 1983 she was arrested and charged with 48 crimes, including murder, plunder, arson and kidnapping for ransom.

This movie is based the book "India's Bandit Queen: The True Story of Phoolan Devi" by Mala Sen. There are many books on her life (including Devi's own autobiography) and her legend and many of them are half-truths. So like all biography films they are loosely based on real life.

"Bandit Queen" stars Seema Biswas as the lead character. Biswas did a fantastic and believable job of portraying the horrible plight of Devi. She had acted in one other feature before "Bandit Queen" but it was the performance as Devi that brought her recognition and I can see why. Taking on this role with pain and a realism that never lets up, her performance brings this folk legend to life in great detail.

It's truly a shocking story, something that leaves a lasting impression on the exploration of one woman's tragic soul and ultimate journey. It's very violent and can be tough viewing at times, yet no matter how shocking and tough this film may be, the brutality in many shots is so realistic that it stays with you long after it's over.

Video


Presented at an aspect ratio of 1.78:1, which has been mastered in high definition 1080p 24/fps using an AVC MPEG-4 enocde, what needs to be said about Twilight Time Blu-ray's that already has not been said with accolades? I have never seen "Bandit Queen" with such high quality visuals as this product. Another ace in the hole from a top notch company that knows what it's doing. The video is stronger than I have ever seen it before.

Audio


Presented in Hindi DTS Master Audio 2.0 stereo, this audio track does a fine job of capturing the film's audio. Dialogue is crisp and clear, though it would have been nice to have an expanded depth of a 5.1 track. Still, this stereo number does the trick. Burnt in subtitles are included in English.

Extras


You get an audio commentary by the director Shekhar Kapur. A nice listen and an interesting education on the feature.

The disc includes an isolated music score by Nusrat Fateh Ali Khan. He was a true legend that sadly passed away in 1997. He was such a unique and gifted musician, and what most people probably don't realize is that Khan was gifted with the one of the greatest voices of all time. His style truly is a one-of-a-kind experience. He worked with the likes of Peter Gabriel, Michael Brook, Eddie Vedder and many others. It's nice to have this feature on the disc to listen to his score for this film.

You also get another wonderful booklet by film historian Julie Kirgo which is always a treat for any movie buff.

Packaging


Packaged in a standard eco Blu-ray keep case, this edition is limited to 3,000 copies only.

Overall


It's a brutal, violent and unflinching story. Very unapologetic in its brutality toward women, it's an important and very impressive example of tragedy and the horrors that women face in different countries with old asinine beliefs and the stupidity of anger and hatred in men. It's a film that showcases great acting, music, direction and a deep understanding of the power and the will to survive no matter the horrors faced. Phoolan Devi was part legend, part crusader and part brutal criminal, but all true survivalist.

Check out Abraham Phillips' review site A Bucket of Corn, for more great reviews.

Available to purchase exclusively only at Screen Archives Entertainment.

Like Twilight Time on Facebook by going here.
| | | | | |
| --- | --- | --- | --- | --- |
| The Film: A | Video: A | Audio: B+ | Extras: C+ | Overall: B- |