Big Gay Love
R1 - America - Canteen Outlaws / TLA Releasing
Review written by and copyright: Eric Cotenas (15th February 2015).
The Film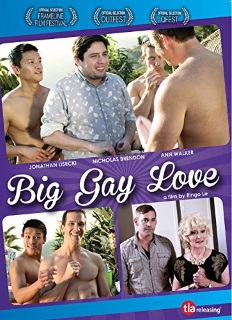 Party planner to the stars Bob (Jonathan Lisecki) is successful at his work but hopelessly unlucky in love. After countless rejections, the only advice his gym-toned couple friends Chase (Ethan Le Phong) and Adrian (Todd Stroik) can offer is that he address his looks and portly figure with plastic surgery – a combination of mental and retail therapy – while his burlesque performer mother (Ann Walker) has never gotten over his coming out, and has attributed Bob's half-Vietnamese heritage to her being a sex slave at the Hanoi Hilton. When he decides to quit downtown for suburbia and his first home, he finds opposition from married gay couples who disapprove of his single status and the further temptation he will bring into neighborhood; yet the house remains a goal for him even if he has no one to share it with (and he's certainly not moving his mother in with him). At a party he has planned for singer friend Lana (Ina-Alice Kopp) and her gaydar-pinging actor fiancé Tag (Jesse James Rice), Bob meets charming, handsome celebrity chef Andy (Nicholas Brendon) but his self-esteem has taken too much of a beating to interpret Andy's interest as anything but friendliness.

Eventually, they start dating but Bob continually puts off physical intimacy until he can get in shape (which has Andy thinking that Bob is not attracted to him). The two eventually get over that hurdle, but Bob still has doubts about his appearance; especially when Andy's work on his gay guide to cooking/self-help book keeps him away. Bob suggests that literary editor Aidan could be of help to Andy, but then Bob starts suspecting that Aiden and Chase are going to steal Andy away from him, particularly when the svelte couple invites Bob and Andy to a pool party (cue embarrassing bathing suit shopping montage). When Bob finds Andy's manuscript in the couple's bedroom and reads it, he not only believes his friends have indeed seduced Andy but that Andy has been using him as the subject of his book (in a chapter comparing bad sex to a flat soufflé). Bob storms off after a embarrassing public confrontation only to then wonder if his insecurities are just getting the best of him. Will he go under the knife to thoroughly reinvent himself before he realizes that some people love him as-is?

Big Gay Love does have something to say the cycle of self-destructive and self-defeating impulses born out of body issues and insecurities that stem from rejection (and may also cause it), but writer/director Ringo Le, however, does condescend too much to making the gay equivalent of a romantic comedy with some pratfalls and pseudo-surrealistic touches. While it may not be out of the realm of possibility for a handsome prince to swoop in and try to love an "ugly duckling", Bob never quite seems to come to that perhaps-clichéd realization that you have to learn to love yourself before you can love and be loved by others (there's also a bit of wish-fulfillment/revenge fantasy in the "revenge" Bob takes upon his perfect-looking friends who may or may not have actually tried to steal his boyfriend). Another running theme is how close friends can sometimes be useless in offering supportive advice, and unpopular when they are actually honest. The end result is a little shallow but heartfelt, with performances that are more often endearing than off-puttingly campy; yet, it feels (and probably is) more GLBT festival bait than a personal work (although the latter is probably the widest venue most independent films of all genres get these days before home entertainment and VOD).

Video


Canteen Outlaws' single-layer DVD features a suitable progressive, anamorphic encode of this HD production. Some darker scenes look softer and have a trace of noise, but that is likely the result of the post-production color correction to give some scenes a bit more mood (edge enhancement is more likely part of the encoder's down-scaling rather than an attempt by the disc producers to "improve" the master).

Audio


The audio is a Dolby Digital 2.0 stereo track that seems to suit the subdued nature of most of the dialogue-heavy film. There are no subtitles or closed captions.

Extras


Although there is no mention on the back cover, the disc includes an audio commentary by director Ringo Le who discusses the origins of the project primarily as an attempt to do something different for gay cinema, particularly looking at the dual impulses to "try to be young and hip and party forever" or to attempt - as a gay person - to achieve adult milestones like buying a house and settling down (as well as the ways people expose themselves in relationships and the ways their lives have to be rearranged in order to accommodate another). Le also discusses his casting choices for some of the supporting and bit parts - which include a number of gay figures in Los Angeles theater and stand-up comedy - as well as the artists whose work he used (as well as those who recorded songs specifically for the film). In terms of shooting and technical issues, he discusses the hazards of shooting on location with time limitations and sound recording, along with the clashes between the visions of the production designer and the constraints of actual locations (including the decorating tastes of the owners of working shops and restaurants).

Also included are the film's theatrical trailer (2:01) – which includes a dedication in memory of Lewis Tice, festival programmer for TLA's Danger After Dark and Autonomy Pictures, who passed away in April at age forty-four – and trailers for Love or Whatever and The Third One.

Overall



| | | | | |
| --- | --- | --- | --- | --- |
| The Film: B- | Video: B- | Audio: A | Extras: B+ | Overall: B |

---
DVD Compare is a participant in the Amazon Services LLC Associates Program and the Amazon Europe S.a.r.l. Associates Programme, an affiliate advertising program designed to provide a means for sites to earn advertising fees by advertising and linking to amazon.co.uk, amazon.com, amazon.ca, amazon.fr, and amazon.de.