The Film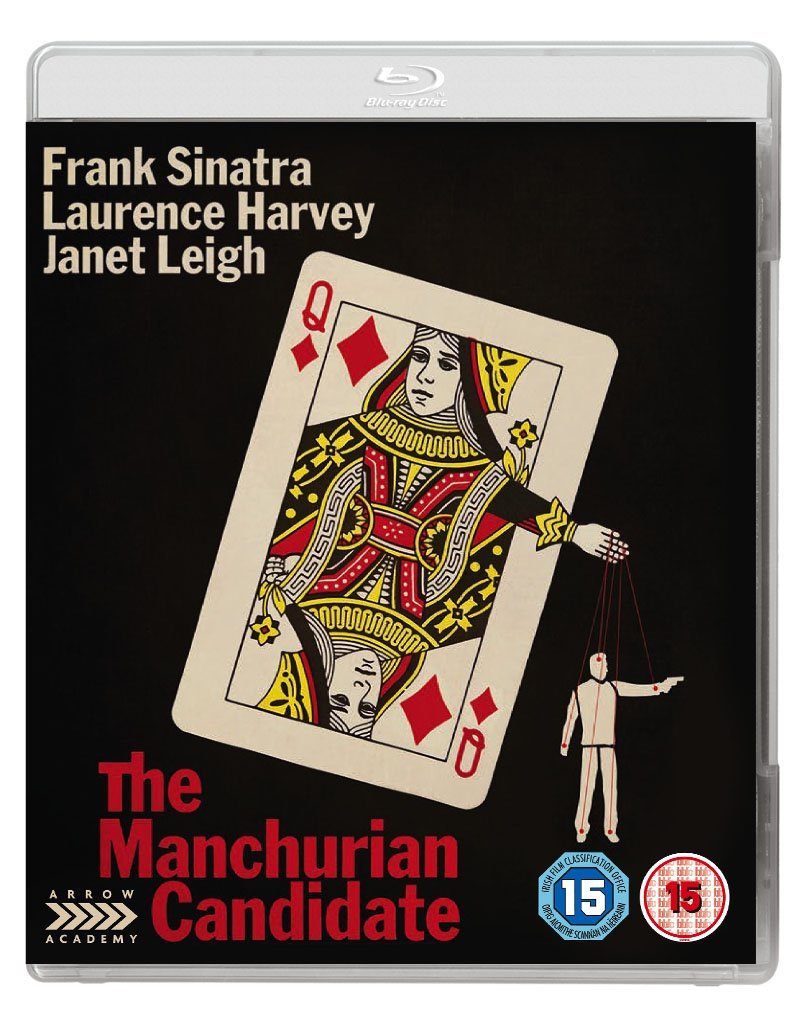 ***This is an A/V and Extras review only. For reviews on the movie from various critics, we recommend visiting HERE.***

WHY DON'T YOU PASS THE TIME BY PLAYING A LITTLE SOLITAIRE?

After saving the lives of his platoon during the Korean War, Sergeant Raymond Shaw (Laurence Harvey) is hailed as a bona fide American hero. This couldn't have come at a better time for his mother (Angela Lansbury) who is hell-bent on boosting the career of his stepfather, a senator straight from the McCarthyite wing of the US political spectrum with designs on the Presidency.

So far so familiar – but why does Shaw's former captain (Frank Sinatra) have recurring nightmares that suggest that his distinguished comrade-in-arms might not be all that he seems?

Based on the memorably paranoid bestseller by Richard Condon (Prizzi's Honor), this is one of the greatest of all Cold War suspense thrillers, not least for its alarmingly original take on the notion of "the enemy within". Angela Lansbury won multiple awards and an Oscar nomination for her performance as one of the most monstrous mothers in screen history, but perhaps the most unnerving thing about the film is the way that its political satire remains so perfectly on target more than half a century later.

Video


Independent British distributor Arrow Films have released "The Manchurian Candidate" on to Blu-ray in the United Kingdom as part of their acclaimed Arrow Academy range. The film is presented at an aspect ratio of 1.78:1 (original aspect ratio is 1.85:1), using an AVC MPEG-4 encode. It is 1080p.

I haven't had the opportunity to view the American MGM release which has been on the market for a few years now, but from what I have read, this transfer licensed from MGM seems at least to be from the same master though with some additional work performed by Arrow. Although the transfer is slightly marred by some very light damage throughout, with occasional light scratches (usually lasting a single frame like at 19:12 to the right of the chandelier) and signs of dirt and white specks, this isn't a bad print. The damage, whilst visible, is pretty insignificant, with only one or two instances where it is harsher than the rest of the run time. Grain levels are a little inconsistent, but they are natural looking for the vast majority of the feature, only looking a little too heavy in a couple of night time scenes. However, there is also plenty to praise here. There are some solid shadow details and some of the facial close-ups look outstanding. A couple of scenes lack sharpness, but it is obvious that there has been no over-zealous use of digital noise reduction or other digital tinkering. Black levels are above average, and contrast levels fine. The master is likely the same one used for the old MGM SE DVD from 2004, but this disc is still a worthy upgrade from the previous DVDs. There is certainly room for improvement, and it isn't quite to the extremely high standard I have come to hold for Arrow, but the majority of folks will unquestionably be more than satisfied.

The feature is uncut, and runs 126:29.

Audio


Unlike the US release from MGM which only contained a DTS-HD Master Audio 5.1 upmix, Arrow Films have treated the UK to the 1.0 mono track presented in LPCM. This is generally a good track, though like the transfer is not problem-free. The biggest issue here is that there is a consistent level of background hiss throughout, which is noticeable, but thankfully not overpowering. Dialogue is clear at all times, never coming across mumbled or incoherent. Despite the mono restrictions, there is good depth for a dialogue heavy film, and there are no issues with drop outs, scratches, or pops. One or two scenes did sound like they had some low-key crackle, but that could've been the hiss more than anything. Again, not as good as I have come to expect from Arrow, but definitely an improvement on older DVD releases.

Optional English subtitles have been included for the hard-of-hearing.

Extras


The first extra on the disc is an audio commentary by director John Frankenheimer. Frankenheimer is an excellent commentator, but unfortunately the track does suffer from some short periods of silence which can cause slight pacing issues. However, when Frankenheimer is speaking, the information is pure gold. He goes in to considerable depth about various processes in making the feature, and even has some great anecdotes from the set. Of course, he also touches on the political elements of the story, and the cast members. A worthy listen let down only by the quiet periods.

Next up, we have a documentary entitled "The Directors: John Frankenheimer" (58:32, 1080i). Part of a series of documentaries, many of which have found their way to various DVD and Blu-ray releases over the years, this is a great look at the career of John Frankenheimer featuring interviews with many of those he has worked with including Samuel L. Jackson, Kirk Douglas, and producer Robert Cooper. This might not be a film specific extra, but it is an invaluable addition to the disc that offers up fascinating personal perspectives of Frankenheimer as a director.

Next, we have a 1988 interview with John Frankenheimer, Frank Sinatra and George Axelrod (7:48, 1080i). Although short, this is an enjoyable retrospective interview with all three looking back at various aspects of the film, most amusingly Frank Sinatra and his broken finger when filming a martial arts scene.

Next up is the "Queen of Diamonds: Angela Lansbury" interview (14:51). Lansbury has always been a fantastic speaker in every interview I have ever seen her in, and this is no different. Unlike most of today's big name actresses, Lansbury talks in-depth about the different parts of the story and the filming, getting quite technical about how different parts of the writing, especially the inate humour, came together. She obviously has a lot of respect for Frankenheimer.

Following that, we have the "A Little Solitaire: William Friedkin" interview (13:17). I always like to hear the thoughts of respected directors talking about films they did not make themselves, and Friedkin's look at "The Manchurian Candidate" is certainly worth viewing. Friedkin does call Frankenheimer his idol, and his respect shows throughout. He gives good analysis of several shots, including the way editing has been done, and the lack of stunt doubles. Another enjoyable interview.

The on-disc extras end with a theatrical trailer (1:56, 1080p).

There is also a booklet with an essay by Peter Knight, contemporary reviews, and an article on brainwashing by Neil Sanders, and a reversible cover.

Overall


I was a little disappointed by some aspects of the A/V based on my (perhaps ridiculously) high expectations from Arrow, but this is still a fine release. The film is an essential purchase, and the extras package, especially the episode of "The Directors", is solid.


| | | | | |
| --- | --- | --- | --- | --- |
| The Film: A- | Video: B+ | Audio: B- | Extras: B+ | Overall: B+ |