The Film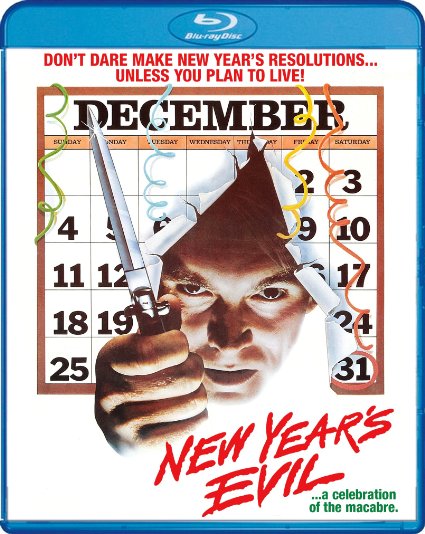 While Joe Six Pack might wait until Halloween to bust out the scary stuff, horror fans only have one time of year they watch fright films: all the time. Not that it ever gets old, but a sporadic way to break up the monotony is through holiday horrors. Odds are pretty good that if a film is set on a major holiday it'll be getting a yearly viewing from most diehards… even if it's terrible. This explains how "Uncle Sam" (1996) winds up in my player every July 4th. Thankfully, "New Year's Evil" (1980) is not terrible, even if it is a fairly run-of-the-mill slasher. The film comes across slightly smarter than expected because it incorporates the normal festivities of New Year's Eve into the plot, turning moments typically of celebration into fear. It also gets another bonus point for a third act reveal that is unexpected (if not a tad cliché) assuming you haven't checked the cast list on IMDb and ruined it for yourself – which is exactly what I did.

It's New Year's Eve! And all the cool kids are celebrating at a taping of "Hollywood Hotline", a punk rock & new wave show hosted by Diane "Blaze" Sullivan (Roz Kelly). The show is hosting a late-night countdown, with bands playing on stage and a dozen people standing by to take phone call requests. Diane gets a call from a "fan" who calls himself "Evil" and states that he will murder someone each time the clock strikes midnight in a different time zone, with her to be the final victim. Diane's security team puts the building on lockdown and keeps her and her son, Derek (Grant Cramer), secured. Meanwhile, victims begin to arrive one per hour as the first stroke of midnight brings with it a nurse's death. Evil records his crimes and call the show after the deed is done, playing back his promises. It isn't long before the trail of bodies leads directly to Diane's dressing room.

This was a fun movie, even for a first time viewer like me who has seen a hundred slashers. Is it original? Absolutely not, but it is very entertaining in a "14-year-old staying up late to watch USA's "Up All Night" kind of way". Having the killer strike at midnight works perfectly as a plot device, and it seems like such a natural choice to play up the film's holiday ties. Perhaps one of the best aspects to the production is the decision to reveal the killer early on. I always find this a creepier approach than the boilerplate "hide in the shadows for 85 minutes" killers in the majority of slasher films. This guy is fairly debonair, too; think of Ted Bundy and you're on the right track. Even better, he's got a streak of John "Hannibal" Smith (leader of "The A-Team" (1983-1987), as played by George Peppard) in him because he shows up at each victim's location wearing extremely convincing outfits. His third act skirmish with a biker gang (!) is so preposterous and deliciously B-grade cinema. Don't forget, folks, this is a Cannon Films production – always expect the outrageous and then some.

If there's one thing to remember the film by, however, it's the title song; a damn catchy one, too. "New Year's Evil", as performed by Roxanne Seeman and Eduardo del Barrio, spent four days blaring the opening lines in my head before I could get it out. It plays on the Blu-ray's menu, it opens the film and it may be used one other time; I'm not sure. It's one of those infectious tunes that are impossible to shake. With all these vinyl companies putting out obscure soundtracks these days, someone please get this on a 7".

"New Year's Evil" is a perfectly decent slasher movie while also being highly enjoyable to watch for the sheer ridiculousness of it all – making it the ideal choice to pop on with a group of wasted friends on its namesake holiday. Or, perhaps, by yourself, Smirnoff Ice in hand, lamenting another year gone by with no social life to show for it. Either way you're destined for Fun City.

Video


This is the Blu-ray debut for "New Year's Evil", having previously been issued on a burn-on-demand DVD from MGM. The film's 1.78:1 1080p 24/fps AVC MPEG-4 encoded image appears to have been faithfully reproduced, for better or worse. This is not a good looking film by any means, but it's about as cleaned up as it needs to be. The print sourced from MGM is in good shape, with the only real anomaly showing up in the form of a yellow vertical line appearing 1/3 of the way across the screen for three shots. It's a very minor defect. Line work in the shadows tends to fade into a murky mess, and black levels get pretty noisy when it's really dark. That's all the bad stuff. On a positive note, closeups reveal nice little details in faces and clothing textures. Colors are nicely saturated. Other than some grain spikes during night scenes, the majority of the appearance is very filmic.

Audio


The English DTS-HD Master Audio 2.0 stereo track has exactly one issue with it, a high-pitched ringing that occurs for around ten seconds at approximately 30 minutes into the movie. That aside, this is a typically competent audible offering from Scream Factory. Dialogue is balanced and discernible, songs have a moderate presence and sound effects are given good weight. There could be a bit more oomph to the sourced music, especially that theme song, but this gets the job done just fine. Subtitles are included in English.

Extras


As usual, Scream Factory may not unload a massive quantity of features on their releases, but they always ensure the quality is there. "New Year's Evil" gets only an audio commentary, featurette and theatrical trailer.

The film's audio commentary features writer & director Emmett Alston, and it's a bit on the dry side. Code Red's Bill Olsen is on hand to moderate the proceedings, which delve into typical production speak about location shooting, budgetary concerns, how Alston got hooked up with Cannon, etc. It's a subdued affair that even serious fans of the film may find boring.

"The Making of New Year's Evil" (1080p) is a featurette that runs for 37 minutes and 16 seconds. This is yet another in a series of winning behind-the-scenes pieces from Scream Factory, featuring interviews with many cast & crew members who offer up all sorts of interesting anecdotes and reminisce fondly on their time making the movie. Stick around through the brief credits for a fun scene at the end.

The film's theatrical trailer (1080p) runs for 1 minute and 46 seconds.

Packaging


The single disc comes housed in a standard Blu-ray keep case. The film's cover art is reversible.

Overall


When it comes to horror, it's less about being original and more about what you do with your concept. "New Year's Evil" works great as a yearly tradition to toss on while you toss back some drinks, and as a bonus it's the sort of movie that plays well with an audience. To me, Cannon Pictures is a mark of B-level sleazy quality of which I can't get enough.
| | | | | |
| --- | --- | --- | --- | --- |
| The Film: C+ | Video: B- | Audio: B- | Extras: C+ | Overall: C+ |