The Film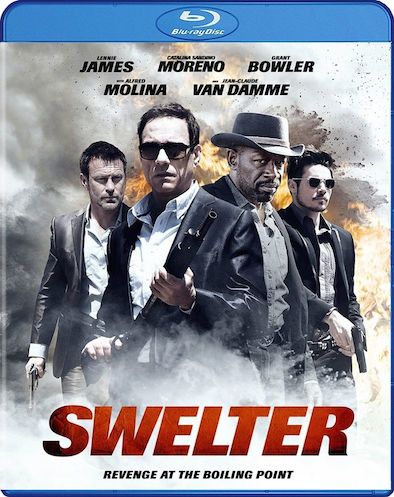 After experiencing a minor resurgence in his acting career thanks to the unvarnished honesty of "JCVD" (2008), Jean-Claude Van Damme, the "Muscles from Brussels", could have coasted along on a solid gold DTV highway paved with easy action movie paydays for the remainder of his career. So you have to admire the fact he's taken some risks – albeit fairly safe ones – to play characters outside his norm. The Van Damme of today is a cool, collected dude who seems like he's just happy to be part of an ensemble cast and making movies, whereas the Van Damme of old was perhaps seen as a little too rigid and egocentric (like most actors). For example, his recent role in Peter Hyams' DTV "Enemies Closer" (2013) as a nature-loving eccentric villain is one of the best performances he's given in years. After killing two men his character excitedly talks to a strawberry plant. It's so totally bizarre I can't stop telling people to check the film out. His lustre may have worn away, but there's still a spark to his acting that proves he hasn't lost it like other faded action stars (coughSeagalcough).

Here, in writer/director Keith Parmer's heist pic "Swelter" (2014), Van Damme is one member of a group of convicts who have returned to the Nevada desert in hopes of finding a stash of loot that one of their former partners got away with. Ten years earlier, the men pulled off a Las Vegas casino heist wearing masks featuring the Rat Pack members and nearly flew away with $100 million. Four were caught but one, Bishop (Lennie James), was shot in the head, miraculously lived, and made it out with $10 million. The issue for Bishop now is he's sheriff of a small desert town, with no memory of the events that took place that night due to his head injury. He buried all that money somewhere years ago, the location now a mystery lost to his blurred mind. With his former crew reassembled, the men enter Bishop's sleepy town of Baker, hoping to reclaim part of the fortune that was lost a decade ago.

In terms of story, "Swelter" is as trodden as they come, so Parmer's only chance at making his film stand out from the masses is artistic style. Sure, he's got the moderate muscle of some solid supporting players, including Van Damme, the gravitas of Alfred Molina, and the strong stoicism of Lennie James, whose stock has risen thanks to playing a memorable character on "The Walking Dead" (2010-present). Grant Bowler also delivers a good performance, although he's far less known than the bigger names. Other than these guys, the remainder of the cast is in stereotypical bad guy mode, which is rather dull. What really muddies things up is the decision to include a gruff group of bikers in the mix. First these guys seem like enemies, then not, and then they're teamed up with the ex-cons. It isn't like this film is hard to follow by any stretch, but alliances seem to shift among these scoundrels as often as the desert wind.

Oh, right, we were talking about Parmer's need for style. There's some color manipulation and heavy grading, along with liberal use of slow motion and much of the camera work you'd expect to see in a Quentin Tarantino or, at one point, Tony Scott film. But at this point in the life of action cinema, nothing looks or feels novel. Every tired low rent vehicle hoping to grab a slice of the QT pie has been aping the same general look for two decades. Style only goes so far, because were this picture stripped of its aesthetic and forced to survive on the merits of the story it would wither and die.

Video


There's not much fault to be found in the film's exceedingly crisp 2.35:1 1080p 24/fps AVC MPEG-4 encoded image. The highly stylized picture features excellent contrast, bold colors and superb black levels. Colors are accurate and well-saturated, with many scenes graded to predominant hues, such as yellow or blue. The sunbaked landscape of the Nevada desert is appropriately dusty and scorched. Grain is non-existent, and though it was shot digitally the end result almost looks like video. It's not very cinematic in appearance. That's a minor quibble, however, because the overall impression viewers will be left with is that this is a near-perfect presentation that looks as good as any other big studio film.

Audio


There are a number of audio options from which to choose, though the clear pick is an English DTS-HD Master Audio 5.1 surround sound track (48kHz/24-bit). Right from the get-go bass is deep and supportive, rears carry both music and sound effects effortlessly and there's a real weight to the explosions and gunfire. Lots of source music is used here, all of which comes through with high fidelity, aiding in the immersion. Discreet effects enjoy some solid separation, filling out the soundfield with a very good mix. Additional tracks include an English Dolby Digital 2.0 stereo track, and French DTS-HD Master Audio 5.1 and Dolby Digital 2.0 stereo options. Subtitles are available in English.

Extras


The bonus material consists of a handful of interviews, a theatrical trailer and some bonus trailers – nothing too exciting.

Interviews (1080p) are conducted with the following cast & crew:

- "Jean-Claude Van Damme (Stillman)" runs for 12 minutes and 54 seconds.
- "Keith Parmer (writer/director)" runs for 18 minutes and 27 seconds.
- "Grant Bowler (Cole)" runs for 8 minutes and 16 seconds.
- "Josh Henderson (Boyd)" runs for 9 minutes and 32 seconds.
- "Lennie James (Bishop) & Alfred Molina (Doc)" runs for 8 minutes and 42 seconds.

The film's theatrical trailer (1080p) runs for 1 minute and 45 seconds.

Finally, bonus trailers (1080p) are included for the following:

- "Mystery Road" runs for 2 minutes and 41 seconds.
- "Kid Cannabis" runs for 1 minute and 36 seconds.
- "Special ID" runs for 1 minute and 36 seconds.

Packaging


The single disc comes housed in a vortex Blu-ray case.

Overall


Those hoping for a fun Van Damme vehicle will likely be disappointed. Those who are fans of generic, but mostly well-done action/heist films might have some fun here, though the replay value of the film is low.
| | | | | |
| --- | --- | --- | --- | --- |
| The Film: C | Video: A- | Audio: A- | Extras: C | Overall: C+ |