The Show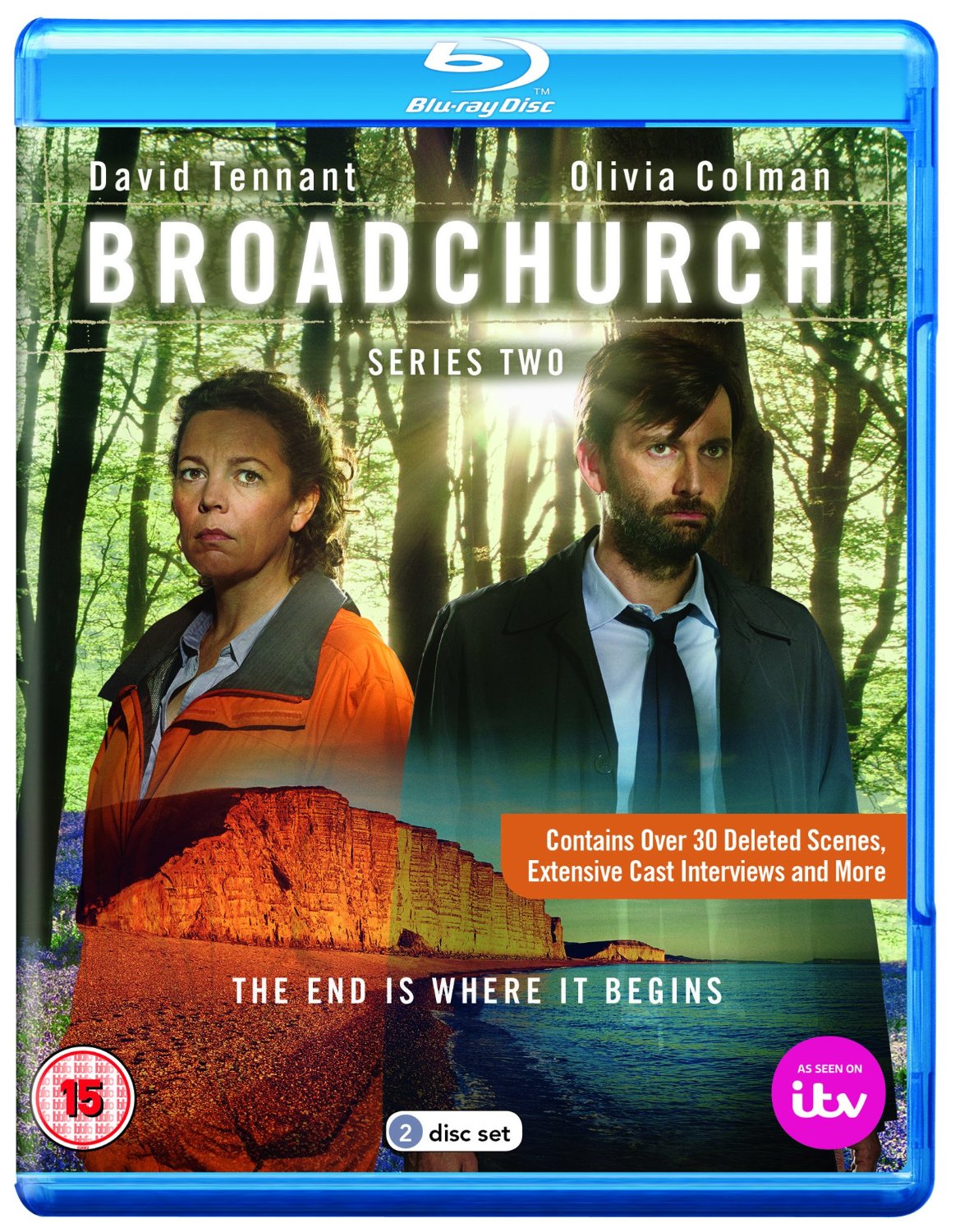 ***This is an A/V and extras review only. For reviews on the show from various critics, we recommend visiting HERE.***

The end is where it begins.

Broadchurch; a town in shock, after the revelation of the identity of Danny Latimer's killer.

Alec Hardy and Ellie Miller find themselves drawn back into the case as it goes to court. Ellie, estranged from family and friends, only has Hardy to turn to. But Hardy is a man still haunted by illness and the case he could never solve - Sandbrook.

As the trial proceeds, battle lines are drawn: between legal teams, between the residents of the rown, and even between family members. Lives will be thrown under the spotlight, and the deepest secrets laid bare for all to see.

As the trial and the Sandbrook case collide, no-one will emerge unscathed.

Video


Acorn Media originally released the first series of "Broadchurch" on DVD only, but after it shifted 18,000 units the first week of release, a Blu-ray quickly followed. For series two, Acorn are putting out the DVD and Blu-ray releases at the same time. The Blu-ray uses an AVC encode and is 1080/50i. The aspect ratio is 1.78:1.

Shot on digital using an Arri Alexa, the show certainly has a digital polish to it, and it shows off the excellent cinematography beautifully, giving a great amount of depth to the Dorset locations. Blacks are deep but unfortunately do suffer from some slight crush from time to time, whilst other colours are vivid and natural. Details are generally very strong, especially in longer shots where the various environments have high levels of clarity and sharpness. Shadow details vary from scene to scene, often of high quality but occasionally they struggle to be particularly noticeable. Close-ups are fantastic as expected, with every out of place hair apparent and the small wrinkles in Olivia Colman's facial expressions unmistakable. As should be anticipated for such a new show, there are no major concerns with this release. There was some very minor aliasing and a couple of barely noticeable instances of banding, but there are no obvious compression issues, and no digital artifacts. This is a solid transfer, though there is room for some minor improvements.

The show is uncut, with episodes 1-4 on disc one, and episodes 5-8 on disc two.

Audio


There are two audio options available here:
- English DTS 5.1
- English LPCM 2.0 Stereo

First of all, I must say I am very disappointed at the lack of a 5.1 lossless option. However, the DTS 5.1 track is still pretty good. Icelandic composer Ólafur Arnalds returns to provide one of the best scores on British television, with Arnór Dan singing the closing credits song which is hauntingly perfect, and the 5.1 track captures it well, making good use of the surrounds, and of the LFE throughout. Sound effects are subtle with good levels of separation and direction, whilst dialogue is always clear. Volume levels are consistent throughout. The LPCM 2.0 track plays by default, and I sampled it a couple of times. It certainly has more clarity, depth and range than the 5.1 track, but it isn't as enveloping and the score shouts you back to the lossy 5.1 option. There are no issues to speak of such as drop outs, scratches, or background hiss. If only the 5.1 option was lossless!

Optional subtitles are available in English for the hard-of-hearing.

Extras


All the extras can be found on disc two.

We start off with a fairly large section entitled "Behind the Scenes":
- Featurettes
--- "The Making of Broadchurch Two: Part One" (14:25)
--- "The Making of Broadchurch Two: Part Two" (5:26)
--- "The Latimers" (2:13)
- David Tennant and Olivia Colman
--- "Success of the First Series" (1:34)
--- "On Writer Chris Chibnall" (2:51)
--- "On West Bay Dorset" (1:48)
--- "On Series Two" (2:02)
- Interviews
--- Andrew Buchan and Jodie Whittaker at the Latimer House (1:19)
--- Jodie Whittaker (1:07)
--- Andrew Buchan (1:14)
--- Eve Myles (1:31)
--- Charlotte Rampling (1:24)
--- Marianne Jean-Baptiste (1:20)
--- writer Chris Chibnall (2:50)
--- producer Richard Stokes (1:35)
--- David Tennant and Olivia Colman (4:36)
All of the above certainly helps make this release have some of the better extras I have seen from Acorn on their TV show releases. The making of featurettes have some behind the scenes footage as well as interviews from on the set, where we learn about the basis of the show, the script, and the success of the first series. The David Tennant and Olivia Colman section features our two leads discussing several aspects of the show, although not in any depth. Also included is a wide selection of short interviews, which seemed to have been pillaged for some of the sound bites included in the featurettes. It is interesting to hear how some highly revered actors such as Charlotte Rampling became attached to the show.

Next up, we have some deleted scenes:
- Play All
- Episode 3 (4:40)
- Episode 4 (4:23)
- Episode 5 (3:14)
- Episode 6 (3:42)
- Episode 7 (9:56)
- Episode 8 (5:10)
It seems strange that there are no deleted scenes for the first two episodes, but there is a good amount of footage from the cutting room floor for the remaining six. These mostly include additional dialogue which were obviously cut for pacing reasons, with episode seven having quite a lot of additional footage compared to the rest. These scenes are interesting to view, but they were likely the right scenes to trim from the show to meet the required run time.

There is also a photo gallery (2:21) and a "Gracepoint" trailer (1:10).

Overall


Series two is not as good as the first series, but it receives a solid release from Acorn Media that fans of the show will certainly be happy with. The use of a lossy DTS track for the 5.1 track was a huge oversight however.


| | | | | |
| --- | --- | --- | --- | --- |
| The Show: B- | Video: B+ | Audio: B | Extras: C+ | Overall: B- |