My Name Is Hmmm... AKA Je m'appelle Hmmm... [Blu-ray]
Blu-ray B - United Kingdom - Soda Pictures
Review written by and copyright: Samuel Scott (18th March 2015).
The Film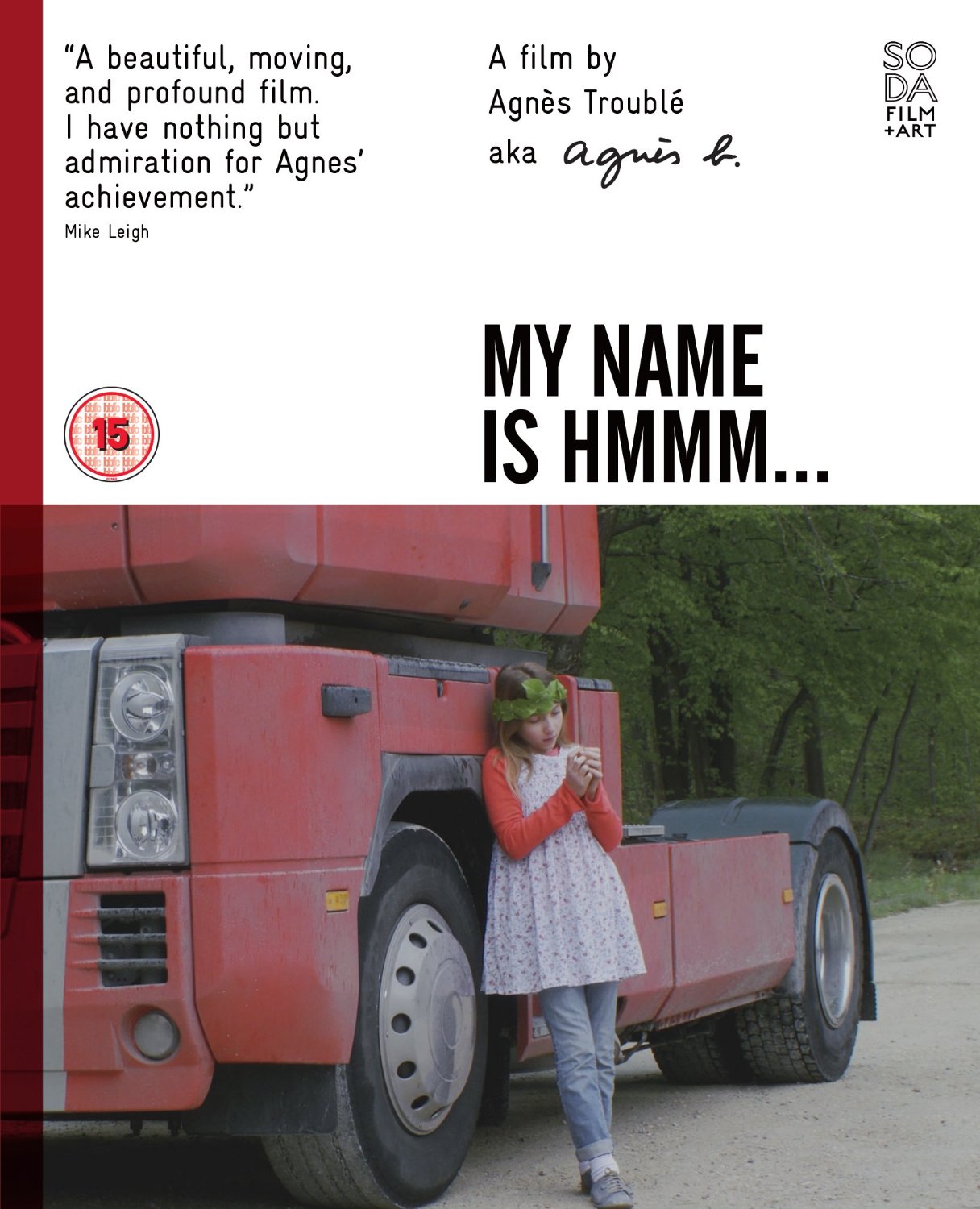 ***This is an A/V and Extras review only. For reviews on the movie from various critics, we recommend visiting HERE.***

MY NAME IS HMMM…, the debut from clothes designer Agnès Troublé AKA agnès b., follows Céline as she escapes an abusive mother and absent father by smuggling herself aboard the cab of an international freight truck. The driver (visual artist Douglas Gordon) creates an unlikely bond with the eleven-year-old as they travel across the country.

The reasons for their mutual need of each other becomes more clear as the suspicion of kidnapping heats up. Charming, surprising, visually inventive and humane, MY NAME IS HMMM… shows the hand of a true visual stylist.

Video


Soda Pictures have given the French film "My Name Is Hmmm..." its worldwide debut Blu-ray release in the United Kingdom, using what I assume is the original aspect ratio of 1.78:1. The transfer receives an AVC MPEG-4 encode and is 1080p.

Long time producer, but in-experienced director Agnès Troublé uses a variety of styles during this feature and some of them look spectacular, whilst others tend to struggle with clarity (usually the horribly forced 'artistic' scenes). One of the few problematic areas of the transfer are the scenes which take place during night time in the cab of the truck. Sometimes shadow details are lost here and there is some minor crush. Black levels are generally strong however, notably in clothing like Peter's leather jacket. Daytime scenes are bright and vibrant, with the level of detail considerably higher than in other scenes. The dust and dirt on Peter's truck and the smears and rain droplets on the windows are among the highlights of the mid-range details, whilst the various facial details show off the close-ups. During a couple of occasions, I did spot some minor aliasing along the edges of some buildings in the background, but there is no noticeable edge enhancement, and no incessant banding. There is no damage in the transfer, and no encoding issues. This is overall a solid transfer in line with Soda's usual high standards.

The feature is uncut and runs 121:17.

Audio


Two audio tracks are included:
- French/English DTS-HD Master Audio 5.1
- French/English Dolby Digital 2.0 Stereo

For my viewing I opted for the French/English DTS-HD Master Audio 5.1 track which was good, but rather uneventful. The surrounds are used very sparingly, generally for the score which is made up of a lot of classical music by Vivaldi (I believe - don't quote me on that!). The occasional environmental effect finds its way to the back of the sound stage, but with this not being an action packed film, this is certainly adequate. Dialogue did come across slightly quiet in a couple of the external scenes, but is still clear at all times. There are no issues with the track such as drop outs or pops, and I noticed no signs of background hiss. This is a suitably uneventful track without any issues.

English subtitles are included, but for French dialogue only. They are unfortunately forced.

Extras


The main extra here is a "Pre-Production Diary" featurette running 27:45. This is an interesting video journal of various aspects of the film's pre-production. Soda have done the right thing here, and although the extra is available as play all only, there are sufficient chapter stops for each section. These include various instances of location scouting spanning several years, the Buto dancers, finding the right distressed colours of the truck, a dialogue meeting, and even rehearsal footage. An interesting and welcome addition to the disc.

The rest of the extras are self-explanatory.
Bonus Trailers:
- "Piercing Brightness" (0:45)
- "Lebanese Rocket Society" (1:43)
- "Waterfall" (1:24)
- "A Spell to Ward Off the Darkness" (1:43)
Theatrical Trailer (1:23)

Overall


The film was difficult to get into, mainly as it was a case of style over substance.

| | | | | |
| --- | --- | --- | --- | --- |
| The Film: C | Video: B+ | Audio: B- | Extras: D+ | Overall: C |

---
DVD Compare is a participant in the Amazon Services LLC Associates Program and the Amazon Europe S.a.r.l. Associates Programme, an affiliate advertising program designed to provide a means for sites to earn advertising fees by advertising and linking to amazon.co.uk, amazon.com, amazon.ca, amazon.fr, and amazon.de.