The Film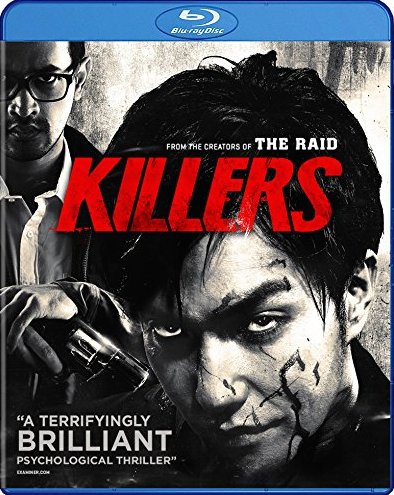 "Killers" is a very slick, twisted feature film. It's a psychological and sadistically entertaining film, that lingers on your mind long after itís over. Itís one of those movies that manages to thrill, and yet is also emotionally dominating. This film is a bloody ordeal of violence and revenge that never lets up once it begins with a tight plot and extraordinary performances.

"Killers" tells the tale of a serial killer, simply known as Nomura (Kazuki Kitamura). He videotapes his crimes and places those images of violence and depravity on the internet, broadcasting his horrible actions. Soon the blood thirsty public fascination with his crimes make the videos go viral. A journalist named Bayu (Oka Antara) watches and becomes enthralled with the actions he sees. There he decides he can also kill, and so begins a brutal cat and mouse game, and an unhealthy friendship of bloody darkness.

It's dark and truly demented, and, dare I say, amazing in story, acting and direction. This is to me one of those films that is the very definition of creating a piece of cinema that will be talked about, and will be remembered as something original, fresh and entertaining. Equal parts, "Se7en" (1995), "Dexter" (2006Ė2013), "Manhunter" (1986), "Copycat" (1995), and a splash of "The Silence of the Lambs" (1991), itís an action packed thrill ride that manages to take genres of film, and twist them together into one. From psychological, to drama, and mixing in aspects of revenge and horror.

Kazuki Kitamura (who some will know from Quentin Tarantinoís Kill Bill Volume 1 and 2) aces the part of this sadistic mad man. He manages to immerse the viewer with his intense focus and performance. Oka Antara (known for starring in one of the greatest modern action films to come out, "The Raid 2" (2014)) also delivers a strong performance.

The nonchalant nature of the serial killer is truly disturbing. One kills for pleasure, and another kills for justice. Slowly, Bayu deteriorates, racked with a moral dilemma of what is right and what is wrong. Bayu, sees fit to bring justice to those who deserve it, while Nomura, toys and plays with his victims. Once Bayu kills for the first time and also posts his actions online, Nomura finds him through his post. They both end up in an online chat room where Nomura eggs him on, but soon they begin an online relationship where Nomura encourages Bayu to follow his art; the art of killing.

If I had to pick one flaw with the film, it would be that it's too long, clocking in at 138 minutes, despite this it has become one of my new favorite films. Serial killers, modern technology and a man who is a vigilante, all come together to create a memorable twisted and provocative exploration of the ideas - just what is, the moral compass of humanity and how far the human condition delves into evil?

Video


The video is 2.40:1 widescreen 1080p 24/fps using AVC MPEG-4 compression. The colors are vibrant even with its dark atmosphere and darkened lighting in spots. You can see everything that is happening on screen in detail and the colors are rich.

Audio


When it comes to the audio there are three languages used throughout the film which I thought was odd and yet unique, Indonesian, Japanese and English, with all three spoken at different times throughout the film. Presented in either DTS Master Audio 5.1 (48kHz/24-bit) as well as DTS Master Audio 2.0 Stereo, I personally experienced nothing wrong in the audio department of the film. The music and sound effects radiated the way they should. Crystal clear in that department, possibly one of the best parts of the film was the sound effects and over all mastery of the audio. It comes with English subtitles as an option.

Extras


Sadly, nothing in this department other than the theatrical trailer which runs for 2 minutes 29 seconds. Plus bonus trailers for other films being released by Well Go Entertainment:

- "Supremacy" runs 1 minute 57 seconds.
- "Brotherhood of Blades" runs 1 minute 38 seconds.
- "Dead Snow 2" runs 2 minutes 19 seconds.

Packaging


Packaged in a standard Blu-ray keep case. With a slip-cover artwork for first pressings.

Overall


It's such a great and interesting story for a violent horror thriller. Aced by unbelievable acting by all involved, it's a dark, twisted tour-de-force of sadistic mayhem.
| | | | | |
| --- | --- | --- | --- | --- |
| The Film: B+ | Video: A+ | Audio: A+ | Extras: D | Overall: B+ |