The Film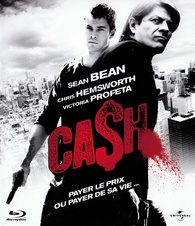 ***This is an A/V and Extras review only. For reviews on the movie from various critics, we recommend visiting HERE.***

No one can be trusted when it comes to... Cash.

A stroke of good luck turns lethal for Sam Phelan (Chris Hemsworth) and his wife Leslie (Victoria Profeta) when they are faced with a life- changing decision that brings strange and sinister Pyke Kubic (Sean Bean) to their doorstep. As Pyke leads Sam and Leslie on a tumultuous adventure through the streets of Chicago, each are pulled deeper and deeper into a desperate spiral of deception and violence…

All in the name of CA$H.

Video


Universal Pictures have released the 2010 thriller "Cash" on to Blu-ray in France using an aspect ratio of 1.78:1. The feature receives a VC-1 encode, and is 1080p. It's a bit of a mixed bag, and not as good as it should be coming from a major studio.

Filmed on digital using a Clairmont camera, the film is surprisingly noisy. One just needs to look against the wall at 55:06 to see just how bad this can look at times, but at least it is generally confined to darker scenes. Some scenes really are horrendously poor though, and 58:13 becomes almost unwatchable. The transfer has quite an earthy feel to it in some scenes, yet a sometimes overbearing orange tint in others, which makes flesh tones look unnatural. Details aren't really to the standard you would expect from the format, lacking sharpness and clarity throughout, especially for items in the background. Lighter scenes and close-ups do fare a little better, but are from being remotely close to reference quality. Black levels are poor, with considerable crush, especially when the three main characters are together in an enclosed space. There are a number of white specks littering the transfer, but no major unsightly blemishes. Despite all the aforementioned flaws though, it does look better than DVD, but titles with well-known cast from well-known studios should be at the top-end of the format, not floundering in mediocrity.

The feature is uncut and runs 107:47.

Audio


The following options are included:
- English DTS-HD Master Audio 5.1
- French DTS 5.1
- Spanish DTS 5.1

For my viewing, I obviously opted for the original language English DTS-HD Master Audio 5.1 track. Considering there are a number of action sequences here, this is a surprisingly quiet track at times, with the LFE not getting used almost nearly enough, and the surrounds not being used to their full potential. The score makes the most of the sound stage, but smaller subtle effects lack direction and dialogue feels a little flat. Channel separation is minimal, especially for dialogue, but it is sufficient. Speech is clear at all times, and never sounds mumbled. Volume levels are consistent, and there are no major issues such as drop outs, pops, or background hiss. Un-problematic, but uninspiring.

Optional subtitles are available in Danish, Dutch, English HoH, Finnish, French, Norwegian, Spanish and Swedish.

Extras


We start the extras with a selection of deleted scenes running 16:05. These generally just add more to each character, and are rightly cut, though the scene with Sean Bean trying to get his hire car paperwork from a guy with a handicap (cerebral palsy?) felt totally out of place in tone, yet still had a dark humour to it like his character shows several times in the final version. This is actually not a bad selection, and they didn't feel like a chore to watch like some deleted scenes often are.

The only other extra is a featurette entitled "Root of All Evil: The Making of Cash" (8:02). A little too short, this is typical EPK promotional fluff, with some behind the scenes footage of the cast and crew interspersed with some quick soundbites. Worth a single watch if you enjoyed the film, but don't expect to learn anything.

Overall


I first caught this on Netflix and always said I would buy it if I saw it cheap. Luckily this French release fell into my hands at a bargain price, otherwise I'd be annoyed with the lacklustre transfer.

| | | | | |
| --- | --- | --- | --- | --- |
| The Film: B | Video: C+ | Audio: C+ | Extras: D | Overall: C+ |