Ships
R1 - America - Indiepix
Review written by and copyright: Abraham Phillips (22nd March 2015).
The Film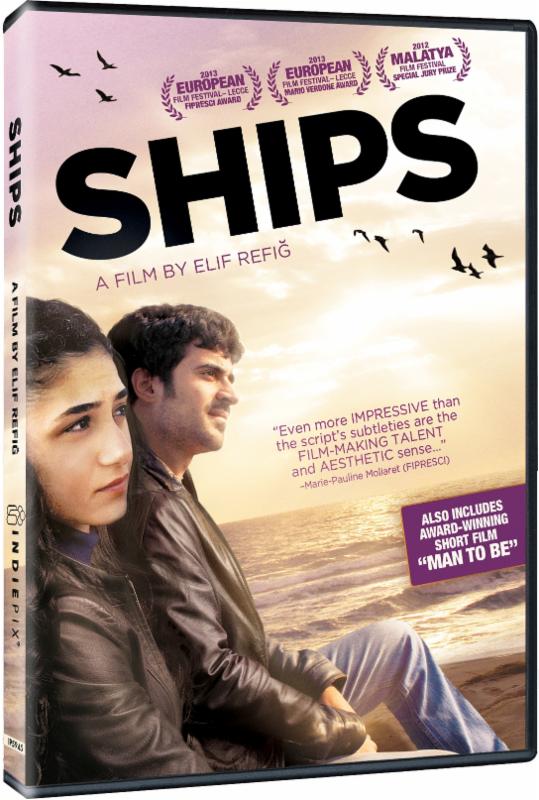 "Ships" is a unique slice of life film. It's a coming of age drama that involves the viewer into the story. Ali (Ugur Uzunel) is what you would consider a restless person that wants more out of life. Ali's time is spent working at the shipyards for his father as a ship supplier; which is not his dream. He constantly buts heads with his dad. However, he does his job slacking off here and there because he spends his time dreaming and watching the ships that leave the port. He watches knowing they won't return, knowing they're going off on a grand adventure. He seems trapped, suffocating in his basic daily life. He wants so much more out of his mundane existence. One day he spots some graffiti and seeks out the artist; there he meets a hopeless, restless romantic, named Eda (M. Sitare Akbas).

Ali is played wonderfully by Ugur Uzunel. He is able actor and seems to own the part. The same goes for M. Sitare Akbas as the female lead Eda. They both have instant chemistry onscreen and the relationship feels real. Both play off each other in wonderful ways. Their performances shine on screen. Ali is not only a dreamer, but he is someone who thinks a lot. He is someone who thinks about what can be, or what could be. He also contemplates the idea of coincidences. He looks for signs. Signs that will lead him onto a different path. When he finally sees that sign, the unfinished graffiti, he follows that coincidence and both Ali and Eda embark on a journey with each other. They are both kindred spirits at heart. You can't help but fall in love with the characters. They are brilliantly weaved together through the emotions and characterizations displayed on screen. The viewer can relate and become a part of the characters' lives.

"Ships" is an ultimate adventure, most of us wish there was more to our mundane existence and this film explores that narrative. The film is lovingly crafted with excellent direction and editing. I think something that needs to be said, is this is director Elif Refig's feature film debut. If this is any indication of what is to come, then the film world is in good hands. This movie captured the FIPRESCI Award and the Special Jury Prize at the 2013 European Film Festival. Awards that are well deserved. The storyline works and is combined with amazing cinematography by Turksoy Golebeyi and great music by Ahmet Kenan Bilgic and Okan Kaya.

This film is poignant and emotional with breathtaking photography. Everything about this film is extraordinary and memorable that is both emotionally charged and is an almost physically draining experience. It's because of that emotional sense that the viewer gets involved quickly becoming a part of each player and the plight they go through.

Video


Presented in widescreen 1.85:1 anamorphic video. This film was shot using Super 16mm and printed on 35mm format. The imagery transferred to DVD works. It has a rough setting, and you can tell it was made with a shoestring budget in the filming aspect, but that reality does not hinder the film. The landscapes, the sky and everything Ali and Eda experience comes to life in a rough, realistic clarity that just adds to the film. It is filmed in color and black and white.

Audio


Turkish Dolby Digital 5.1 surround audio is solid. You have no problems in hearing everything that takes place. There is nothing distracting in the audio department. Simply put, no problems. Optional subtitles are included in English.

Extras


You get a short film by the director Elif Refig entitled "Man to Be". It won the best foreign filmmaker award from the Hollywood Foreign Press Association. This short film is Turkish with English subtitles from 2008 lasting 20 minutes and 45 seconds.

Theatrical trailer to the film running 1 minute 47 seconds.

Packaging


Packaged in a standard black DVD keep case with wraparound cover.

Overall


Highly recommendedm, and wonderfully acted, directed and written piece of Turkish filmmaking. "Ships" should stand the test of time as a simplistic yet memorable film.
| | | | | |
| --- | --- | --- | --- | --- |
| The Film: B | Video: B | Audio: A | Extras: C | Overall: B+ |

---
DVD Compare is a participant in the Amazon Services LLC Associates Program and the Amazon Europe S.a.r.l. Associates Programme, an affiliate advertising program designed to provide a means for sites to earn advertising fees by advertising and linking to amazon.co.uk, amazon.com, amazon.ca, amazon.fr, and amazon.de.