Uncle Grandpa: Good Mornin' (TV)
R1 - America - Warner Home Video
Review written by and copyright: Eric Cotenas (23rd March 2015).
The Show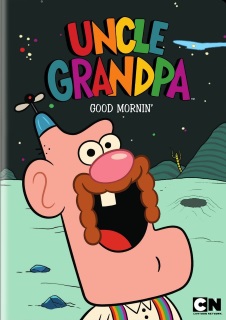 Created by Peter Browngardt - whose only previous familiar credit for some of us may be as part of the animation crew for Futurama - Uncle Grandpa follows the adventures of the titular character (voiced rather broadly by Browngardt himself) as he seeks to solve children's problems and make their wishes come true, often by way of pointlessly drawn-out adventures (which the show acknowledges in the episode "Aunt Grandma" below) with the help of his friends: sardonic dinosaur Mr. Gus (voiced by Kevin Michael Richardson of The Cleveland Show), rainbow-farting Giant Realistic Flying Tiger, too-cool-for-school Pizza Steve (Adam DeVine of the sitcom Workaholics) - a pizza slice that eats pizza - and Uncle Grandpa's sentient fanny pack of gadgets Belly Bag (Eric Bauza of Ren & Stimpy 'Adult Party Cartoon'). If there are life lessons to be learned from the adventures, they usually elude Uncle Grandpa and the kid he is trying to help, but more often the adventures are absurd for the sake of absurdity. Hipster viewers may read more into it, but for this thirtysomething old fogey, it's only fitfully entertaining.

Uncle Grandpa: Good Mornin' combines six episodes from the first season and six from the second (technically eleven episodes because two of the episodes are listed as combined on IMDb), but dramatic continuity does not seem to be a concern of the series (especially since the episodes within the seasons are out of sequence).

Episode 1.12: "Brain Game" (11:29) - In an attempt to help young Adam improve his video game-playing prowess, Uncle Grandpa and boastful video game master Pizza Steve plug into his brain and unknowingly take the kid on "live" adventure through the city with real perils from the subway to the zoo.

Episode 1.3: "Moustache Cream" (11:29) - The gang must brave the crowds, the lines, and pushy salespeople at Mart-Mart in order to buy a tube of moustache cream to prevent the end of the world.

Also from Episode 1.3: "Nickname" (11:29) in which Uncle Grandpa seeks to help young outcast Eric earn a nickname by taming a wild garden made all the more wild and deadly by Uncle Grandpa with the addition of a two-headed dragon.

Episode 1.10: "Locked Out" (11:29) - Uncle Grandpa locks himself out of his RV, but his attempts to get inside in order to make his mystery date accidentally engage the vehicle's self-destruct mode which plans to take the planet with it.





Episode 1.13: "Mystery Noise" (11:26) - A mysterious recurring sound during "Sleepover Dream Night" soon has the gang at their wits end and fast descending into madness.

Episode 1.22: "Bad Morning" (11:29) - Pizza Steve, Mr. Gus, and Belly Bag try to figure out what has caused Uncle Grandpa to get up on the wrong side of the bed intent on violence and chaos.

Episode 2.2: "Bezt Frends" (11:29) - Pizza Steve's best friend is Pizza Steve, so a jealous Uncle Grandpa endeavors to get rid of Pizza Steve so he can be Pizza Steve's best friend. Special guest voicing by Tone Loc.

Episode 2.4: "Hide and Seek" (11:29) - Uncle Grandpa has refused to play the game "Hide and Seek" since he never found his childhood friend Tony. The gang force him to face his fears and "play it to slay it" only to find and inadvertently resurrect a revenge-starved Skele-Tony (effectively voiced by Henry Rollins).

Episode 2.5: "The History of Wrestling" (11:29) - Ric Flair himself hosts this special on the nuttiest wrestling match of all time involving "Chicken Man" (Uncle Grandpa), "The Best" (Pizza Steve), wrestling hopeful "Mysterious Gus" (Mr. Gus), and a lot of fresh-roasted nuts.

Episode 2.7: "Vacation" (11:29) - An exhausted Uncle Grandpa vacations on a tropical island only to discover he is part of a prophecy involving a hungry volcano that threatens the local village.

Episode 2.8: "Aunt Grandma" (11:29) - Uncle Grandpa is thinking of hanging up his suspenders when Aunt Grandma (Lena Headey) offers considerably more practical solutions to children's problems; but are there ulterior motives behind her efforts?

Episode 2.9: "Grounded" (11:29) - When rotten Riley (Scott Menville of Teen Titans Go!) dupes Uncle Grandpa into helping him sneak out of the house for a party, Uncle Grandpa and the gang make sure the party is one he will never forget.

Video


The dual-layer disc fits just under two-and-a-half-hours of animation comfortably thanks to the fairly flat animation, a bold but limited color palette, and no fine detail by design.

Audio


Audio is offered in Dolby Digital 2.0 stereo and appears to be the original mix. There does not seem to be a lot of opportunity for surround activity. Optional English SDH subtitles are also included.

Extras


There are no extras apart from start-up trailers for other Cartoon Network shows (including a follow-up Uncle Grandpa compilation).

Packaging


Cover art showcases Uncle Grandpa himself but it you are not familiar with the series, it looks extremely generic.

Overall


A show that might prove stimulating to adult viewers while high, and requiring very little of younger audiences.

| | | | | |
| --- | --- | --- | --- | --- |
| The Show: D+ | Video: A | Audio: A | | Overall: B |

---
DVD Compare is a participant in the Amazon Services LLC Associates Program and the Amazon Europe S.a.r.l. Associates Programme, an affiliate advertising program designed to provide a means for sites to earn advertising fees by advertising and linking to amazon.co.uk, amazon.com, amazon.ca, amazon.fr, and amazon.de.