The Film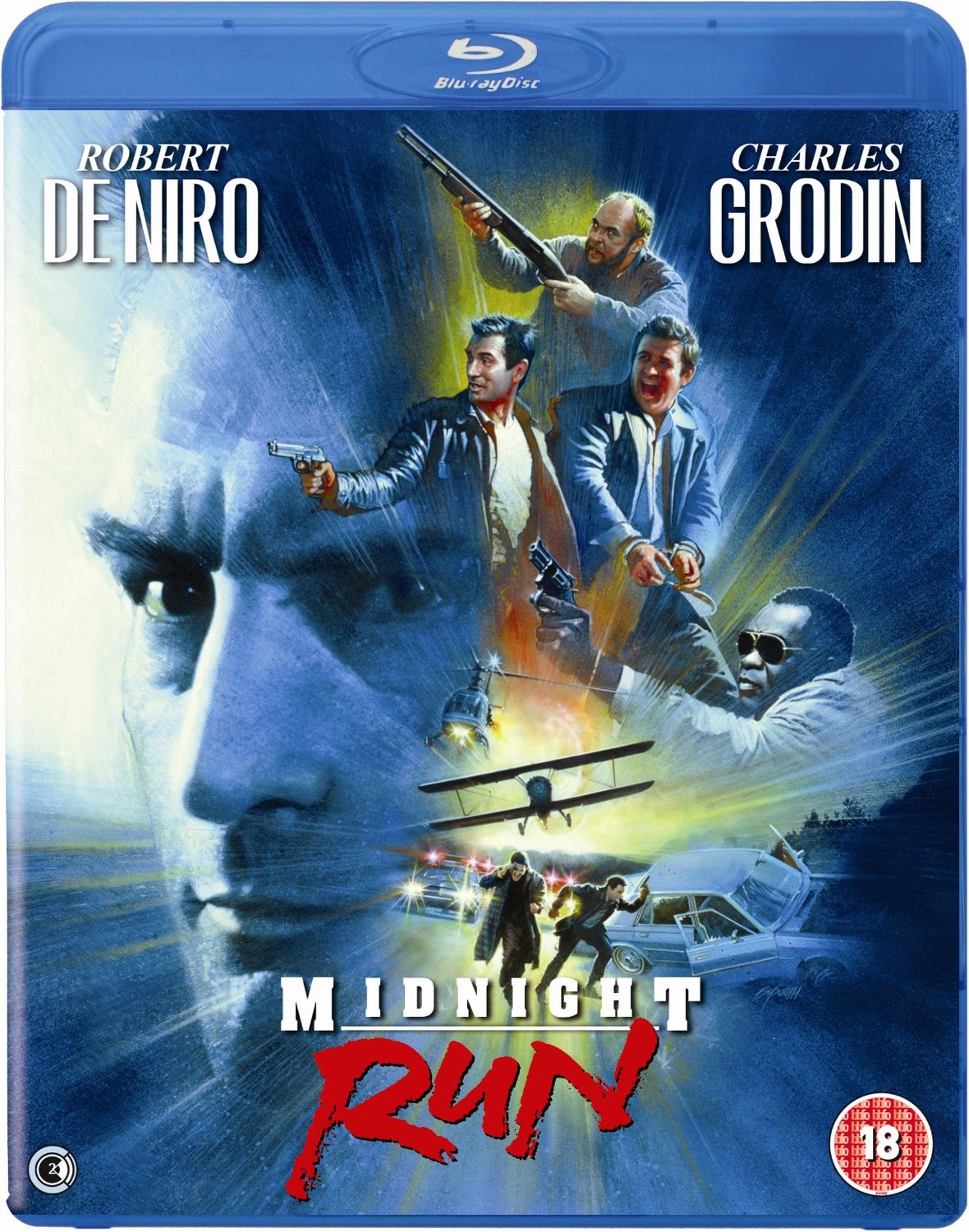 ***This is an A/V and Extras review only. For reviews on the movie from various critics, we recommend visiting HERE.***

Bounty hunter Jack Walsh has a got a new assignment, one that could set him up for retirement. He's just got to get bail-jumping accountant Jonathan 'The Duke' Mardukas back to LA by midnight on Friday. But he's not the only one on his trail. The Duke's just embezzled $15 million from the mob who want him dead, trying to get there first are the FBI who want him to testify, five minutes in his company and Jack just wants him to shut up. It's going to be a long journey from New York to L.A.!

With a razor-sharp script and performances to match, Martin Brest's cult action-comedy is one of cinema's most memorable takes on the road movie.

Video


Independent British studio Second Sight have released the 1988 De Niro vehicle and film fan favourite "Midnight Run" onto Blu-ray in the United Kingdom, in what is the worldwide debut for the format. The film is presented in the original aspect ratio of 1.85:1 and receives and AVC MPEG-4 encode. The transfer is 1080p.

With the elements being provided by Universal, it was no surprise that a lot of people on forums have been a little reserved considering Universal's reputation with tinkering and digital noise reduction. Thankfully, it appears this transfer has avoided anything particularly harsh, and even though it seems to be struck from a dated transfer, it looks generally pleasing and I think the vast majority of viewers will be happy overall. Some of the opening scenes may take you aback, as the dark alleys suffer from some light crush, and background details sometimes struggle to show through, but once the film gets to it's lighter scenes, the transfer improves, with only occasional moments feeling a little soft, and not being quite as sharp as they should be. There are a few instances of small bits of dirt/damage, such as at 57:41 when Robert De Niro is phoning the office from a payphone informing Joe Pantoliano his line is tapped, but there are no large scale problems. The damage that is there, is minimal. Although I mentioned some scenes have poor levels of detail from time to time, it should be noted that it can also be exemplary, as shown by the details of the waves in the water at 70:10 when our lead cast members get washed down stream in rapid flowing water. Overall, a good catalogue release with room for improvement.

The feature is uncut and runs 126:17.

Audio


Two audio tracks have been included:
- English DTS-HD Master Audio 5.1
- English LPCM 2.0 Stereo

Universal's HD DVD release featured upmixed 5.1 audio only, so it is a big plus that Second Sight have included a lossless stereo track as well as an upmix on this disc. I flicked between the two during my viewing, and did prefer the stereo track. The 5.1 is a decent mix though, with surrounds being utilised for the score, whilst everything else remained true to the original option. Dialogue does have slightly better clarity and is less flat in the LPCM 2.0 track, though neither appear to have any major issues. Channel separation and direction was adequate. Dialogue is audible at all times, if occasionally a little shrill, and volume levels are consistent throughout. I noticed no drop outs, scratches or pops, and there were no signs of background hiss.

Optional English subtitles are included.

Extras


"We Got the Duke" is an interview with actor Charles Grodin running 12:27. Grodin talks about how an executive at Paramount thought he wasn't likeable enough and wanted the film to star Cher. He also talks about how he talks to everyone the same, about the scene in which De Niro's character meets his ex-wife and the similarities to his own life and a play he has written, and a couple of general anecdotes. A good interview, and I found it funny to hear how the line "Did you ever have sex with an animal Jack?" came about and why they needed the scene to make De Niro and Grodin's characters have less tension again.

Next up, "Moscone Bail Bonds" is an interview with actor Joe Pantoliano (14:23). He talks about how the creative arts helped him to control his Attention Deficit Disorder, finding his niche as a character actor and knowing he was not a leading man, working with Martin Brest, working with Dennis Farina, and even touches on Midnight Run 2 and how they haven't contacted Martin Brest or George Gallo - not thinking about the elements that made the first so successful.

"Hey Marvin!" is an interview with actor John Ashton, clocking in at 17:26. It is interesting to hear him talk at the start about how he was a bit of a delinquent growing up and that acting in a high school play pretty much changed his route in life. He also talks about how De Niro read with all possible cast candidates, how he shadowed a bounty hunter for a while, the "f*** meter" De Niro and Ashton used to determine how many f**** was too many, and the airport cameo with Martin Brest with an improvised line. He obviously loved making "Midnight Run" and his interview is the best of the bunch.

"Midnight Writer" is an interview with screenwriter George Gallo (24:48). It is the interview that concentrates a lot more on various aspects of the story rather than the anecdotes found on the others, starting with how Martin Brest came to be involved with the project, and his amazement and initial thoughts of having De Niro in a comedic role. Like Grodin, he also talks about how Paramount were trying to push Cher to star in the film, and how Grodin was selected, along with much more including why his fear of flying nearly screwed everything up for him.

The "I'm Mosely!" interview with actor Yaphet Kotto running 7:36 is the last of the home grown extras on the disc from Second Sight. Unfortunately, it is also the only one which isn't an on-screen interview and is instead audio only against a photo of the actor from a scene in the film. He talks about how he started to get typecast in dramas, how director Martin Brest is a perfectionist, and working with De Niro.

The final extra is the "Original Making Midnight Run Promo" vintage featurette (7:25). This is a typical fluff piece where various cast and crew members provide standard sound bites about the film and their characters against a backdrop of behind-the-scenes footage and film clips. A welcome addition, but a watch once extra.

Overall


Midnight Run is a great film with a lot of quotable dialogue. The transfer and audio are okay, whilst the home grown extras include some great tidbits of information. Fans of the film will be happy with this release.

| | | | | |
| --- | --- | --- | --- | --- |
| The Film: B+ | Video: B- | Audio: B- | Extras: B- | Overall: B |