The Film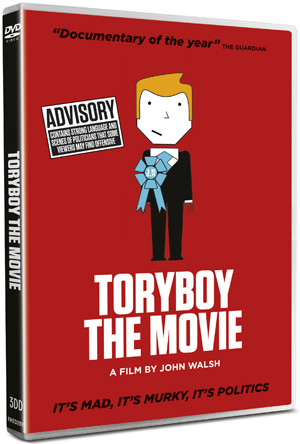 ***This is an A/V and Extras review only. For reviews on the movie from various critics, we recommend visiting HERE.***

It's mad. It's murky. It's politics.

Tory Boy: The Movie is a quirky, witty, fast-moving, thought-provoking insight into how one unconventional Tory candidate fought an equally unconventional campaign in a safe, northern Labour seat.

"I'd defy anyone with an interest in politics not to enjoy John Walsh's film, which he stars in, produces and directs. With one notable exception that is: Sir Stuart Bell, the Labour MP for Middlesbrough, will have found it decidedly uncomfortable viewing as the documentary brands him 'arrogant', 'elusive' and negligent in his duties towards his constituents." - Lord Ashcroft, KCMG, Former Deputy Chairman of the Conservative Party.

Video


Fremantle Home Entertainment release political documentary "Tory Boy: The Movie" on to DVD in the United Kingdom in association with 3DD. The documentary receives an anamorphic transfer in the original aspect ratio of 1.78:1 and looks as expected for a low budget independent feature.

Filmed on the streets of Middlesbrough as and when events happen, there is obviously no time to set up well lit shots or to make sure the best camera position can be used, but this is the norm for documentaries of this type, and it helps give the feature a personal feel, almost as if you are on the campaign trail with John Walsh, chapping the doors of the Labour stronghold. The overall quality of the transfer isn't anywhere near reference level, but at the same isn't quite a disaster either. There are no huge problems that arise at any point, but there are several minor instances of things such as banding and aliasing as well as the very occasional compression artefact. Colours look natural, though skin tones can feel slightly warm, especially during internal scenes in the flat (though of course the redness of John's face when he loses his temper and flings the frying pan is pretty natural!).

The feature is uncut and runs 98:55 PAL.

Audio


Fremantle Home Entertainment include a single English Dolby Digital 2.0 Stereo audio track for this release, which isn't particularly mind-blowing, but taking into consideration the documentary nature and the subject, is certainly sufficient. Channel separation is minimal throughout, but with this being very much a dialogue based feature, it doesn't cause any issues. Dialogue is clear for the majority with only occasional speech being a little difficult to immediately catch due to being off the cuff comments. As should be expected, there aren't any sound effects to take into account apart from in some short animated sequences. There are no problems to worry about such as drop outs, screeches, pops, or background hiss.

English subtitles are included for those who require them.

Extras


The extras start off with a retrospective featurette entitled "Tory Boy: The Aftermath" (10:53). This is an interesting if overly short extra which looks closer at the press the documentary received at the time of release and whether or not it made any impact on politics in Middlesbrough. There are some interview snippets from various political journalists, all of whom are easy to listen to. I wish this could have been longer though, or maybe updated for the current election which will go ahead next month here in the UK.

The 10 Animations that are present in the film can be viewed on their own, and there is also a theatrical trailer (2:33).

Overall


As a 31-year old swing voter who will be voting Conservative for the second election running from the North of England, I found this documentary very intriguing and very honest. John is a very likable character, and I wouldn't hesitate in voting for someone with so much passion for a second.


If any of our readers would like free tickets to the big London screening at The Tricycle Theatre on Sunday 26th April at 2pm followed by a Q&A with John Walsh, please e-mail us at admin@dvdcompare.net.
| | | | | |
| --- | --- | --- | --- | --- |
| The Film: B+ | Video: C+ | Audio: C+ | Extras: D+ | Overall: B- |