The Film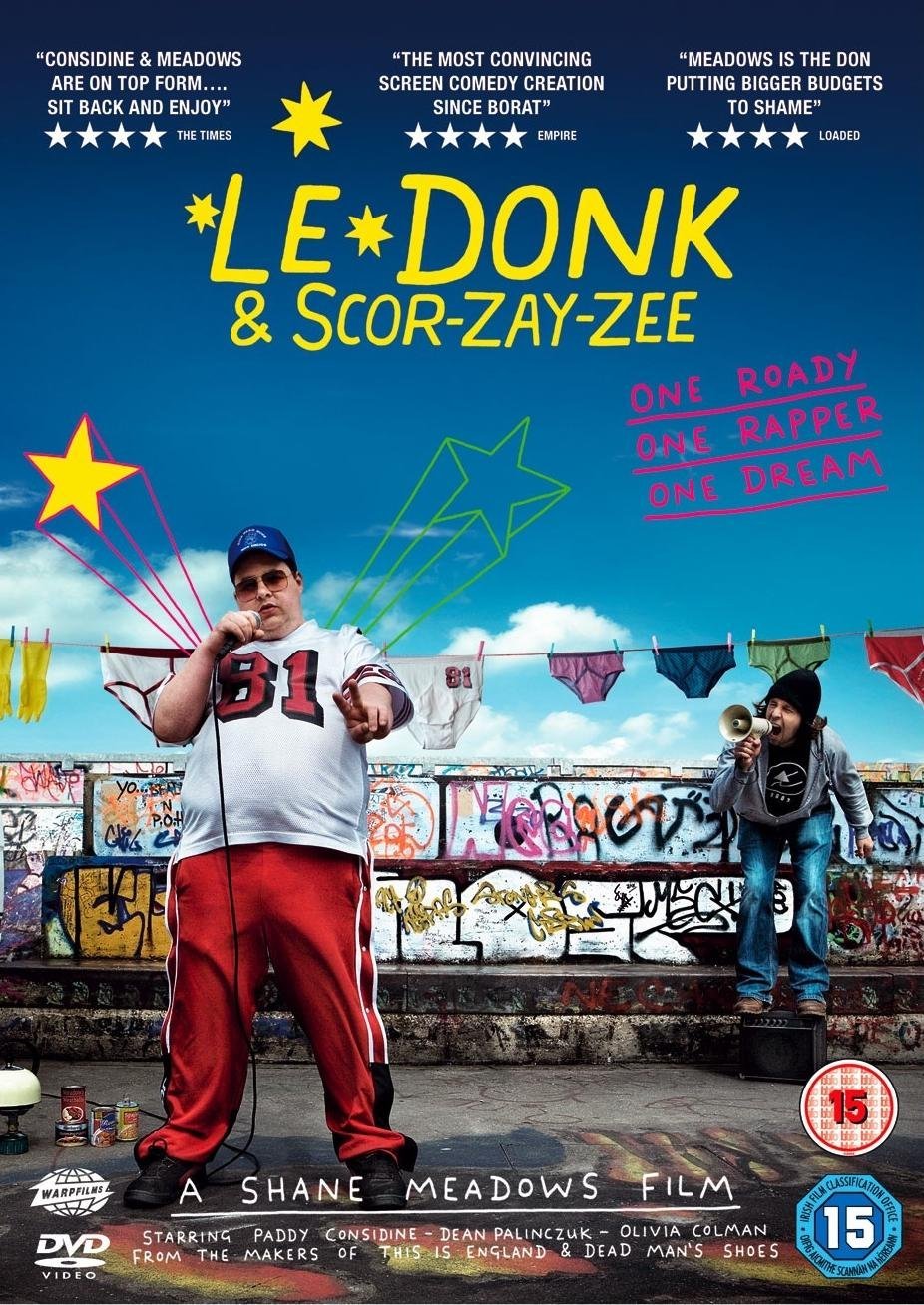 A documentary crew follows a man who calls himself "Le Donk", an aging roadie and ex-musician living in London. On Thursday at 9:48 AM, the crew members go directly to Le Donk's home, which he rents out rooms to make ends meet. Sporting his shoulder-length hair and Guided By Voices 2003 tour shirt, he introduces the crew to Dean, a young 20-something aspiring rapper who is renting a room going by the stage name of "Scor-zay-zee". Although the documentary crew are suddenly more interested in Dean's story, Le Donk hogs the camera back to himself as the main focus, taking the cameras to his ex-girlfriend's place. His ex, Olivia is 9 months pregnant with Le Donk's child, although it is clear that she has moved on with her new boyfriend Richard, and is not interested in having Le Donk present during the birth, but still respects the fact that he is the father and is at least willing to call him to tell him when the baby is born. Le Donk is a bit upset and unsure how to react to her decision, and constantly tells the documentary crew to turn off the cameras, only to be quite happy that the cameras were there to capture the "reality" in hindsight.

Le Donk has a job on the weekend to set up the stage for The Arctic Monkeys (which he constantly calls "Arctic-al Monkeys") for a music festival in Manchester. His idea is to use the opportunity to bring Dean to the show, show The Arctic Monkeys Dean's rap skills, and hopefully get permission from the band to have Dean AKA "Scor-zay-zee" as an opening act for at least one song. Unfortunately, during the stage set-up on Friday, Dean is unable to find a power cord or batteries for this keyboard which he also doesn't know how to use, while Le Donk is constantly thinking about the forthcoming baby and also doesn't seem to give that much care toward helping Dean in any way.

But once Dean gets help from The Arctic Monkeys' roadie "Big Nige" with the power supply and the keyboard programming, he lets his rhymes loose on the stage in front of the empty stadium. Various roadies and members of The Arctic Monkeys take notice of Scor-zay-zee's rhymes, and Le Donk suddenly notices as well that the kid he brought along was much more talented than he expected.

Will Scor-zay-zee get his big break? Will Le Donk try to steal the spotlight?

"Le Donk & Scor-zay-zee" is a mockumentary for those who didn't know. Le Donk is not really a roadie but is actor Paddy Considine, who is one of director Shane Meadows' acting regulars, appearing in his films "Three Tears for Jimmy Prophet" (1997), "A Room for Romeo Brass" (1999), and "Dead Man's Shoes" (2004). As for the other characters in the film, they more or less play themselves or a variation of themselves, with their real names mirroring their character's names: director Shane Meadows plays the film's director and main camera operator Shane Meadows, rapper Dean Palinczuk AKA Scor-zay-zee plays Dean AKA Scor-zay-zee, Olivia Colman plays Olivia, Warp Films producer Mark Herbert plays himself, and The Arctic Monkeys play themselves.

After the exhausting and time-consuming production of Meadows' critically acclaimed 2006 film "This Is England", Meadows decided to do something smaller and simpler. He decided to do a project with Paddy Considine, with a small budget of 50,000 pounds for 5 days of shooting from Warp Films. The basic outline of the story was written by Meadows, while the actors mostly improvised the dialogue in scenes. The film was shot in 2007 after "This Is England", but unfortunately wasn't completed until 2009, since Meadows' Eurostar commissioned film "Somers Town" (2008) which was originally conceived as a short eventually turned into a 68 minute film.

It is a mystery why the fake documentary crew would choose someone as unlikable and unremarkable as Le Donk to be a main figure for a movie, but that may also be part of the joke. Meadows often appears in the scenes via second camera operator Dean Rogers' shots, with his director character being quite important as a man of reason. Usually for documentary films it is the job for the director to catch the moment and not be part of the film, but in this case it is quite different. It is clear that the "character" of Meadows is very interested in Scor-Zay-Zee and his music skills, and wants to shoot more of him, even though he knows Le Donk is the main focus of the film. He often has to explain to Le Donk what is going on and has to sometimes try to justify what he is shooting. It almost feels like you are looking at behind the scenes and outtakes intercut in a documentary at times. In the documentary made a few years later (a real documentary by the way) of "The Stone Roses: Made of Stone" (2013) by Shane Meadows, there are times that Meadows is prominently in front of the camera, talking to the audience as well as times you see him talking to the band directly, so you can see where the idea came from.

The obvious comparison to this film is "This Is Spinal Tap", still the quintessential music mockumentary, but "Le Donk & Scor-zay-zee" is quite different. The main focus is not the music, but of the broken man who doesn't seem to be aware how broken he is, or is just not willing to admit it. Le Donk is closer in character to the boss in "The Office" (David Brent or Michael Scott, whichever you may refer to), who often thinks he is much better than he actually is by taking credit for something that he clearly didn't do, but with the rare occasional self-awareness that he is being selfish and destructive.

There are some laugh out loud moments like when Le Donk tries to add some random name shout outs into Scor-zay-zee's song, referencing Ryan Seacrest, James Nesbitt, and Curtis Stigers to "calm down" and adds that he has a 100 more people on the list he made the day before, or when the potent fart in the caravan that makes everyone sick is blamed on the director when he clearly didn't do it.

Laughs are abound but the movie is very lean at only 71 minutes. One thing that could have been explored is if the film included interviews with people such as his ex-girlfriend Olivia and her new boyfriend Richard (played by the film's editor Richard Graham), or even if they got interviews with Le Donk's family who are never mentioned in the story. But obviously this was a 5-day shoot with a very limited schedule. Making additional interview scenes would have gone against the 5-day principle that the film was based on.

Hip hop fans will feel a little disappointed since the scenes of Scor-zay-zee rapping are very minimal, and rock fans will also be a little disappointed that The Arctic Monkeys are featured in the film but don't have any scenes of performances. Shane Meadows is currently one of the most important figures in British cinema as he challenges convention while at the same time makes very accessible and very original work. "Le Donk & Scor-zay-zee" is one of the more minor works in his oeuvre, but it shouldn't stop you if you're a fan.

Note this is a Region 2 PAL DVD.

Video


Shot on digital video, the 1.78:1 anamorphic widescreen picture looks fine, but not great. Using available light sources at locations, it is not the best looking movie you will see. But as for the transfer, the progressive transfer looks good. Colors are stable and there is nothing particularly distracting.

Although the final scene does look worse than the rest of the film, since different camera sources were used and in those shots, colors look way off balance with bleeding reds and blown out whites. But without spoiling the ending, there was no way they could have reshot that later for correction so as an audience we will just have to deal with it.

Audio


There is only one audio track:

English Dolby Digital 2.0 surround

The music fills the speakers, but nothing exceptional. Dialogue sounds a bit low and you may have to turn up the volume a little higher than usual. Since it was a low budget mostly dialogue movie, a 5.1 track would probably not have done much, so the 2.0 track is fine as it is.

There are no subtitles offered.

Extras


One thing I appreciate about Shane Meadows' films is that he puts a lot of effort into the bonus features with video diaries, commentaries, interviews, and documentaries. He is an excellent speaker on audio commentaries and interviews, being articulate, funny and genuinely informative. Unfortunately, this DVD offers very little.

First, there are:
Deleted Scenes
- "Call Security!" (0:54)
- "Collecting the Rent" (7:03)
- "Doing the Deal" (1:03)
- "Drumming Lesson" (2:38)
- "How to Introduce a Band - Donk Style" (3:08)
- "Keyboard Lesson" (2:27)
- "Toilet Ghost" (3:20)
Some highlights include a deleted character in "Collecting the Rent" and the "Drumming Lesson" with the Arctic Monkeys drummer Matt Helders showing his skills to Le Donk.
All the deleted scenes are in anamorphic 1.78:1.

"Le Donk & Scor-zay-zee World Premiere" featurette (5:34)
At the Edinburgh International Film Festival, Paddy and Dean continue in character, while Shane Meadows could possibly be in character or out, it is hard to tell.
In anamorphic 1.78:1

Theatrical Trailer (2:07)
The trailer shows off the laughs quite a bit.
In anamorphic 1.85:1

There is also a Bonus Trailer for "Big Things" (2:27)
In anamorphic 1.78:1

The black and white 5-minute teaser trailer for the film has not been included on the DVD.
Overall a disappointing set of features especially for a Shane Meadows DVD.

Packaging


The animated menus with songs playing in the background is a nice touch, animated in a similar fashion to the opening credits of the film.

Overall


"Le Donk & Scor-zay-zee" received fairly good reviews but went unnoticed by most when it was first released theatrically. It's been 5 years since the DVD by Warp Films was released, and it could have been much more, although it is highly unlikely that it will get a DVD special edition upgrade or a Blu-ray upgrade for the future. This standard edition will have to do for fans.
| | | | | |
| --- | --- | --- | --- | --- |
| The Film: B- | Video: B- | Audio: B- | Extras: C- | Overall: B- |