The Film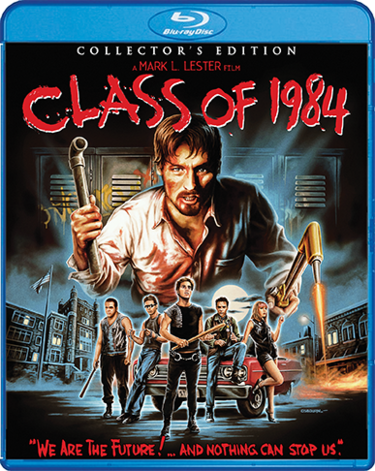 There's practically a blissful sense of past ignorance when looking back at Mark L. Lester's prescient tale of school terror, "Class of 1984" (1982). At the time, the film was considered outrageous for suggesting there could someday be metal detectors, drug running, prostitution, handguns, and rampant mayhem of a violent nature seen on high school campuses. Rather than mocking it, perhaps those critics should have looked to it as an omen portending times that were not so far off. The 30+ years that have passed since the film's release have proven things can indeed be that bad, or worse. Watching the film now, with an awareness of events that have transpired since, nothing seems too extraordinary. But it isn't designed as an attack on the youth of today, or yesterday. It takes to task the school bureaucracy that allows disruptive students to remain in school, the police who appear powerless against the minor defence, and the parents who are clueless and pandering to their little monsters. All the classic elements of an exploitation film are present, with an end result that's far more astute than expected.

After an opening title card warns viewers that schools aren't as bad as the one depicted here… yet, we're introduced to Andrew Norris (Perry King), the new music teacher at a rough inner city high school. Mr. Norris displays some naiveté, coming from a wholly different environment he believes children need only be given the right tools to learn and they'll respond positively. Terry Corrigan (Roddy McDowell), the school's biology teacher, isn't so optimistic, and he quickly schools Andrew in how things run here. Moments after entering his classroom, Andrew runs into the school's top gang, led by Peter Stegman (Timothy Van Patten), a brilliant but completely anarchistic punk with a violent streak and a lack of respect for anyone. In constant tow are his sycophants Patsy (Lisa Langois), Barnyard (Keith Knight), Drugstore (Stefan Arngrim), and Fallon (Neil Clifford), each specializing in some form of depravity.

When Mr. Norris starts pushing back against Stegman and his lackeys, the gang takes it upon themselves to make his life a living hell – both professionally and personally. The police sympathize but tell him there's little they can do aside from monitoring these kids now and busting them once they're of age. Parents are less helpful. Stegman's mom (his father is out of the picture) thinks her son is nothing more than a typical teenager and won't hear a word from Mr. Norris to the contrary. Continued attempts by both Mr. Norris and Corrigan to impugn Stegman's perceived power are met with increasingly more violent retribution from the gang. When Norris is finally pushed past his breaking point after one such incident, he snaps, leading to a final showdown in the school's vacant halls.

Mark L. Lester cites Stanley Kubrick's "A Clockwork Orange" (1971) as a major influence on his film. Similarly, this picture got swept up in controversy prior to release, too. Lester actually had a hard time selling the film in America due to the subject matter and extreme violence, traits that had International buyers eager to put it into their multiplexes. For all of its B-movie trappings – nudity, bloodletting, beatings, racial violence, animal cruelty – there is a strong message at its core imploring authority figures to take more drastic measures in an effort to stop future felons before they're mired in a life of crime… though perhaps not by employing the methods Mr. Norris is forced into by the film's bloody climax. Young hoodlums take advantage of being seen as "kids being kids", and knowing that without hard evidence and reliable eyewitnesses authority figures are nearly powerless to stop them.

Although he's apparently embarrassed by the film now (being a big-time TV director and all), Timothy Van Patten's performance as Stegman is superb. He's the most complex of the film's characters, allowing only glimpses into the brilliance he keeps hidden away behind a tough exterior. The best scene of the film features Stegman, once again interrupting Mr. Norris music class, banging away on a piano ("Ivory Joe from Kokomo") before sitting down to play a hauntingly beautiful composition that would qualify him as one of the most talented students in school. The scene illustrates how even a gifted kid can wind up playing with the wrong crowd, squandering talent and heading down a dangerous path in life.

"Class of 1984" is a great slice of exploitative cinema, delivering the sort of riotous antics fans want to see while subversively providing much to think about once the credits have rolled. Lester's material would have been strong with any group of competent actors, but having the likes of Perry King, Van Patten, Roddy McDowell and a young Michael J. Fox (to name a few) elevates it immensely. Add in a theme song from the original king of shock himself, Alice Cooper, and it's easy to understand why this film and its messages have endured.

Video


While this is certainly an upgrade over the previous DVD edition, don't expect the film's 1.78:1 1080p 24/fps AVC MPEG-4 encoded image to look astounding. The most obvious benefits to this HD upgrade are an increase in definition (though not by leaps and bounds) and a slight improvement in color saturation. The palette here is decidedly muted, likely a stylistic choice, and hues very rarely pop off screen. Black levels are inconsistent, often appearing hazy and lacking richness. While detail may be increased to a moderate degree, this is still a soft looking film. The print used is in relatively good shape, with only minor flecks of dirt and a few scratches in the emulsion appearing infrequently. The cinematography allow for minor depth to the image. Grain is intact and filmic; no signs of DNR here.

Audio


After ably delivering Alice Cooper's opening theme, the English DTS-HD Master Audio 5.1 surround sound track (48kHz/24-bit) shows signs of age and low-budget limitations. Dialogue is mostly clear and free from hiss, with only a few lines exhibiting minor clipping. Lalo Schifrin's score flows nicely, even if it is hardly remarkable. An almost total lack of worthwhile rear speaker activity makes it clear the remixed multi-channel track is mostly unnecessary, although it does showcase greater range and effects placement than the English DTS Master Audio 2.0 stereo offering. The sound design is pretty flat, with little activity in the low-frequency end and few highs heard. Subtitles are included in English for the hearing impaired.

Extras


Scream Factory's new Collector's Edition carries over all of the features found on Anchor Bay's DVD – audio commentary, featurette, theatrical trailers – and adds in some new interviews.

Kicking things off is an audio commentary with director Mark L. Lester and Anchor Bay DVD producer Perry Martin. After letting everyone know this is his favorite film he's directed, Lester delivers a fantastic commentary that touches on every aspect of the film including influences, research, location shooting (very few sets were used), ratings woes, and a minor change to the ending that made a major difference. There are almost no lulls here and everything Lester says is interesting and informative. Great listen.

"The Girls Next Door – Interview with Lisa Langois (Patsy) and Erin Noble (Deneen)" featurette (1080p) runs for 16 minutes and 17 seconds. Standard ground is covered here, with both girls discussing their respective roles in the film and what it was like working with all of the other principal actors. Noble's audio is a bit screwy, at times cutting out.

"History Repeats Itself – Interview with Mark L. Lester (director) and Lalo Schifrin (music)" featurette (1080p) runs for 21 minutes. Lester dominates here, touching on most of the major points that were made in his commentary track. Schifrin only has little bits to add, though he is wearing an awesome tiger sweater that I want to own.

"Do What You Love – Interview with Perry King (Andrew Norris)" featurette (1080p) runs for 46 minutes and 55 seconds. Not content to merely speak about this film, King basically covers his entire career from start to present, giving a few minutes to each film in which he's been involved. It's comprehensive, unexpected and totally captivating.

"Blood & Blackboards" (SD, misspelled "Blood & Backboards" on the menu) is a carryover featurette from the DVD, running for 35 minutes and 35 seconds. After watching the other interviews and hearing the commentary, this feels redundant, though there are a few additional faces present here that are absent from the new features.

Theatrical trailers & TV spots (1080p) runs for 3 minutes and 20 seconds.

A still gallery (1080p) runs for 4 minutes and 42 seconds, featuring 56 images.

Packaging


The single disc comes housed in a standard Blu-ray keep case. Cover art is reversible, allowing for display of either newly created artwork or the original one sheet. A slip-cover featuring the new art is available for first pressings.

Overall


Mark L. Lester's tale of teenage terror is hardly dated, coming across as more relevant than ever today. Bolstered by strong performances and shocking violence intended to galvanize viewers into being agents of change, this new Blu-ray from Scream Factory features an appreciable (if not minor) upgrade in a/v quality and a host of great bonus features.
| | | | | |
| --- | --- | --- | --- | --- |
| The Film: B+ | Video: B- | Audio: B- | Extras: A | Overall: B+ |