The Film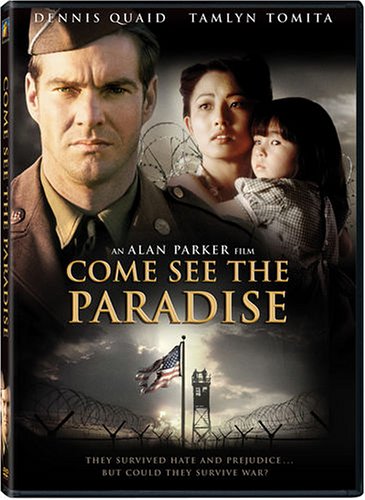 In 1936 in Los Angeles, movie theater projectionist and activist Jack (played by Dennis Quaid) moves to town from Brooklyn, New York. He gets a job as at a movie theater in Little Tokyo managed by Mr. Kawamura (played by Sab Shimono) that screens Japanese movies for the local Japanese crowd. Mr. Kawamura's family is comprised of his wife (played by Shizuko Hoshi), his three sons the actor and singer Harry (played by Ronald Yamamoto), the tough minded Charlie (played by Stan Egi), and young Frankie (played by Brady Tsurutani), and three daughters, the oldest being Lily (played by Tamlyn Tomita), the cheerful and fun Dulcie (played by Akemi Nishino), and young Joyce (played by Naomi Nakano). Mr. Kawamura is in some debt and decides to arrange a meeting between Lily and a Japanese acquaintance who is a widower. Although Lily finds him "old and creepy" as he is as old as her father, she is forced to go and have a meeting with him and his elderly mother. Meanwhile, Jack is having fun, singing along to Japanese songs from the movies such as director Masahiro Makino's edo period musical "The Singing Lovebirds", in which you can see Takashi Shimura use his singing skills before he was a major star of Akira Kurosawa films.

Jack sees Lily and falls for her at first sight. Lily is immediately charmed by Jack, and the two fall in love. Mr. Kawamura finds out about their relationship and becomes extremely angry that Lily would fall for an American rather than the arrangement he was hoping for, and fires Jack from the theater. Jack and Lily decide to move away to Seattle and elope, as they couldn't get married due to California law at the time, which causes her family to fall apart.

On Christmas Day in 1937, Jack and Lily have a daughter. Years pass and they continue to struggle financially and emotionally, and an incident occurs at Jack's job at a fishery in which union workers and management get into a violent scuffle. Going against Lily's wishes for him to not get involved, Jack decides to fight for the union members, which unfortunately lands him in jail, and with a broken arm. Not being able to deal with Jack's decision, Lily takes their daughter back to California, leaving Jack behind. What begins as a temporary separation becomes longer than expected, as the Japanese bomb Pearl Harbor in December of 1941, leading America to World War II. Many "Issei", Japanese who were born in Japan, were immediately arrested under suspicion, including Mr. Kawamura.

Executive Order 9066 was signed by President Roosevelt on February 19, 1942, which led to the detainment of Japanese living in America, sent to Japanese Internment Camps. With Lily and the Kawamura family forced to move to a camp in the middle of the California desert and Jack being drafted into the Army, the initial story of love-at-first-sight turns into a tragic and terrible outcome, due to war.

"Come See the Paradise" is one of the more underrated, underappreciated, and underseen film in Sir Alan Parker's filmography. After creating musical dramas such as "Bugsy Malone", "Fame", and "Pink Floyd The Wall", as well as the disturbing dramas "Midnight Express" and "Mississippi Burning", was one of the more respected directors working in the 1970's and 1980's. After seeing an old picture of an elderly Japanese man in San Francisco during World War II, Parker became fascinated by the photo and researched the subject of Japanese-Americans during World War II, with over 50 books and tapes on the subject. Prior to "Come See the Paradise", there were no films about the Japanese Internment Camps of World War II. American history text books didn't mention the incident, and very few books in general were written about the subject matter. Later there were movies such as "American Pastime" in 2007, but still very few and far between.

The Japanese Internment Camps were controversially set up around the country in 1942, mostly on the Pacific coast where Japanese populations were higher. People who were 1/16 Japanese or more were forcibly relocated, having to abandon their homes and sent to camps, or as Lily in the film quotes "an outdoor jail". As the film showed, many "Issei" were arrested immediately for no other reason than suspicion and "Nisei" who were second generation Japanese born in America and legal American citizens were suddenly deemed as the enemy.

As the film also mentions, it wasn't just Japan that was the enemy. Why weren't German descendants and Italian descendants taken to camps? It could be argued by saying that most Germans and Italians living in America were more detached from their roots as they escaped the Nazi ruled Germany and the Fascist ruled Italy and assimilated into white American culture, while Japanese-Americans were still very close to their roots and held their Japanese culture proudly. But there is no argument. Placing people in any sort of environment in which their legal rights are stripped for the only reason being their ancestry is flat out racist and wrong.

It wasn't until December 18th 1944 that the United States Supreme Court decided that the Internment Camps were unconstitutional, and the camps were closed down. But by that time the damage had been done. Thousands lost their homes and had nowhere to return to. Families had been torn apart by location, as well as loyalty, with some Japanese-Americans choosing loyalty to the United States (like Harry in the film) to fight in the War, while others (like Charlie in the film) choosing Yamato-Damashii, the spirit of Japan and vanquishing his allegiance to America, the country he was born and raised in. On top of that there were still acts of racism and violence against Japanese as the countries were still at war. It is something that happens throughout history over and over again when countries go to war, by dehumanizing the enemy and giving a reason to hate.

The constitutionality of the camps were examined in 1980, and it was noted that government actions were based on "race prejudice, war hysteria, and a failure of political leadership", and a formal apology from President Ronald Reagan came in 1988, with reparation money being distributed to 82,219 Japanese-Americans who were placed into the camps.

The first draft of the film by Parker was completed in January of 1989 and production began with Twentieth Century Fox, a studio that Parker worked with for the first time. Parker was hot off the success of "Mississippi Burning", which was nominated for 7 Oscars (winning one) and multiple international awards, and had pretty much free reign, even with the touchy subject matter.

It should be commended that Parker decided to cast Japanese or people of Japanese descent in the film. Often times casting of "Asians" could be of anyone of any background, but Parker made it clear he wanted actual Japanese actors since there would be many scenes with Japanese dialogue. The children in the film have slight "Nisei" accents, with some Japanese words being pronounced closer to American English, which the actors performed, or just naturally spoke. If they spoke "perfect" Japanese it would have been a bit unnatural.

Now a serious problem I had was with the Japanese dialogue of Sab Shimono: this literally disturbed my ears. Shimono's character of Mr. Kawamura was said to be an "Issei" born in Wakayama Prefecture, Japan. Shimono was born in California and his accent shows. He sounds like he can barely hold a Japanese conversation, and sometimes it is apparent he doesn't remember the Japanese dialogue and uses the English words instead. (For example when he is supposed to say that his son is a "movie actor", he should say in Japanese "Eiga haiyuu", but instead he just says the accented "Mubi akutaa".) His Japanese is with poor grammar, poor vocabulary, and without courtesy in business scenes. For anyone growing up in Japan and then moving to a foreign country, there is no way their language skills could become that bad. Was his dialogue coach asleep? On the other hand, his wife played by Shizuko Hoshi who is actually an American, played her character with perfect Japanese and broken English very convincingly. As I know Shimono's dialogue has been replaced in the Japanese version of the movie, similar to how the Japanese scenes of the TV series "Heroes" was also dubbed over, with Korean-American James Kyson's Japanese being unintelligible most of the time. (Why couldn't they just cast a real Japanese speaker?)

As for the better, Dennis Quaid and Tamlyn Tomita carry the film quite well. Things go from carefree to serious, and their performances stand out. Quaid of course has had a long and quite successful career in Hollywood. Tomita has kept active in the TV world with recurring parts in various shows such as "Glee", "The Days of Our Lives", and "Teen Wolf". Stan Egi as the second brother Charlie also gives a great performance, going from a young man proud to be an American with Japanese roots in the beginning who is transformed into a Japanese nationalist who is ready for seppuku if necessary in the second half. Egi's career stalled, with only bit parts in films and television over the years. Akemi Nishino who played second daughter Dulcie was hand-picked by Parker at a restaurant rather than the audition process, didn't continue in Hollywood, with "Come See the Paradise" being her only acting role. The rest of the Kawamura family children's parts could have been stronger. I think the film had too many characters and not enough for each of them to do. The two youngest, Frankie and Joyce barely had any character development, and the actors who played them had virtually no career in Hollywood. Ronald Yamamoto who played brother Harry also had a very short Hollywood career. It would be interesting to know what they are up to now and what they thought of the film.

Another actor who was seriously underused and seemed more like a cameo was Colm Meaney as Jack's brother. Seemed more like a cameo appearance as he is only in one scene, as I expected him to come back later into the movie, but he never did unfortunately.

The film has "Oscar-worthy" written all over: the setting of war, a forbidden love story, an eye-opening topic, and a highly acclaimed director. It must have been a surprise to everyone when the film was nominated for no Oscars at all. It was the year that "Dances with Wolves" dominated, and it was not only a huge critical success but also a huge commercial success. "Come See the Paradise" was released at the end of 1990 for Oscar consideration. The film had a fair share of critical attention, but considering the $15 million film didn't even gross the $1 million mark in theaters, it was financially unsuccessful. (Dare I say, bomb?) The year 1990 had quite a few films that crossed the public consciousness, with the aforementioned "Dances with Wolves", Rob Reiner's adaptation of Stephen King's "Misery", Martin Scorsese's quotable "Goodfellas", and the inspired pottery of "Ghost" which was the go-to choice for a forbidden love story that year.

"Come See the Paradise" seems to have been forgotten over time, but the real events should not.

Note this DVD is coded for Region 1 NTSC.

Video


Released on DVD by Twentieth Century Fox in 2006, the framing is at the theatrical aspect ratio in anamorphic 1.85:1 widescreen, and the video transfer is okay. Colors look a bit dark throughout, and some scenes look a little too grainy. This doesn't seem to be from a high-definition master, and at times dirt and specs are visible, with no major cleanup being done. Nothing too distracting though, you have to look extremely close at the screen to find the small anomalies.

The film is presented on a flipper disc DVD-10, two single layer sides. If they had put the film on a dual layer disc and gave the film more breathing room, it might have looked better.

Audio


There are 3 soundtracks available:

English/Japanese Dolby Digital 2.0 surround
French Dolby Digital 2.0 stereo
Spanish Dolby Digital 2.0 dual mono

The English/Japanese audio track is very good, with music coming in through the surround speakers very effectively and dialogue being mostly center oriented. The dialogue is 80% English with some scenes being in Japanese with burned in English subtitles. Also some scenes have both English and Japanese spoken in the same sentences. During those times, there are no English subtitles.

The French and Spanish tracks dub over everything. Interestingly, during the scene which Mr. Kawamura introduces Frankie and says:
"Frankie can't even speak Japanese. Mind you his English isn't too good either"

In the Spanish dub he says:
"Frankie can't even speak Japanese. Mind you his Spanish isn't too good either"

While the French dub he says:
"Frankie can't even speak Japanese. Mind you his English isn't too good either" even though they are speaking French…

There are optional English HoH, French, and Spanish subtitles available for the main feature.

Extras


For a film that was not a big success theatrically or on video, Fox has put together quite an interesting package.
On Side A, there is only one extra:

Audio commentary by director Sir Alan Parker
Parker gives an excellent commentary. Recorded around 2005, he recalls the process of researching, the development of the characters, the challenges of filming the period correctly, and the language issues. Parker is very insightful and has a lot to say not just about the filming, but about some of the historical background as well. He doesn't go into the financial failure of the film or about the aftermath though.

Side B holds the rest of the extras:

"Rabbit in the Moon" 1999 documentary by Emiko Omori (97:22)
The inclusion of this documentary is a very fitting one. Filmmaker Emiko Omori made this incredibly personal documentary using historical footage, personal photographs, and narrated by Omori. The film is about the Japanese Internment Camps, something that her family went through during the war. Interviews are conducted with her older sister and others who experienced the camps. Talked about are her mother's early death at 34, Sears Roebuck catalogs sent to camps, not wanting to be Japanese during the time, and more. This documentary is not connected in any way to the making of Alan Parker's film, but it is essential viewing together with "Come See the Paradise" to give some real names and faces to the main feature's fictional characters.
The documentary is in 1.33:1, English Dolby Digital 2.0 stereo with no subtitles.

"Images of Come See the Paradise" featurette (8:15)
The slideshow of behind-the-scenes pictures play continuously with music from the film.
In 1.33:1

"Come See the Paradise: The Making of the Film by Sir Alan Parker" Text Essay (32 pages)
Quite a lengthy essay written by Parker, although most of the material is already mentioned in the commentary track. As I am used to Criterion or Masters of Cinema releases, I think text essays are much better on paper rather than on screen.

Theatrical Trailer A (2:53)
Theatrical Trailer B (2:50)
The two theatrical trailers are basically the same in content. It does a good job of selling the film, but it does give away too much of the "reunion" scenes.
Trailer A is in non-anamorphic 1.85:1, trailer B is in 1.33:1

Bonus Trailer for "The Commitments" (2:19)
Alan Parker's following film, which was a very successful film with a very successful film soundtrack.
In 1.33:1

No deleted scenes, no making-of documentaries or featurettes from other cast and crew, but the strong commentary and the lengthy documentary to accompany the film are excellent.

Overall


"Come See the Paradise" is not Parker's best nor but it is one of the most important WWII films made. The love story may be sappy and predictable, but it is still a film that deserves a wider audience. I was surprised that the 2006 DVD was not up on any major review site prior to here. This year is the 70th anniversary of the end of WWII. Let us try not to repeat the atrocities by knowing and learning from our past mistakes.
| | | | | |
| --- | --- | --- | --- | --- |
| The Film: B+ | Video: B | Audio: B+ | Extras: B | Overall: B |