Roommate Wanted
R1 - America - Lions Gate Home Entertainment
Review written by and copyright: Eric Cotenas (20th May 2015).
The Film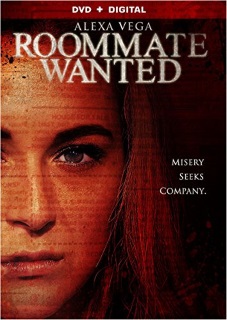 Roommate Wanted - despite the bland cover suggesting something along the lines of Single White Female – opens with Janie (Alexa Vega) "beating the slut out of" her roommate Dee (Spencer Grammer). Flashing back to earlier that day, we find Berkeley grad Janie putting her best foot forward for a full-ride scholarship to the prestigious Stansbury Academy while snake-loving, rich husband-seeking, would-be model Dee pumps iron at the gym and takes a muscular club promoter (Lee Kholafai) home for a nooner. Only bristling at the manners in which she demarcates their belongings by gold stars (including one on each and every one of a dozen eggs in the fridge) and otherwise disinterested in Janie's constant criticisms about her housekeeping, Dee is able to share in Janie's joy upon learning that she has won the scholarship. When Janie learns that budget cuts have forced the school to only offer enough money to cover half of each year's tuition, Dee prevents her from refusing the offer altogether. Having sold her eggs before, Janie turns to the net in search of private buyers but cannot find any offering more than ten thousand dollars. Dee, on the other hand, is able to find her a fifty-thousand offer. With the screener coming over to interview her and assess her lifestyle, Janie's obsessive compulsive tendencies go overboard and she thoughtlessly voices her true feelings about in frustration. She is then shocked when she finds herself in competition with Dee for the donation, and the equally shallow screener Godiva (Samantha Jacob Jones) makes her preference obvious. Assuring herself that she can beat Dee, Janie feels more confident as they jointly fill out their applications and expose the extreme differences between them in terms of education, activities, medical history, number of sexual partners (and sexually-transmitted diseases). Upon learning that Janie's only sexual partner was the guy (Bryan Dechart) she just dumped after discovering a thong in his car, Dee starts to chip away at Janie's supposed superiority. Beginning to suspect that it was Dee who slept with her boyfriend, Janie is no longer content to merely best her roommate, and their shared house becomes a warzone with the weapons being allergies, boyfriends, pets, social media accounts, and just about anything that can be thrown; and the victor will not be getting their security deposit back.

Bearing more than passing (if unacknowledged) resemblance to the Japanese black comedy 2LDK in which the rivalry between two actresses sharing an apartment and up for the same part becomes a duel to the death, Roommate Wanted is hysterically funny in places but shies away from being truly subversive in favor of "grass isn't always greener/all men are dogs" insights rather than the ultimate "girl fight" (especially since the last straw involves a man). Although we are supposed to relate to Janie and find Dee to be the horrible one, Roommate Wanted initially does a good job of balancing out Dee's more positive qualities with Janie's more off-putting ones (from her obsessive compulsive tics to repeatedly pointing out her one-eighth Navajo heritage). Dee is sketched in much broader but recognizable terms and charmingly played by Spencer while the supporting characters are more broadly played and fittingly one dimensional (the face of Dee's gym hunk is never seen, reducing him to a pair of abs and a bare ass). The ironic denouement is played for comedy and probably would be more satisfying had the film not had two engaging leads to squander.

Video


LionsGate's single-layer DVD delivers a reasonable progressive, anamorphic presentation of this digitally-photographed film with some occasionally harsh contrasts (perhaps exacerbated intentionally by moody color correction).

Audio


The sole audio option is a Dolby Digital 5.1 track that is fairly restrained but gets more adventurous as the two women get more murderous. English SDH and Spanish subtitles are available as well as English Closed Captioning.

Extras


With the exception of the film's theatrical trailer (1:50), the only extras are start-up trailers (also selectable as previews from the bonus menu) and a code for an UltraViolet digital copy download.

Packaging


As mentioned in the review, the packaging makes the film look more like a "crazy roommate" thriller.

Overall




---
DVD Compare is a participant in the Amazon Services LLC Associates Program and the Amazon Europe S.a.r.l. Associates Programme, an affiliate advertising program designed to provide a means for sites to earn advertising fees by advertising and linking to amazon.co.uk, amazon.com, amazon.ca, amazon.fr, and amazon.de.