The Film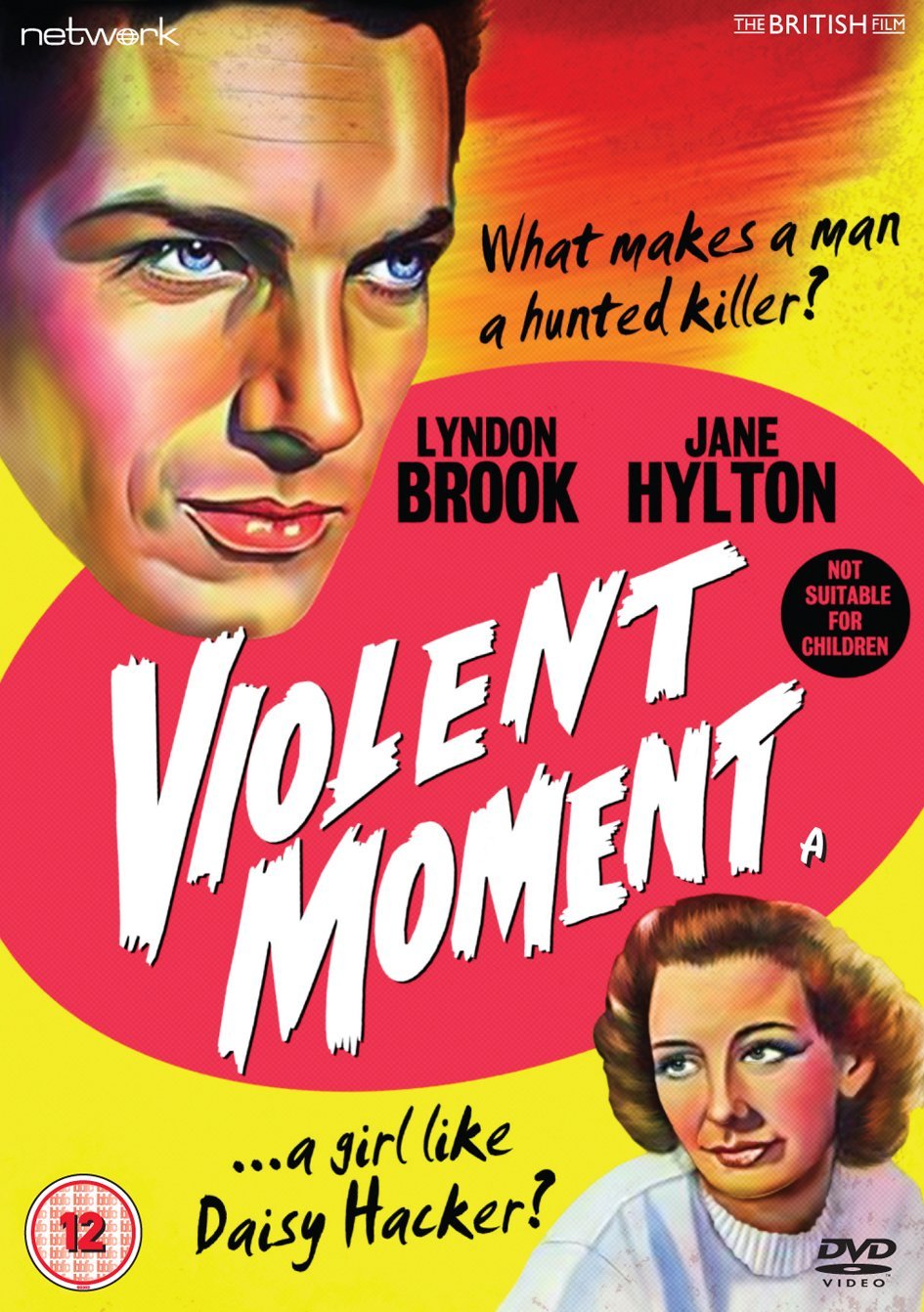 Violent Moment (Sidney Hayers, 1959)

Released in America seven years after its production as Rebound, Violent Moment marked the directorial debut of Sidney Hayers, who till that point in his career was known as an editor of films such as A Town Like Alice (Jack Lee, 1956) and The One That Got Away (Roy Ward Baker, 1957).

The film opens shortly after the war, with a young man, Doug Baines (Lyndon Brook), buying a toy (a roly-poly doll, like Mr Wobblyman in Enid Blyton's Noddy stories) for his two year old son Jiffy. Doug returns to the home he shares with the child's mother, Daisy Hacker (Jane Hylton). However, Doug discovers that Daisy has sold their son to a childless couple. A distraught Doug fights with Daisy, throttling her to death in a fit of temper.

Doug's problems are compounded by the fact that he is a deserter. However, as he and Daisy were not married the police don't know his surname. The only clue the police have to the identity of Daisy's killer is a receipt for the doll and a description given to them by the owner of the toy shop at which Doug bought the toy.


Doug manages to evade capture and, over the course of five years, manages to help his employer, Bert Glennon (Rupert Davies), make a success of his business. Doug is rewarded with financial security and a good home. He also acquires a new fiancée, his secretary Janet (Jill Browne).

However, Doug is still haunted by his past, and hangs on to the roly-poly doll that he bought for his beloved son Jiffy. The sight and sound of the doll sends Doug into a frenzy, and witnessing this Janet asks him to allow her to keep it for him. When Janet leaves town to visit her mother, Doug uses the key to her flat that she has given him and retrieves his doll. However, Janet's flat is being burgled and Doug just misses a confrontation with the thief, who is wanted by the police for stabbing a man to death. The police investigate the burglary and Detective Inspector Ransom (John Paul) threatens to uncover Doug's true identity.

As the film opens, society is still recovering from the effects of the war ('Everything's so damn dear', Doug observes to the owner of the toyshop; 'That's what the war does for you', the toyshop owner responds). However, during the five years that take place between the death of Daisy and Ransom's investigation of Doug, Doug's transition from poverty-stricken spiv to up-and-coming young executive within Glennon's business reflects the post-war economic boom that took place during this period. As the narrative progresses and the years pass, Doug leaves the poverty of his life with the shrill and bitter Daisy behind for a new future with the sweet and gentle Janet. However, throughout Doug is haunted by the loss of his son Jiffy – whose absence in Doug's life is reflected in the fact that throughout the whole of the film, we never see him, his presence (or rather, absence) being conveyed to us via the recurrent motif of the roly-poly doll which acts as an index of Doug's deep love for his son.


Daisy is depicted as a negative force in Doug's life, and Doug's murder of her is represented as, if not justified, certainly understandable. Doug wants nothing more than an honest job so that he will be 'able to look Jiffy in the face when he's old enough to ask questions', and he returns home with the roly-poly doll, telling Daisy, 'I bought this for 'im. The poor little beggar didn't know it was 'is birthday on Tuesday'. However, Daisy can only chastise him: 'For God's sake, grow up, Doug'. After revealing that she has for all intents and purposes sold Jiffy (for twenty pounds), she tells Doug, 'You'll just have to get used to it, Doug: you'll never see that kid again [….] I know you've done your best for 'im, Doug, but it just wasn't good enough'. 'He must be frightened to death', Doug tells her, 'all by his own in a strange place. Bawling his eyes out, I shouldn't wonder. You stupid bitch!' (This is the first example of the film's strikingly strong language, given the context of its production: elsewhere, Doug refers to Daisy as a 'slut'.)

Daisy's insinuation that she paid the bills not by working as a waitress, as Doug believed, but by working as a prostitute angers Doug further: it's a slight against his masculinity that he's been kept by a woman who has earnt her living by selling her body to other men. It's a confession that chimes with the depiction of post-war masculinity in American films noir, in which men found their traditional roles to be challenged by women's increasing importance within the world of work. Doug's ensuant assault on Daisy is overheard by a neighbour, Mr Hendricks (Martin Miller), who knocks on the door of Doug and Daisy's home. In a moment that speaks volumes about how attitudes towards gender have changed in the years since the film's production, Doug persuades Hendricks that what he overheard doesn't require the involvement of the police by informing the neighbour that 'I just lost my temper and dotted her [Daisy] one [….] She's sulking. They do that'.


Years pass, and Doug becomes involved with the far more patient Janet, who deduces that Doug has 'a son of five or six [….] It's written all over your face every time you see small children'. Doug tells Janet about Jiffy but neglects to tell her that he murdered Daisy. However, Janet witnesses Doug's reaction to the roly-poly toy (which he has kept): as it rolls about on a table top and makes a laughing noise, Doug is driven into something resembling a frenzy. The toy is an index of Doug's profound love for his lost son but also a symbol of trauma for Doug: both the trauma of the loss of Jiffy, and the trauma of Doug's murder of Daisy. From this point, the narrative builds towards a predictably tragic denouement. ('You must have loved that child', Ransom observes; 'Yes, I loved him', Doug asserts.)

When released in 1959, Violent Moment was cut by the BBFC (for an 'A' certificate), though details of these cuts are unavailable. (The cuts were most likely to the scene in which Doug murders Daisy and to the strong language within the film.) This DVD release runs for 60:34 mins (PAL).






Video


The film is presented in an aspect ratio of 1.78:1, with anamorphic enhancement. The compositions look fine at this ratio, suggesting that it approximates the film's original intended aspect ratio.

The monochrome 35mm photography is presented well here, in a remarkably clean print (though with some scratches present here and there). Contrast is good, with good, rich blacks and strong midtones.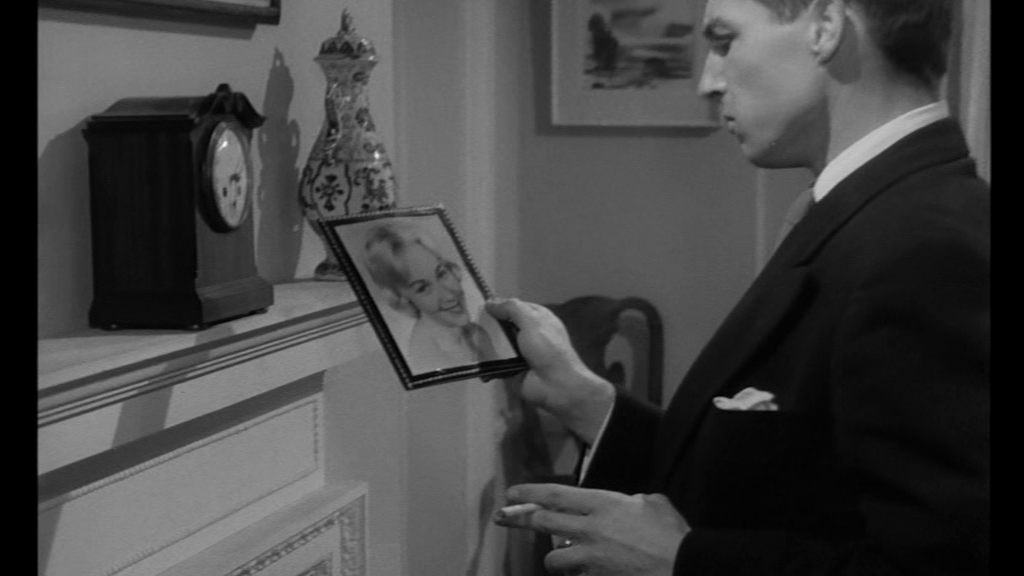 NB. Some larger images are contained at the bottom of this review.


Audio


Audio is presented via a Dolby Digital 2.0 mono audio track (in English). No subtitles are included. The audio track is clean and clear, and dialogue is audible throughout.

Extras


The disc includes:
- The film's trailer (2:20).
- The original titles (1:52). These take place over a shot of dolls' heads in the toy shop from which Doug buys his roly-poly doll. The titles in the print used for the main feature are of the 'Edgar Wallace Mysteries' variety (see the first image in this review), the original titles having been replaced in the 1960s when the film was marketed as part of the Edgar Wallace series of films.
- A stills gallery (0:28).


Overall



Violent Moment is based on a story by Roy Vickers entitled 'A Toy for Jiffy', from his Department of Dead Ends series published in the 1930s. The Department of Dead End stories were 'inverted' mysteries (in which the identity of the criminal is known to the reader from the outset) and featured detectives dusting off (c)old cases and solving them through sheer tenacity. This structure is evident in Violent Moment, as is the 'inverted' structure of the mystery. As with many of the criminals in Vickers' stories, Doug is depicted sympathetically. Violent Moment is a fascinating, film noir-esque little film, and this presentation (which appears to be its first on home video, at least in the UK) is very good.



For more information, please visit the homepage of Network and take a look at Network's The British Film page.

This review has been kindly sponsored by: