American Bad Boy
R1 - America - Lions Gate Home Entertainment
Review written by and copyright: Eric Cotenas (11th June 2015).
The Film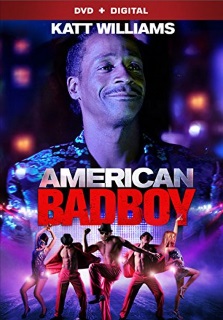 By day, Samuel (Antoine Cleveland) sings in the choir of his father Pastor Lovely's (Obba Babatundé) church; but by night, he dances at the male strip club Yanks under the name "Paper" to pay off the eighty-thousand dollars he borrowed from ruthless owner The Bruce (Katt Williams) for studio time and equipment to record his hip-hop album. Samuel's father is too busy organizing funding for a gun buyback program to listen to his son's problems, especially since he would like him to be a doctor rather than the next Dr. Dre (producer Alonzo Williams actually discovered Dr. Dre and co-founded the rap group World Class Wrecking Crew). Samuel's fiancée Sonya (Ciarra Carter) tries to ease the enmity between them, but she has no idea of Samuel's money problems or his moonlighting. He has had some pretty close calls avoiding exposure from strangers on the street who recognize him as "Paper", but things are about to get tougher since The Bruce has demanded full payment in six months (meaning more hours on the dance floor), his father's reputation is threatened when the church council learns of his activities and believe he is leading their female parishioners astray, and Sonya's friend Raven (Ciera Payton) – whose affections he has spurned – decides Yanks would be the perfect spot for the bachelorette party of one of their friends.

While not exactly "Magic Mike meets Hustle and Flow" (touching only superficially upon the behind the scenes aspect of the strip club and less in terms of Samuel's creative struggles), American Bad Boy is interesting for in countering the at-first seemingly conservative stance of the film. The real threat to Samuel is losing his fiancée over his dishonesty and the self-interest and machinations of others. While Samuel sees working as an exotic dancer as soul-killing, the film generally affords a lighthearted treatment to the antics of the strippers whether getting pulled into foursomes or fighting off jealous husbands. Babatundé gives the most naturalistic performance while Cleveland and Carter are sometimes awkward when the situation calls for the dramatics. Williams is rather one-note in a show roll but surprisingly good when he launches into one of his intense monologues like the climactic one, the gist of which is pretty much "When life gives you lemons, make lemonade." The film seems to have either been chopped down to a series of trailer-friendly sequences or the developments of the plot simply treated as a given with no real suspense as to who will be the first to spot Samuel dancing. Subplots are similarly treated rather abruptly with a multi-pierced female dancer briefly seen twerking on the dance floor next showing up to church to be welcomed back into the flock in a sequence that would be moving if there had been any scenes establishing her misery (even Samuel's feelings about the toll stripping is taking on his life is conveyed through a half-hearted bit of dialogue). It's a film that has its heart in the right place but might not move viewers looking for drama or titillate those looking for beefcake.

Video


LionsGate's single-layer DVD features a respectable progressive, anamorphic DVD of this generally slick-looking film with a degree of edge sharpening likely from the HD-to-SD downscaling.

Audio


The Dolby Digital 5.1 track is rather restrained with mostly music reaching the surrounds (the Dolby Digital 2.0 stereo track is perfectly serviceable). While there are optional Spanish subtitles, there are also English Closed Captions for those whose players or television can make use of them.

Extras


Extras consist of the stirring music video for "Testimony" (4:06) by Fella Soul who performs it in the film as one of the musicians Samuel gets to perform for the church, the film's trailer (1:22), as well as previews (also available as start-up trailers) for other LionsGate titles.

Overall

---
DVD Compare is a participant in the Amazon Services LLC Associates Program and the Amazon Europe S.a.r.l. Associates Programme, an affiliate advertising program designed to provide a means for sites to earn advertising fees by advertising and linking to amazon.co.uk, amazon.com, amazon.ca, amazon.fr, and amazon.de.