The Show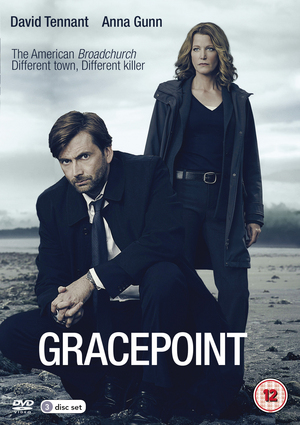 Eleven year old Danny Solano mysteriously goes missing from his home and does not turn up for school. He is soon discovered dead on a beach at the foot of a cliff in the small Northern Californian town of Gracepoint. On the previous day, Detective Ellie Miller (Anna Gunn) returns home with her family from a vacation in Mexico to discover the promotion she was promised has now been given to Detective Emmet Carver (David Tennant) instead. Miller greatly resents this turn of events and is even more upset when Carver is put in charge of the Solano case with Miller his partner. The ongoing investigation into Danny Solano's death rules out suicide and now Carver and Miller must find and apprehend his killer. Suspicion falls upon many of the townsfolk. First under suspicion is Danny's Father, Mark, who cannot, or will not account for his movements on the night of Danny's death. Also under suspicion are a local businessman, Jack Reinhold (Nick Nolte), who happens to have a previous conviction for sex with a minor. The Reverend Paul Coates, who was previously very close with Danny's Mother, and who has a history of drug and alcohol abuse is another suspect. In fact, at one time or another, pretty much everyone is suspected as everyone seems to have a murky secret in their past. Detective Carver is not without his own secrets as he is shown to be suffering from a serious heart problem as well as a past problem in his police career. The ten episodes of this series follow Carver and Miller as they eliminate each suspect until finally discovering the real truth behind Danny's death.

If any of this sounds familiar to you then it will come as no surprise to learn that Gracepoint is a US TV remake of the highly acclaimed ITV TV series 'Broadchurch'. This is, in fact, pretty much a shot-for-shot, word-for-word remake. Gracepoint only deviates from Broadchurch in the last twenty minutes of the final episode as a new ending is provided to the US version. This type of series is nothing new. The whole ten episodes play very much like 'Twin Peaks' did, but without the ingenuity of the Twin Peak's script or the ability of the Twin Peak's supporting cast. David Tennant performs well. He has been criticised for his strange hybrid accent of American/Scottish, but the accent calms down from episode 3 onwards and Tennant does a marvellous job. Anna Gunn had the unenviable task of taking on the role performed by Olivia Coleman in Broadchurch. Coleman was superb in the original working of the material and Gunn really had her work cut out for her, but she performs well. Gunn never quite manages to escape Coleman's shadow from the original, possibly because she is such a strong character in herself, and I feel that had Coleman not already excelled in the role then Gunn would have garnered much more praise for her performance. The rest of the cast perform adequately and no actor stands out. This is a shame because the quality of roles in Gracepoint allow for many good performances from the cast, but only average ones are delivered. So much so that I found myself only looking forward to the scenes that featured Tennant and Gunn, preferably when they were together as the interplay between the two leads in Gracepoint is its highlight. There are also a couple of plot points that are not followed up or resolved, most notably the one concerning Raymond Connelly, a telephone repairman, who also happens to be a psychic who imparts what could be some crucial information and then is simply ignored at the series conclusion. It could be that he would have been more involved if the programme had been granted a second series, but, as it stands, the character could have easily been left out of proceedings. At ten episodes, I felt that Gracepoint was too long. Broadchurch managed to tell it's story in eight episodes. The opening two episodes of Gracepoint set up the story nicely, but unfortunately the production then sags. The middle six episodes set up red herring after red herring, often dealing and concluding with characters within a single episode and with few enticing cliff hangers. The final two episodes are packed with drama and emotion and are thoroughly enjoyable, but by then I fear many viewers would have lost patience with Gracepoint's languid middle section. Overall it's an enjoyable series, but for those who have already seen Broadchurch it may be an idea just to watch the first and last episodes but only then as a curio.

Video


The picture is presented in 1.78:1 anamorphic. It's clean and crisp, as you would expect a relatively new (October 2014) TV series to be. The directors (there are five in total) make good use of the locations such as Oak Bay in British Columbia, and Greater Victoria. There are lots of shots of the crashing surf and of surfacing whales. Whilst this is fine initially it does tend to slow the story down after a while.

Audio


The only option here is the English 2.0 Dolby Digital Stereo option. The sound is fine and clear. Dialogue is centred whilst the sounds of crashing waves, traffic etc are well dispersed and never drown out the dialogue. There are English HoH subtitles available. These are simple, computer generated and whilst ugly are not obtrusive.

Extras


The Making of Gracepoint (10:52) - Standard 'talking heads' behind the scenes documentary. Executive producers Dan Futterman and John Goldwyn, plus many of the cast discuss the locations used, the storyline of Gracepoint and the who dunnit? Aspect of the show with the actors revealing that even they, with only a few weeks left to shoot, were still unaware of whom the murderer is.

The Art of Visual Effects (2:18) - Short, but interesting, documentary on how effects artists from the Stargate Studios made the cliffs in the television series much more imposing than they are in real life. Watching the series I never considered, for one moment, that digital effects were used on the cliffs which goes to highlight what superb work was done on that part of the production.

Overall


An engaging but ultimately over long television show with good acting from the two leads (Tennant and Gunn). The lag in the middle of the production probably lost the show many of it's viewers, killing off any chance of a Gracepoint 2. The standard of the production is high but with some judicial pruning of the script this programme could have entered the pantheon of sterling US TV shows. It falls just short but still well worth a viewing, especially if ITV's 'Broadchurch' initially passed you by.
| | | | | |
| --- | --- | --- | --- | --- |
| The Show: B- | Video: B- | Audio: B- | Extras: D+ | Overall: B- |