The Film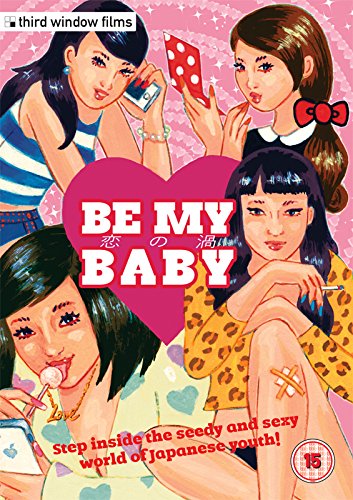 At a house party, a group of 9 male and female 20-somethings gather. Some are couples, some are acquaintances, and some are meeting for the first time.

Koji - is a 27-year old who is dating and living with Tomoko, and easily loses his temper over little things. (Played by Kenta Niikura.)

Tomoko - is Koji's girlfriend who wants to introduce her friend and coworker Yuko to their mutual friend Osamu. (Played by Naoko Wakai.)

Naoki - is Koji's younger brother, who is dating Satomi but is more interested in gaming more than her. (Played by Yuuki Ueda.)

Satomi - is a 21-year-old working nights as a telephone operator, and living with Naoki. (Played by Aya Kunitake.)

Kaori - works with Tomoko and Yuko, is into sex with men but not into relationships with them. (Played by Chihiro Shibata.)

Takashi - loves to be noisy, is very nosy, and develops a huge crush on Kaori. (Played by Daisuke Sawamura.)

Yuta - is letting Takashi live at his apartment, and doesn't care to have a relationship, but would rather pay for sex and keep the relationship part out. (Played by Takumi Matsuzawa.)

Osamu - who just recently got a David Beckham style Mohawk, is the least social of all, and has a hard time communicating to girls and people in general. (Played by Kenta Tsumuraya.)

Yuko - with her heavy makeup, dyed blonde streaks, is not confident about her looks or personality with boys, but is very talkative and fun-loving with her girl-friends Tomoko and Kaori. (Played by Yuumi Goto.)

On a night at 8:30PM, at Koji and Tomoko's place, they have a house party in their small apartment with Tomoko's goal of introducing Yuko to Osamu, as she feels the two might hit it off. Osamu hasn't arrived yet and calls saying he is a bit lost. Takashi says he doesn't have a girlfriend, and is curious about who Yuko is, since Tomoko says she looks cute, and looks like Mariko Shinoda, which makes him even more interested since he says he is a huge fan. Yuta thinks a girl like that is way out of Takashi's league. During this time, Naoki and Satomi stop by together, and then Kaori and Yuko finally arrive. When the guys see Yuko, they are all extremely disappointed, as she was not the hot cute girl they were imagining at all. Osamu finally arrives and is extremely shy and quiet. They guys try to get him to introduce himself to Yuko, trying to get him to do impersonations of pro-wrestlers Antonio Inoki and Choshu Riki, even though Osamu can't do impersonations at all, making things extremely awkward to an almost bullying state.

Cut to 4 hours later at 12:30AM, they all disband. Tomoko says to Koji that she feels disappointed that she thinks she didn't do a good job introducing Osamu and Yuko to each other. But then Koji argues with Tomoko about how Satomi looked very lonely during the party since the girls weren't talking to her at all and didn't let her join their conversation. At Naoki's place Satomi says she felt a bit lonely since the girls were not talking to her and that Naoki was mostly talking to his brother or gaming instead. Kaori comes over to Yuta's place at request from Takashi since she missed her last train. He is extremely excited since he is infatuated with her since the party although Yuta couldn't give a damn. Osamu arrives back at his place but cleans up a little bit very quickly as he invited Yuko over. The two are extremely awkward toward each other, sitting very formally but barely saying anything to each other. Osamu goes out to get something to drink for her, while she is left alone in a room with posters of sexy girls on the wall, laundry hanging, leftovers on the table, and also a Tenga masturbation cup. Not the most romantic or comfortable location to be in. Later, Osamu goes in for a kiss when Yuko comes out of the restroom, making the most uncomfortable and awkward first kiss ever. Although Osamu apologizes by his sudden behavior, Yuko actually says she is pleased that he made a pass at her, as she never gets any kind of attention from men. Unexpectedly, the two actually hit it off and become a couple.

During the course of the film which takes place over a 2-week period, we see the lives of these 9 people intertwine within these 4 different locations: Koji and Tomoko's apartment, Naoki and Satomi's apartment, Yuta and Takashi's apartment, and Osamu's apartment. Characters come and go, with each of them going to each other's places, and their relationships with each other change. Koji and Tomoko's relationship start to grow apart with Koji's outbursts, Kaori completely avoiding contact with Takashi even though he keeps trying to call and text her, Yuta getting pissed off at Takashi for bothering her, and Naoki having desires of infidelity. The only two that seem to be hitting it well is Osamu and Yuko, although not as smoothly as it could be with Osamu's pickiness for things.

The film crosscuts the 4 locations with intertitles showing the audience the linear time elapsed and the time of day it happens to be. The film doesn't play around with flashbacks or sudden jumpcuts and plays entirely in a linear fashion making it quite simple to follow the story. But with 9 main characters, it is quite a lot to follow from time to time, but the 137 minute runtime does give each character enough screen time.

Relationships are both simple and complex and the different characters show each aspect. Trust issues between couples is a major theme, as well as the awkwardness toward sex and relationships with many young Japanese.

Based on the 2012 stage play "Koi no Uzu" which literally translates as "Vortex of Love", "Be My Baby" was written by playwright and actor Daisuke Miura, who has been working on stage and occasionally in films since 1996.

Independent filmmaker Masashi Yamamoto and his Cinema Impact workshop looked at making a series of films both full length and shorts with various directors and various actors. For the series they made a total of 15 films with 12 directors, himself included, with mostly amateur casts and crews with very small budgets. Yamamoto recruited director Hitoshi Ohne to the project, who was already a pretty established director, working in television and his 2011 film "Moteki" being a hit. Ohne was given creative freedom to do what he wanted and requested that he would like to do a film adaptation of "Koi no Uzu", and gave Yamamoto a DVD recording of the stage performance. With an extremely low budget of 700,000 yen, the entire 137 minute film was shot in a staggeringly short 4 days. Clearly there was not a lot of planning of shots or coverage made. Even with the use of 3 cameras during most of the scenes in long takes, there are instances such as a crewmember clearly visible about 62 minutes in, and camera shakiness and out of focus shots in which alternate angles or takes could not be used. The sound was also recorded as is, so there was no budget for ADR or overdubbing, but that will be talked about more in the audio section.

The initial plan for Cinema Impact was to release a few films together as a package, but felt the finished film of "Be My Baby" was strong enough on its own and was released as a standalone film. The English title was taken from The Ronettes song in which the instrumental track frequently plays throughout as a theme, just as it was opening theme to another film about the complexities of relationships and friendships, Martin Scorsese's 1973 low budget masterpiece "Mean Streets". "Be My Baby" was an unexpected success for Cinema Impact, in which the initial screenings for a few weeks were expanded, screenings for the film expanded across Japan, and became a word-of-mouth cult hit. The film was screened around the world at festivals in Germany, Italy, Hong Kong, and received very positive reviews.

Note this is a Region free NTSC DVD and can be played on any DVD player worldwide.

Video


Shot on HD video and downconverted to standard definition, the 1.78:1 anamorphic widescreen is in the NTSC format. Although this is a UK release in which most discs are in the 25fps PAL format, this is in fact in NTSC, which means there isn't any bad conversion problems suffered. Colors are displayed well, but it is not a film that screams "vibrant". Koji and Tomoko's yellowish hue in their apartment, Yuta and Takashi's greyish place, and Osamu's dark brownish apartment, Naoki and Satomi's place with the poster and shirt references to "South Park", "Coffy", etc. within the frame differentiate the locations well, although I imagine most of it was not expensive set design but just using what was there.

The low budget and freeform shooting style causes for some trouble with out of focus shots at times and shakiness of the handheld cameras, so these are not faults of the transfer but part of the actual shoot.

The film was released on Blu-ray in Japan, but I don't think the transfer would be that much better in 1080p considering the source. Third Window Films UK opted to release the film on DVD only.

Audio


There is only one soundtrack option for the film:
Japanese Dolby Digital 2.0 surround
The film is mostly in monaural, and the only times that the surrounds are used are when the credits and intertitles appear with the song "Be My Baby". The sound was recorded on location with no post production overdubbing. When characters yell or scream, which happens quite often, the sound becomes distorted and fuzzy, sounding like the speakers are about to burst. This is not the fault of the home viewer's speakers but the fault of the recording process. Things also sound echoey as they were filmed in non-studio environments in which walled locations caused the sound problems.

There are optional English subtitles available in a white font.
For festival screenings worldwide, English subtitles were made but the Third Window Films DVD is a new translation. Especially in the opening scene, the multiple dialogues of the 9 characters overlapped a lot, and the subtitles were not adequate according to the producer, as well as the timing of the subtitles being slightly faster than when it was to be displayed. There were no timing errors, spelling or grammar errors found in this new subtitle translation.


Extras


The extras are as follows:

Interview with producer Masashi Yamamoto (11:04)
Yamamoto talks about the Cinema Impact workshop and the success of "Be My Baby". He also goes into the rehearsal process, the state of Japanese indie cinema and how he got director Hitoshi Ohne involved. The interview is one continuous static shot with no intercuts and no questions prompted from an interviewer.
In Japanese with optional English subtitles, 1.78:1 anamorphic

"Girls Talk" featurette (24:20)
The actresses that played "Kaori", "Tomoko", and "Yuko", Chihiro Shibata, Naoko Wakai, and Yuumi Goto respectively sit on a bed and talk about their experience on the film. They discuss about how the original actress cast as Yuko suddenly quit the production, causing Yuumi Goto to quickly step into the role, the audition process, how Wakai got married during the 4-day production, and the nasty hotel they had to stay at in Hong Kong versus the gorgeous one in Italy for the festival screenings. The interview is one continuous static shot with no intercuts and no questions prompted from an interviewer, although at one point an off camera voice (which I suspected, and later confirmed was Adam Torel of Third Window Films) gives some information about the state of DVDs and the rentals market in the UK.
In Japanese with optional English subtitles, 1.78:1 anamorphic

Theatrical Trailer (2:19)
The Japanese trailer is included here, which promotes the success of the festival screenings and worth-of-mouth success
In Japanese with burned in English subtitles, 1.78:1 anamorphic

So what was not carried over from the Japanese edition?
The Blu-ray and DVD included an audio commentary with the director and the 9 cast members. I don't know what the commentary was like and most likely was not ported over for cost reasons.

Packaging


The cover art was designed by illustrator Maki Shinozaki who is famous for her illustrations of Kudokan plays. As a fan of the film, she designed the newly created artwork. Although of the 9 main characters of men and women, the poster coverart only shows caricatures of the 4 women, as she only draws females in her work.

Overall


"Be My Baby" is a fun and awkward adaptation of the satirical stage play. With a larger budget and/or more time, the production might have looked and felt more professional, yet it might also take away the charm of what we are given here. Third Window Films did a good job with the video and audio transfer notwithstanding the tech problems of the original material. Although they did not port over the existing Japanese commentary, they did create new informative (short) extras. Recommended.
| | | | | |
| --- | --- | --- | --- | --- |
| The Film: B | Video: B- | Audio: B- | Extras: C | Overall: B- |