The Film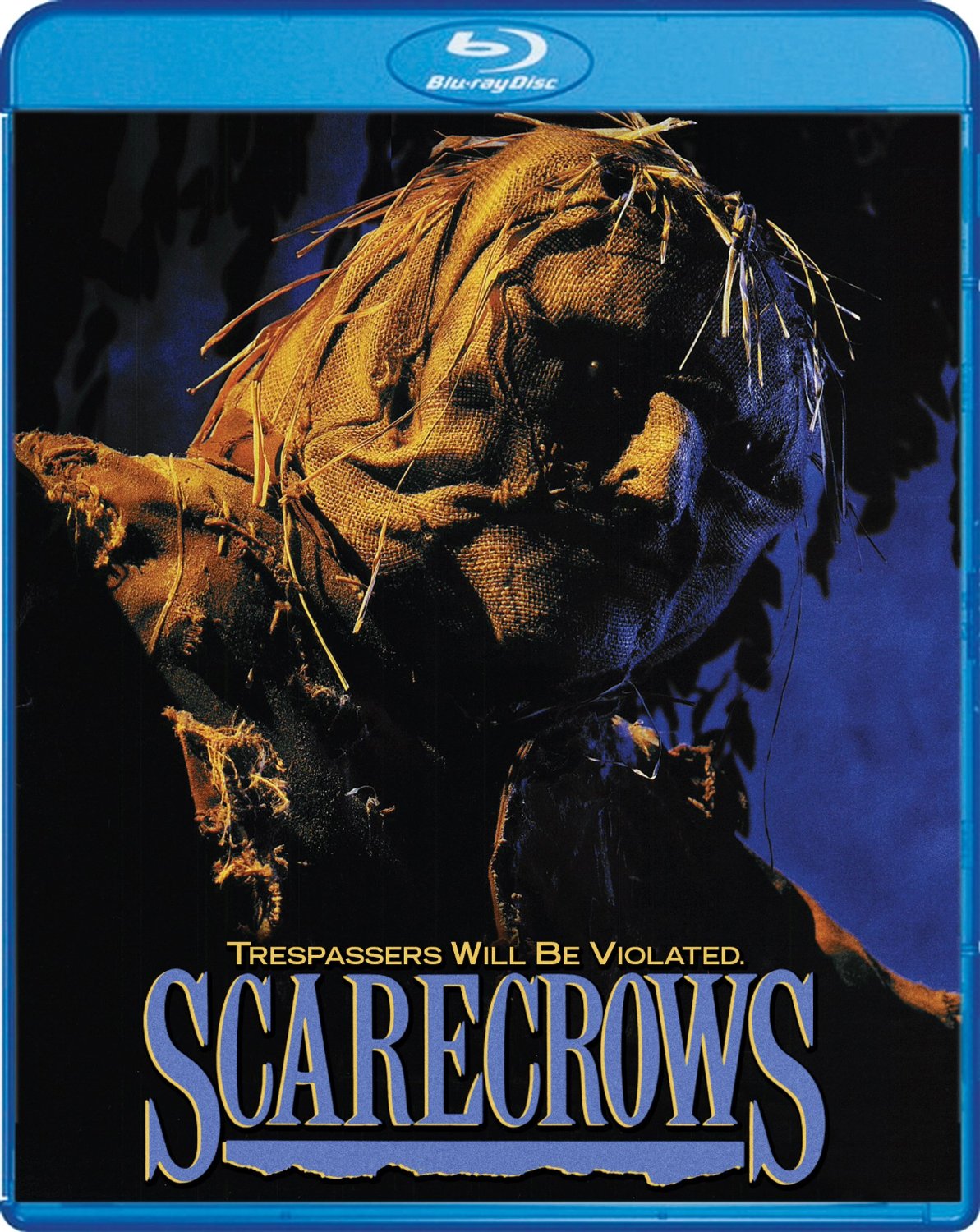 Chances are if something creeps, crawls, slashes, snarls, bites or brutalizes horror has produced dozens of films about it. Why, then, is there such a dearth of killer scarecrow movies? Perhaps it's due to the fact that none made so far have been an outright success, but in terms of subject matter scarecrows are tailor-made for terror. Those straw men look nearly human, yet they lack most of the specific features – eyes, mouth, nose, etc. – that make us who we are. They exist very close to the "uncanny valley"; that place where Robert Zemeckis' creepy CGI humanoids reign supreme. It would seem like horror should be rife with scarecrow pictures. Yet, as of 2015 there are only a handful of films featuring them - most of which aren't even well liked. The apex of scarecrow horror is almost unquestionably "Dark Night of the Scarecrow" (1981), a TV movie that far exceeds expectations in every way – the acting, story, atmosphere and scares are outstanding. There's also "Night of the Scarecrow" (1995) directed by one of my favorite B-movie helmers, Jeff Burr. A third film that fits nicely between those two is "Scarecrows" (1988), an underrated quasi-slasher full of nasty kills, creepy moments and unanswered questions. Barely seen upon release, it hasn't even attained much of a cult following… although that might (and should) change thanks to a new Blu-ray release from Scream Factory.

A squad of former military officers pulls off a daring robbery at Camp Pendleton, CA and gets away with over $3 million in payroll money. The group escaped by hijacking a plane, with the intention of getting down to Mexico. The film likely assumes most people aren't familiar with the geography of California, because a plane ride from Pendleton to Mexico would take all of twenty minutes. Anyway, as the plane passes over a cornfield Bert (B.J. Turner) decides to rip off his fellow criminals, stunning them with a grenade and parachuting out of the aircraft after dropping the loot. Bert lands in the cornfield and makes his way to an old dilapidated farmhouse. Nobody is home; the place looks like it's been empty for years. Bert continues on, searching for the money, while his former buddies land the plane and disembark, looking to put a little hurt on ol' Bert.

Eventually Bert finds the cash, but his fortunes are short lived when the field's resident scarecrow trio suddenly disappear from their perches and begin stalking him, as well as the men on his trail. Soon, however, the game between thieves must end because everyone has a much bigger problem – ruthless scarecrows are killing and gutting whoever they catch, turning them into new, bloody scarecrows with the same intentions: death and dismemberment.

Director William Wesley and his cohorts produced this film on a shoestring budget, although you wouldn't know it judging by the final product. The standard script is taken up a few notches thanks to brooding atmosphere and some particularly gruesome FX work, courtesy of Norman Cabrera. Nothing about the robbery group is all that compelling – even the sub-drama of the hostage pilot and his strong-willed daughter is stock material. The three main scarecrows and the mystery of their existence are what carry the film. Wesley provides zero backstory on the scarecrows in the way of traditional exposition. Instead, he does it all through repetition and suggestion; things to which modern horror pictures are blind. Upon entering the farmhouse viewers are shown an old photograph of three men – maybe brothers, maybe not – standing by the cornfields. They are never named or shown in any way other than through the photo, a shot that is repeated frequently. There are also three scarecrows. Wesley, bless his logic, rightly assumed any viewer could surmise these men and these scarecrows are one in the same. But how? That's the lingering question Wesley refuses to answer, and the film is stronger because of his denial.

On the topic of the scarecrows, FX artist Norman Cabrera, a former student of Rick Baker's, brings the trio to life with exquisitely sinister results. Each one has a burlap sack covering its head that hides a skeletal, almost demonic visage. Being from a farm, their weaponry ranges from scythes to rakes to daggers… and they do not kill their victims quickly. Late in the film, one of the men remarks that their getaway was "too easy" and they died in the escape; where they are now is simply a version of Hell. Maybe that's true, because these men (and one woman, can't leave the ladies out of a good disemboweling) are killed slowly, torturously, before being split open and stuffed with straw and money. Cabrera's FX work is bloody and realistic. Stunning practical effects work could be done on films with next to no budget if the talent was there, something that is a rarity these days because a no-budget film will just opt for cheap CGI instead of a tangible piece of artistry. "Scarecrows" is a perfect example of strong artistic achievement elevating a feature.

In addition to the great FX, "Scarecrows" also excels in creating a tense atmosphere full of dread and claustrophobia despite taking place in an open cornfield. Cinematographer Peter Deming also lensed "Evil Dead II" (1987), "Mulholland Drive" (2001) and "Drag me to Hell" (2009), proving he knows a thing or two about shooting beautiful pictures. Then there's also composer Terry Plumeri's score, which uses low-end instrumentation to sell a sense of danger and overall spookiness. So, while the characters and most of the acting may not be the strongest (not that anyone is outright bad), the remaining elements of the film are operating on a high enough level to make a real lasting impression. "Scarecrows" is one of the better "unseen" gems of the 80's and it deserves every bit of praise for delivering such tremendous quality on a minuscule budget.

Video


Those familiar with MGM's previous DVD will find Scream Factory's 1.85:1 1080p 24/fps AVC MPEG-4 encoded image to be the natural HD progression of that image, meaning no additional work has been done to alter the picture. Again, despite a low budget the film looks like a more expensive picture, due in great part to the lighting and effective set design. Grain is moderate and looks natural. Black levels are a bit faded, not much of a big deal. Color use is minimal, with the palette full of darker, earthy hues, nothing vibrant. Close-ups show off some impressive fine details, like beads of sweat or pores. There doesn't appear to be an issue with compression either. Overall, a very good effort that offers a closer approximation of the film print.

Audio


You have the choice of an English DTS-HD Master Audio surround sound track, either in 5.1 surround sound (48kHz/24-bit) or 2.0 stereo. The 5.1 track has a wider range and sounds a little fuller, but then again the film was originally mixed in Ultra Stereo so you really won't be missing much by selecting the 2.0 track. The rears hardly get much use anyway. Dialogue sounds clean and is easy to understand. A lot of the film relies on subtlety and the film's sound design adds in a plethora of nighttime farm sounds to heighten the tension. Subtitles are included in English.

Extras


The last DVD of this film had a trailer. This Blu-ray release contains two audio commentary tracks, interview featurettes, stills and more.

The first audio commentary features director William Wesley and producer Cami Winikoff. Moderated by Rob G, this track stays on a solid pace throughout, with Wesley and Winikoff recalling stories about shooting schedules, cocaine, airline crashes and influences.

The next audio commentary has co-screenwriter Richard Jeffries, D.P. Peter Deming and composer Terry Plumeri. This is actually a series of interviews conducted by Michael Felsher that play over the film for the entire running time. This approach works fine because none of the participants has a role that would necessarily require scene-specific commentary.

"The Last Straw with Norman Cabrera" (1080p) is an interview featurette that runs for 16 minutes and 35 seconds. The film's FX artist talks about the vibe of the shoot, how he got started in the industry, working with Rick Baker and more.

"Cornfield Commando with Ted Vernon" (1080p) is an interview featurette that runs for 8 minutes and 46 seconds. Vernon, who also produced the film, spends as much time talking about his life's achievements as he does talking about the film. He's one of those "larger than life" types.

A reel of original storyboards (1080p) runs for 3 minutes and 48 seconds.

There are 62 images in a still gallery (1080p), mostly behind-the-scenes shots.

The theatrical trailer (1080p) runs for 1 minute and 32 seconds.

Packaging


The single disc comes housed in a standard Blu-ray keep case. The cover art is reversible.

Overall


The first time I saw "Scarecrows", years ago, I liked the concept but found the film a bit flat. Upon this second viewing, my mind has changed. This is a unique, creepy horror picture that delivers the scares and gore emblematic of the 80's.
| | | | | |
| --- | --- | --- | --- | --- |
| The Film: B | Video: B | Audio: B- | Extras: B- | Overall: B |