Great Outdoors (The) [Blu-ray]
Blu-ray ALL - Holland - Lightning Film
Review written by and copyright: Samuel Scott (20th June 2015).
The Film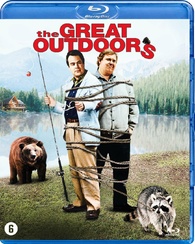 ***This is an A/V and Extras review only. For reviews on the movie from various critics, we recommend visiting HERE.***

When an unannounced, uninvited and unwelcome family of fun-loving misfits converge upon a lakeside resort to join their relatives for a summer of relaxation, the result is anything but restful in this raucous comedy starring Dan Aykroyd and John Candy.

It's a vacationer's worst nightmare, as wheeler-dealer Aykroyd, his sexually repressed wife and eerie twin daughters "join" the easygoing Candy and his straight-laced clan for a season of "fun" in the sun. Unfortunately, the only thing these two in-laws have in common is their intense dislike for each other.

Soon, it's brother-in-law against brother-in-law in an uproarious and hilarious fight to the finish to see which one really knows how to enjoy The Great Outdoors.

Video


Independent Dutch distributor Lightning Film (who I have no previous experience with) have given the John Candy / Dan Aykroyd family comedy "The Great Outdoors" its worldwide debut on the Blu-ray format. They present the film in 1080p using the original aspect ratio of 1.85:1 and it receives an AVC MPEG-4 encode.

Considering this release was quietly sneaked out under the radar of most fans, I wasn't sure what to expect here – but this is certainly a pleasant surprise at a time where several highly-regarded eighties films have been released with disappointing and underwhelming transfers. One of the first things to note is that details are generally very good. The multiple natural surroundings, the inside of the bar, and the various wooden structures like the house the family rent, all show reasonable levels of mid and long range detail. Close-ups fair pretty good too, with facial blemishes obvious, and out of place strands of hair and clothing fluff visible during a couple of scenes. Colours appear natural and balanced, with good black levels which suffer from only minor crush in a couple of the much darker scenes. There are no signs of digital noise reduction and apart from some occasional specks of dirt, no major signs of print damage. Improvements could certainly be made, and this does seem to be struck from an older master, but this is a solid transfer, and above average for an eighties catalogue title.

The feature is uncut and runs 90:20.

Audio


Lightning Film have included a single English DTS-HD Master Audio 2.0 Stereo option for this release, and like the transfer, it is perfectly fine with no major issues to speak of. Channel separation is infrequent but solid, whilst sound effects are crisp and never overpower the always clear dialogue. In scenes with dialogue taking place in crowded (the bar) locations or in surroundings where you would expect dialogue to struggle to be heard (the water skiing scene), there are no problems, and volume levels between dialogue and effects are consistently well nurtured to be emphasised as required. I did spot some very minor background hiss during one scene, but apart from that, there are no signs of damage such as crackles, pops, or drop outs.

Optional Dutch subtitles are included, and play by default.

Extras


Unfortunately, nothing.

Overall



| | | | | |
| --- | --- | --- | --- | --- |
| The Film: B | Video: B | Audio: B | Extras: F | Overall: B- |

---
DVD Compare is a participant in the Amazon Services LLC Associates Program and the Amazon Europe S.a.r.l. Associates Programme, an affiliate advertising program designed to provide a means for sites to earn advertising fees by advertising and linking to amazon.co.uk, amazon.com, amazon.ca, amazon.fr, and amazon.de.