The Film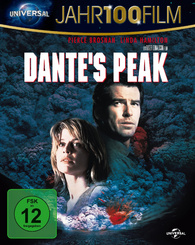 ***This is an A/V and Extras review only. For reviews on the movie from various critics, we recommend visiting HERE.***

The pressure is building...

Without warning, day becomes night, air turns to fire, and solid ground gives way to white-hot, molten terror. Brace yourself for action-packed, earth-shaking thrills, and whatever you do... don't look back.

Pierce Brosnan and Linda Hamilton star in an epic adventure from Director Roger Donaldson that will blow you away! Erupting with spectacular special effects, heart-pounding suspense, romance and remarkable characters. It's an experience you won't forget.

Video


Major distributor Universal have released Dante's Peak in Germany using the original aspect ratio of 2.35:1. The film receives a VC-1 encode and is 1080p. It should come as no surprise that the same disc has been released across Europe and in Australia, unfortunately meaning that we cannot rely on a better transfer any time soon.

One of the first things one might notice with this transfer if viewing on a larger than average display, is the amount of slight haloing around various characters throughout, as a result of edge enhancement being applied in an attempt to make details look sharper than they actually are. The transfer is also rather soft, with background scenery looking mediocre for the format, due to less than stellar levels of detail in shots that pan around the landscape. However, this does not appear to be from digital noise reduction, as backgrounds never look unnatural and facial close-ups certainly don't have a waxy look to them. Colours fare much better, with blacks consistently strong, and the lava bright and vivid. Banding is noticeable in skylines, but not distracting, and there are some occasional specks here and there, though no damage worth complaining about. I would hazard an educated guess that a lot of sharpening processes have taken place, and that this is a dated master originally put together for DVD releases. It certainly doesn't look awful, but there is plenty of room for improvement.

The feature is uncut and runs 108:20.

Audio


Plenty of audio tracks have been provided:
- English DTS-HD Master Audio 5.1
- French DTS 5.1
- German DTS 5.1
- Italian DTS 5.1
- Japanese DTS 5.1
- Spanish (Castilian) DTS 5.1
- Portuguese DTS 2.0 Stereo
- Russian DTS 2.0 Stereo
- Spanish (Latin) DTS 2.0 Stereo

Obviously, I opted for the original language English DTS-HD Master Audio 5.1 track for my viewing, and thankfully, it does fare better than the mediocre transfer. As with any disaster film, you expect the LFE to get a good workout, and "Dante's Peak" delivers. From low rumblings to vicious volcanic eruptions, the solid bass helps make the feature feel intense. Surrounds are also up to the task. Used mainly for the score during the opening third of the feature, things pick up when disaster hits and the environments become engrossing and immersive. Channel separation is consistently strong, and volume levels as steady as can be. There are no signs of damage such as pops, drop outs, or scratches.

Subtitles are available in Danish, Dutch, English, Finnish, French, German, Greek, Italian, Japanese, Korean, Mandarin (Traditional), Norwegian, Polish, Portuguese, Spanish, Swedish, Thai and Turkish.

Extras


None. Universal pull their usual trick of providing the US release with extras, and taking a big dump on European consumers. Even if the extras found on the US release are from the old laserdisc, it would have been nice to include them consistently throughout locales.

Overall


Disaster films are a little bit of a soft spot for me. I like "Dante's Peak" slightly more than "Volcano" and it is certainly above average for the genre. This release is a bit of a let down however, and at time of writing I recommend you at least opt for the US release to take advantage of the extras.
| | | | | |
| --- | --- | --- | --- | --- |
| The Film: B | Video: C+ | Audio: B | Extras: F | Overall: B- |