The Film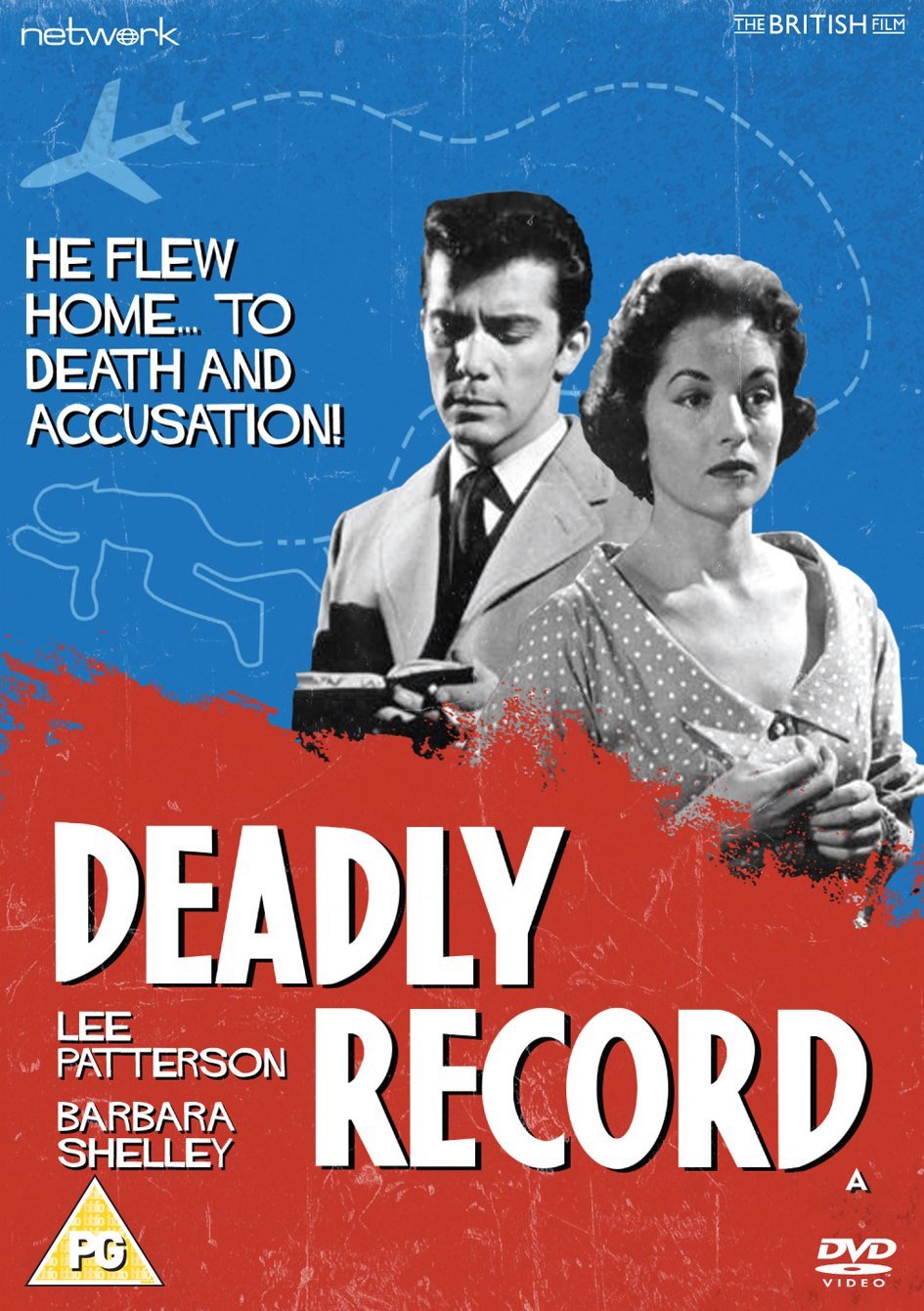 Deadly Record (Lawrence Huntington, 1959)

A 'B' feature and a vehicle for American actor Lee Patterson, Deadly Record (1959) was directed by Lawrence Huntington. As in some of the other films Patterson made in Britain, in Deadly Record he plays an innocent man who finds himself embroiled in a criminal plot. The film is based on a story by Nina Warner Hooke. Hooke's story appears to have been first published as a serial in Women's Weekly in 1954, and then as a novel in 1958; the story also appears to have been adapted by Hooke as a play, the text of which was first published in 1965.

The film focuses on Trevor Hamilton (Patterson), an airline pilot who returns home to discover that his wife Jenny is nowhere to be found. It seems that Trevor and Jenny have a cold and distant relationship: they lead separate lives, with Jenny sleeping in her improvised dance studio atop their home's coachhouse. Assuming Jenny is cavorting with one of her many lovers, Trevor retires to bed but is woken in the morning by a policeman. The policeman tells Trevor that the Hamiltons' car was involved in an accident the evening before and didn't stop. Trevor assures the policeman that he had nothing to do with the accident and has no idea where Jenny is.

The policeman asks Trevor if he may take a look in the coachhouse; there, in Jenny's studio-cum-bedroom they discover Jenny's body. She has been stabbed in the back. Superintendent Ambrose (Geoffrey Keen) arrives on the scene to oversee the investigation, and immediately he begins to suspect that Trevor committed the murder, a perception that is consolidated by the Hamiltons' housekeeper Mrs Mac's (Everley Gregg) assertion that 'She [Jenny] treated 'im something awful. Talk about moods and tantrums. Well, I don't know how 'e stood it'.


Working with his friend and colleague Susan (Barbara Shelley), Trevor tries to clear his name by investigating the crime, believing that the clue to solving Jenny's murder lies in investigating her acquaintances: theatrical agent Phil Gamage (John Paul), her former dancing partner Ramon Casadas (Ferdy Mayne) and his wife Carmela (April Olrich), and Jenny's most recent lover Dr Morrow (Peter Dyneley).

The film begins with a wonderfully inventive titles sequence in which, in close-up, hands unclasp a five year diary with the initials 'J.H.' (Jenny Hamilton) stamped on the cover. The hands turn the pages of the diary; handwritten on each of them are the film's credits. Much is made in the film's narrative of this diary, which Trevor searches for, believing it to contain the solution to the mystery surrounding Jenny's murder, but which remains out of reach until the film's final reel – when it shows up unexpectedly in the laundry that Mrs Mac has washed. Trevor describes the diary as a 'graphic record, a deadly record, of a woman's mental anguish': he uses the diary in a 'bluff', drawing Jenny's murderer out into the open by claiming the diary to contain evidence pointing towards the identity of Jenny's killer – when in fact the diary contains little more than dates for hairdressing appointments and birthdays.

Jenny's past as a former Latin dancer seems inextricably linked to her persona as a 'good time girl' who cuckolds Trevor: although Jenny gave up her dancing career to become Mrs Hamilton, her conversion of the room on top of the coachhouse into a studio speaks of her resistance to leaving this aspect of her life behind her and its centrality to her identity. 'Ah, dancing's her way of life', Trevor reminds Sue as they drive back from the airport, 'After she married me and gave it up she had nothing left. I've had it up to here with it' – he gestures to his neck. 'What brought this on? Is there someone else?', Sue asks. 'No, it's just the thought of going back to those eternal quarrels, that's all', Trevor tells her. 'Perhaps you give her too much freedom', Sue suggests. 'It's gone past that, Susan', Trevor responds, 'Jenny and I lead separate lives. I've come to accept it'.

As the narrative progresses, it becomes clear to Trevor that Jenny considered returning to her career as a dancer, approaching the theatrical agent Phil Gamage with this very prospect. Trevor becomes convinced that Jenny's desire to return to dancing is at least in part behind her murder. Interviewing Gamage, Trevor is told that Jenny 'wanted to get back in the business' and got in touch with her former dancing partner (and, we are led to believe, former lover) Ramon. Trevor tracks Ramon to a low-rent music hall, where he now performs with his new wife Carmela. When Trevor enters Ramon's changing room, Ramon asks immediately if Trevor is a policeman. 'Why, are you expecting them?', Trevor asks pointedly. 'When you've lived in Latin American countries as long as I have, it gets to be automatic: any stranger comes to see you, ten to one he's a cop', Ramon informs Trevor.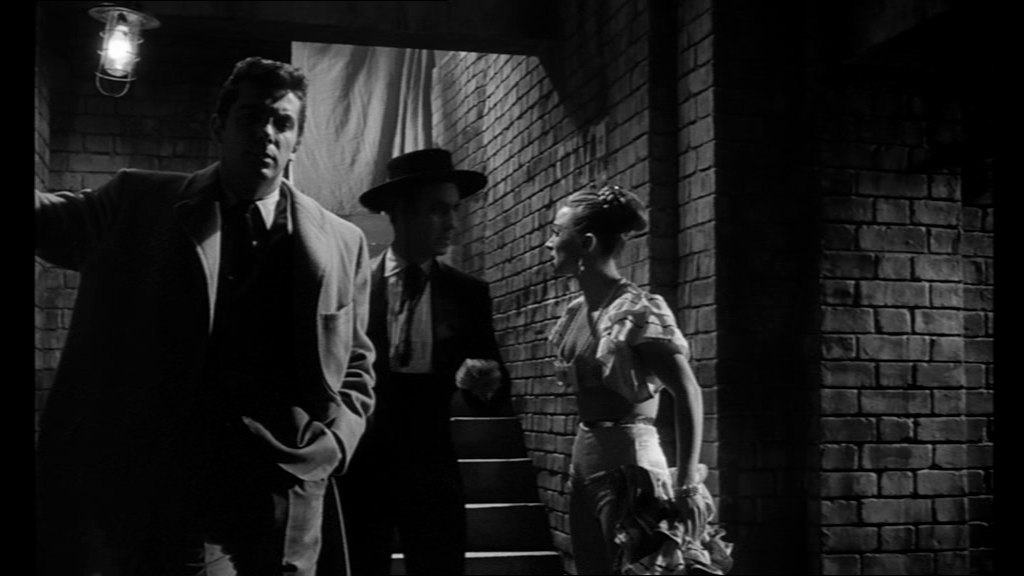 Trevor's attention becomes divided between the low-rent spaces associated with Ramon and Carmela (the dingy music hall with its pokey changing rooms, lit with chiaroscuro lighting that suggests threat and poverty) and the brightly-lit, very middle-class domestic spaces associated with Dr Morrow (Morrow's welcoming office, bathed in light and beautifully furnished). There's a clear juxtaposition of these two worlds – and these two very different suspects in Jenny's murder: the fiery, temperamental Latin dancer and the cool, rational doctor of medicine.

Trevor is initially surprised to see Morrow, who Jenny has previously described to Trevor as 'my little half-pint doctor' – when Morrow is in fact nothing of the sort. Through interviewing Morrow and his nurse Ann Garfield (Jane Hylton), Trevor comes to realise that his wife Jenny had spent the weekend with Morrow in his cottage in the village of Wallingford, and that the accident involving the Hamiltons' car must have occurred on the journey back from Wallingford. Trevor and Sue travel to Wallingford, where Trevor breaks into Dr Morrow's cottage in the search for evidence linking him with Jenny.

From the outset, Trevor and Sue are linked together. Trevor's return home is signaled by a shot of a plane landing and the pilot, Trevor, disembarking; from the control room, Sue looks on and smiles, hinting at the romantic feelings she has for him. The rapport between the pair is established almost immediately. When Trevor reveals that Jenny has failed to pick him up from the airport, Sue offers to drive him home. 'Keys?', Trevor asks her. 'Oh, I'll drive', Sue responds. 'Oh, no', Trevor insists, 'I've ridden with you before'. Where Trevor and Sue's romantic feelings for one another are suggested and rendered acceptable owing to Jenny's apparently cruel treatment of Trevor (validated by Mrs Mac's comments), Jenny's infidelity is framed rather differently. Jenny's absence hangs over the film's narrative: we only glimpse her as a corpse on the floor of the studio atop the coachhouse. However, the stories of her behaviour suggest that she is a femme fatale of sorts. Trevor observes that Jenny 'had a long string of them [men]. On top of that, she loved to provoke'; however, Trevor stops short of suggesting this legitimated her murder, adding, 'Still, she didn't deserve to die the way that she did'.

The film is uncut and runs for 56:34 mins (PAL).


Video
The film is presented in the 1.66:1 ratio with anamorphic enhancement. This would seem to be the film's original aspect ratio, or near-as-dammit. The 35mm monochrome photography is represented very well on this DVD. The source for the presentation is clean and demonstrates relatively little wear and tear (other than some intermittent white flecks and specks and a few vertical lines here and there). The monochrome image is nicely balanced with good contrast and strong mid-tones. In all, it's a very nice presentation of the film.










Audio


Audio is presented via a Dolby Digital 2.0 mono track (in English, naturally). This is clean and clear throughout, and dialogue is always audible.

Sadly, there are no subtitles.


Extras


The disc includes the film's trailer (2:00).

Overall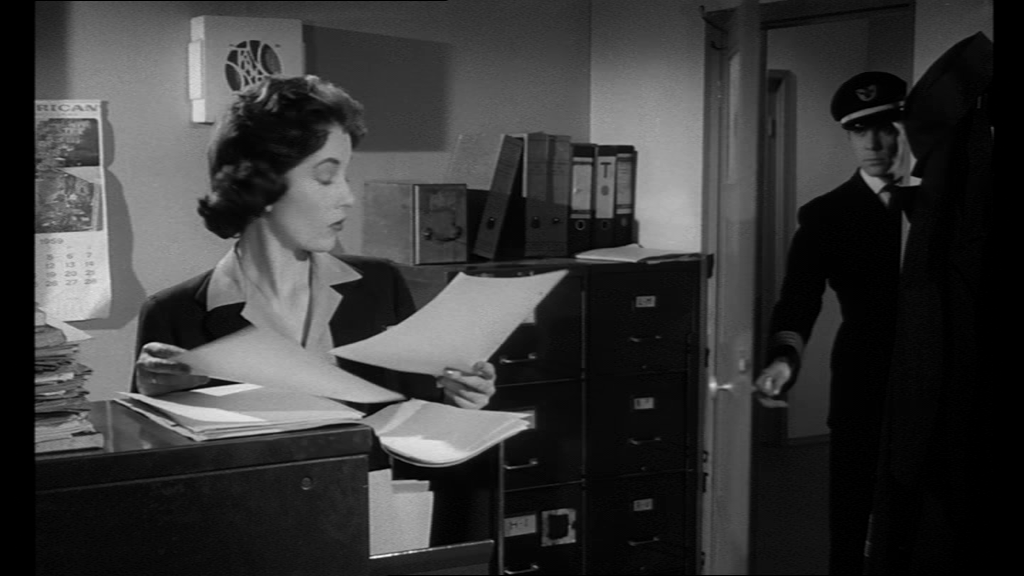 Deadly Record is an entertaining little film, anchored by charismatic performances from both Patterson and Barbara Shelley. Its juxtaposition of Ramon and Morrow, the two main suspects in Jenny's murder, is interesting, but equally fascinating is the film's contrast of Sue and Trevor's burgeoning relationship with Jenny's extra-marital affairs. Jenny is framed as a femme fatale of sorts: her presence (or rather, absence) hangs over the narrative, imperiling the future of her husband Trevor and driving the other characters into conflict.

The presentation of the film on this disc is very good and should please fans of this era of British cinema, especially given the rarity of the film on home video formats.




For more information, please visit the homepage of Network and take a look at Network's The British Film page.

This review has been kindly sponsored by: