Starving Games (The) [Blu-ray]
Blu-ray B - United Kingdom - Signature Entertainment
Review written by and copyright: Samuel Scott (1st July 2015).
The Film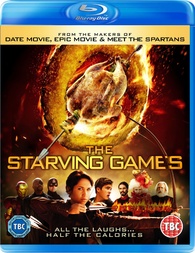 ***This is an A/V and Extras review only. For reviews on the movie from various critics, we recommend visiting HERE.***

All the laughs. Half the calories.

"Good morning hungry citizens of District 12! Donít forget today is the Gathering Ceremony, so parents please do bring your beloved children to the square for a random death lottery".

When lithe and fearless Kantmiss Evershot volunteers to take part in the winner-takes-all STARVING GAMES, she takes on a whole lot more than she had bargained forÖ. including Harry Potter, Sherlock Holmes, The Avengers and ANGRY BIRDS!

Video


Independent British distributor Signature Entertainment have managed to do something they've become renowned for not always doing - present a film in its original aspect ratio. The 1.85:1 transfer included here receives an AVC MPEG-4 encode and is 1080p. It's what you would expect for a recent film that was shot on digital.

In fact, you can immediately tell the film was shot on digital from the sheen the transfer has. Colours are overly bright and vivid, yet drained and pushed towards a greyer tone. Skylines often go closer to white than blue and blacks are not always as deep as should be expected, but cause no issue. Some of the imagery really pops, with the blue and purple hair of some of the characters of particular note. Skin tones are generally good, from the paleness of malnourished children in District 12, to the ridiculous orange tan of the on-scene presenter. Details are exceptional throughout. The foliage in the woods looks incredibly detailed, every out of place hair is instantly visible, and facial close-ups show every skin blemish, especially in actors and actresses lips. Even individual goosebumps on skin are plain as day. Aside from some light occasional banding, there are no major issues to worry about. There aren't any signs of edge enhancement or aliasing, and certainly no blemishes of any sort. The film might be absolute mince, but the transfer is fine.

The film is uncut and runs 82:16.

Audio


Two audio options are included:
- English DTS-HD Master Audio 5.1
- English LPCM 2.0 Stereo

For my viewing I opted for the English DTS-HD Master Audio 5.1 track, and like the transfer, it is a good effort that is far better than what the film actually deserves. The surrounds are used mainly for the formulaic and un-involving score by Timothy Wynn, but there are some good environmental effects thrown in for good measure like the light sound of chirping birds, and cheering crowds. The LFE is surprisingly active, with explosions receiving plenty of bass and other effects getting some low-key rumblings. Dialogue is clear at all times, though during the short scene with the fake Avengers, the audio for the guy parodying Samuel L. Jackson as Nick Fury seems to be out of sync ever so slightly. There are no major issues to speak of like drop outs or pops. This is a good track, even if it is basic and uninspiring.

There are no subtitle options.

Extras


Thankfully, nothing.

Overall



| | | | | |
| --- | --- | --- | --- | --- |
| The Film: E+ | Video: B+ | Audio: B | Extras: F | Overall: E+ |

---
DVD Compare is a participant in the Amazon Services LLC Associates Program and the Amazon Europe S.a.r.l. Associates Programme, an affiliate advertising program designed to provide a means for sites to earn advertising fees by advertising and linking to amazon.co.uk, amazon.com, amazon.ca, amazon.fr, and amazon.de.