Dark Moon Rising [Blu-ray]
Blu-ray B - Holland - BBi Films
Review written by and copyright: Samuel Scott (3rd July 2015).
The Film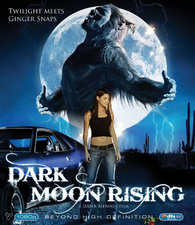 ***This is an A/V and Extras review only. For reviews on the movie from various critics, we recommend visiting HERE.***

Love is a six letter word - "Horror".

Amy, a small-town girl meets and falls in love with Dan, a mysterious drifter. Amy learns that Dan possesses a family curse and the unimaginable horror that was passed on to him by his father, Bender.

Dan and Amy's love is put to the test when town locals unite in the ultimate showdown with Bender to eliminate the terror he has brought to their town.

It will rip your heart out!

Video


Independent Dutch distributor BBi Films have released the b-movie horror film "Dark Moon Rising" on to Blu-ray in Holland using the original aspect ratio of 1.78:1. The feature is 1080p, but unfortunately uses a MPEG-2 encode only. It looks good, but not great.

After recently experiencing my first BBi Blu-ray, "The Delphi Effect" which appeared to be upconverted from standard definition, I wasn't sure what to expect coming into this. Thankfully, it is a superior effort, but still nowhere near reference quality. The transfer suffers from some noticeable compression artefacts, and at times edge enhancement is quite rough with some obvious ringing effects around some of the characters. Light banding can also be spotted along some of the night time skylines, but isn't overly intrusive. Details are average for the format, with stronger details during day scenes, especially the intricacies of the tarmac roads and dusty environments. Some of the panning shots seem to be stock footage and has a general reduced level of quality. Close-ups look fine, with some solid details in clothing and in faces. Colours are good, though flesh tones can appear a little hot. Blacks are deep, and crush is minimal. Overall, this transfer is fine for a low budget horror, and although there are a number of petty issues, there are no dominant concerns or any discernible signs of damage.

The feature is uncut and runs 124:55.

Audio


Three audio options are included:
- English DTS-HD Master Audio 5.1
- English Dolby Digital 5.1
- English Dolby Digital 2.0 Stereo

For my viewing, I opted for what was listed as a simple DTS track on the menu, so was surprised to find it was actually lossless English DTS-HD Master Audio instead. This is a technically efficient track, but never gets past being rather basic overall. The surrounds are used mainly for the typical b-movie horror score by Geoff Gibbons, but environmental effects such as birds chirping, and general crowd noise also make appearances. Dialogue is pretty much exclusive to the front of the sound stage and is clear at all times. Channel separation is mediocre, with no stand out moments. Volume levels are consistent and there are no problems with drop outs, pops, scratches, or background hiss.

Optional Dutch subtitles are available.

Extras


Nothing.

Overall



| | | | | |
| --- | --- | --- | --- | --- |
| The Film: D | Video: B- | Audio: B- | Extras: F | Overall: D |

---
DVD Compare is a participant in the Amazon Services LLC Associates Program and the Amazon Europe S.a.r.l. Associates Programme, an affiliate advertising program designed to provide a means for sites to earn advertising fees by advertising and linking to amazon.co.uk, amazon.com, amazon.ca, amazon.fr, and amazon.de.