The Film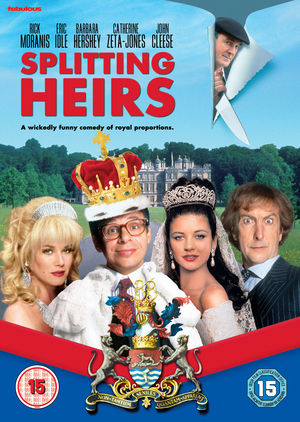 ***This is an A/V and Extras review only. For reviews on the movie from various critics, we recommend visiting HERE.***

From the warped and wacky mind of Monty Python alum Eric Idle comes a wickedly funny case of mistaken identity.

Eric Idle stars with Rick Moranis, Barbara Hershey, Catherine Zeta- Jones and John Cleese in this madcap romp the Los Angeles times dubbed "irreverent, fun to watch...a killer!"

At a wild party during the 60's, baby Thomas Henry Butterfly Rainbow Peace (a.k.a the 15th Duke of Bournemouth) is accidentally "misplaced" by his rich hippie mum and dad. When the wrong baby is claimed, the real heir winds up being raised by a poor Pakistani family, while the "heir apparent" grows upon America with a silver spoon in his mouth. Once Tommy Patel (Idle) learns that he, not Henry Martin (Moranis), is the true Duke of Bournemouth, He'll do anything to get back what he's lost! Fortunately for Henry, Tommy's a pretty inept assassin. Unfortunately for them both, Tommy's seedy lawyer Shadgrind (Cleese) is a tad more adept! Add to the mix a scandalous, nymphomaniacal Duchess (Hershey), a gorgeous gold digger (Zeta-Jones), plus a host of assorted loonies, and you have a Pythonesque cavalcade of silliness. Can Tommy regain his Dukedom, survive Shadgrind's schemes, avoid being seduced by his own unwitting mom, and marry the girl of his dream's? Find out for yourself. You'll split your sides laughing!

Video


Independent British distributor Fabulous Films have given "Splitting Heirs" it's first release in the United Kingdom since the VHS from CiC in October 1993 - a surprise considering the British talent attached. The disc is in NTSC format rather than PAL, and the feature is presented in the original aspect ratio of 1.85:1 which is anamorphic.

The transfer appears to be licensed from Universal Pictures, and looks as though it comes from a dated master. Throughout the duration of the film there are little nicks and specks, though certainly nothing that lasts more than a couple of frames, or anything bad enough to cause concern. Blacks are good, especially with Catherine Zeta-Jones' dress at 37:50, though some mild crush appears from time to time. Skylines have a tendency to be a little closer to white than blue, but banding is minimal. The level of detail is pretty average for the format. Some scenes show good levels of facial details (43:12) and more minute intricacies, whilst background items can appear to be a little clunky and lack clarity, most probably down to the formats limitations. The more darkened locations tend to have a slightly heavier grain structure, but never descend into looking noisy. The scenes during the wedding are the most notable of the bunch, with details and colours at their strongest. The disc itself is NTSC, so those concerned with issues synonymous with NTSC->PAL transfers after spotting the run time can rest easy, as there's no combing or any other problems you might expect.

The film is uncut and runs 87:14.

Audio


Fabulous Films have included a single English Dolby Digital 2.0 Stereo (192kbps) track for this release, which is certainly serviceable. The track isn't particularly filled with depth, and there are no surprises here. Dialogue is clear at all times using minimal channel separation, and volume levels are consistent throughout, with Michael Kamen's score noticeable but not overpowering. The occasional explosion and fire lack punch, but more subtle effects like doors closing and footsteps are fitting. The sound design as a whole is how you would expect for an early nineties comedy, and there are no issues with damage such as scratches, pops or crackles. I suspect this is how it sounded upon initial release.

No subtitles are included.

Extras


None.

Overall


This might not be Idle's best writing, but "Splitting Heirs" is a solid comedy that is worth a look for fans of the cast. I'm surprised it has taken so long for this British film to find its way on to DVD in its home territory.
| | | | | |
| --- | --- | --- | --- | --- |
| The Film: C+ | Video: C+ | Audio: C+ | Extras: F | Overall: C+ |