The Film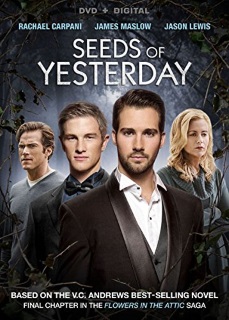 Husband and wife Dr. Chris Sheffield (Jason Lewis) and Cathy (Rachael Carpani) – incestuous siblings Christopher and Cathy Dollenganger – return to Foxworth Hall where they were once imprisoned with twin siblings Cory and Carrie in the attic by their mother Corinne – played by Heather Graham in the first three films – to conceal their existence so that their mother might worm her way back into her father Malcolm's will after running off with her uncle (and bearing his children). They are perturbed to find that young heir Bart (James Maslow), Cathy's son by her mother's second husband, has meticulously rebuilt the mansion from the ashes of the conflagration that killed his biological father and great-grandmother (played in the first two films, respectively, by Dylan Bruce and Ellen Burstyn). Of equal concern is the former problem child's extreme religiosity and obsession with great-grandfather Malcolm whose presence haunts the mansion in the form of a painting that reveals a striking resemblance with the grandson he never lived to see. Also coming "home" for Bart's twenty-fifth birthday are half-brother Jory Marquet (Anthony Konechny) – son of Cathy's abusive first husband – and his wife Melodie (Leah Gibson), both dancers for the New York Ballet, and wild young adopted sister Cindy Sheffield(Sammi Hanratty). With Corinne's will soon to be read, Bart expects to come into full control of the estate which is currently being administered by Chris to his stepson's resentment; and he flies into a rage when the will stipulates that Chris will continue on as executor of the estate until Bart's thirty-fifth birthday (with the money going to Chris if Bart is institutionalized before then). Before his birthday party, his thunder is stolen when Jory and Melodie announce that they are expecting twins. Bart seems outwardly more disappointed that Melodie will be unable to dance "Samson and Delilah" at the party, but Cindy offers to take her place. When Jory is paralyzed in an accident during the performance, sensitive Melodie becomes withdrawn and vulnerable to Bart's attentions. When Cathy finds out and tries to intervene, Bart throws her past sins in her face and she realizes that she will instead have to confront Melodie ("I'm a dancer. You know how we live!") but the enforced domestic bliss only lasts for so long as she fears her twins will be born with physical or mental defects because she hates them (rather than because of the incest in previous generations of her husband's family). When Melodie abandons Jory and the twins, Cathy hopes that Jory will hit things off with his physical therapist Toni (Nikohl Boosheri) until Bart attempts to seduce her too. With Cathy torn between Jory's emotional and physical wellbeing and the possibility of Bart finding the happiness she feels he deserves deep inside, it is actually Bart who fears that the past may repeat itself as the attraction between himself and Cindy becomes undeniable. As Bart's stability begins to slip, Chris and Cathy fear for the safety of their other children and grandchildren.

When V.C. Andrews' modern gothic novel "Flowers in the Attic" hit the shelves, it was an instant bestseller. It and the ensuing "Dollenganger" series of novels "Petals on the Wind", "If There Be Thorns", and "Seeds of Yesterday" (along with the prequel "Garden of Shadows") would become the trashy favorites of grade school girls throughout the eighties and make the taboo subject of incest passé. The much-anticipated 1987 New World Pictures film adaptation of Flowers in the Attic - adapted and directed by Jeffrey Bloom after Wes Craven's draft was rejected – was poorly received, yet somehow became a bit of a cult film (presumably to those who were too young to read the novels but did, yet were not allowed to see the R-rated feaure). An adaptation of "Petals on the Wind" went into development but never went in front of the cameras. From time to time, rumors popped up of a new film adaptation of the first novel – with the most movement circa 2009 with a script by Andrew Neiderman who had ghost-written several of the Andrews novels following the author's death – and anticipation was up when Charles Fries (producer of the original adaptation who apparently held onto the option for the series for nearly three decades) and Lifetime Movies announced adaptations of the four novels (excepting the prequel). Rather than a faithful and comprehensive adaptation, Lifetime hastily churned out cheaply-made four ninety-minute features with Flowers in the Attic premiering January 2014, Petals on the Wind that May, and both If There Be Thorns and Seeds of Yesterday airing in April 2015.


Going by the synopses of the novel, the script – by Darren Stein whose Jawbreaker tried to be the nineties Heathers – is pretty much a digest version of the novel (with one major character left out entirely) for people who have read it with plot turns and tone shifts that feel abrupt rather than shocking. Performances are as uneven as the characterization, but the performers get their moments since the scripting is geared towards trailer-ready moments like Melodie's "I had no idea you were such a bitch" and Cathy's "Obviously you don't know me that well." The cast is attractive but generate no heat or sense of transgression when it comes to acts of pseudo-incest (in fact, the film is more successful at making seemingly normal familial affect seem tainted despite otherwise showing that the unconventional relationships here are more loving and "healthier" than the ones motivated by money or by Bart's need to prove to himself that all women are liars and whores). Neither actor Maslow or the script's characterization fully explore the intriguing character who seems to have been restyled along the lines of Christian Grey but whose most interesting aspect is not his appearance but the ambiguity as to just how deliberately despicable he is since he also seems to possess some genuine affection for his family. Whereas Foxworth Hall was embodied in the 1987 by combined exteriors and interiors of Castle Crane in Ipswitch, Massachussetts and Edward Doheny's Greystone Mansion in Beverly Hills, California (both of which were also used the same year to represent the Lennox Mansion in The Witches of Eastwick), Foxworth Hall here looks like a McMansion with Victorian pretensions (and the production design of Lind Del Rosario and Richard Paris is more in line with their work on the Canada-lensed Dimension Pictures low budget genre fare than their more stylized work for Atom Egoyan). The photography of James Liston – who lensed If There Be Thorns and the upcoming non-series Andrews adaptation My Sweet Audrina – and direction of Shawn Ku (whose feature debut The Beautiful Boy offered a more affecting depiction of family tragedy) are bland apart from the "Samson and Delilah" sequence which has an appropriate air of theatricality. However much the films may be aimed at the converted, they are probably less painful for people fresh to the series who can view them as a series of trashy soap operas; and they'll probably end up as memorably blah as the 1987 film (in which Andrews made a cameo but died before the film's completion).

Video


The HD image is given a serviceable encode on LionsGate's single-layer disc with no distracting noise in the darker shots (which were shot flat and then darkened in post). It is doubtful a higher bitrate and dual-layer disc, or even a Blu-ray presentation could make this production look more expensive.

Audio


The Dolby Digital 5.1 track is mostly front-oriented, but the surrounds come to life with atmosphere and music (as well as a few sudden noises for effect). Optional English and Spanish subtitles are provided.

Extras


The sole extras are trailers for the other three films in the series and other Lifetime product.

Packaging


The cover art showcases the faces of four of the principal actors but does not quite have the same effect of the family portraits visible behind the stepback covers of the original paperbacks.

Overall