Accidental Love
R2 - United Kingdom - Arrow Films
Review written by and copyright: Matthew Crossman (12th July 2015).
The Film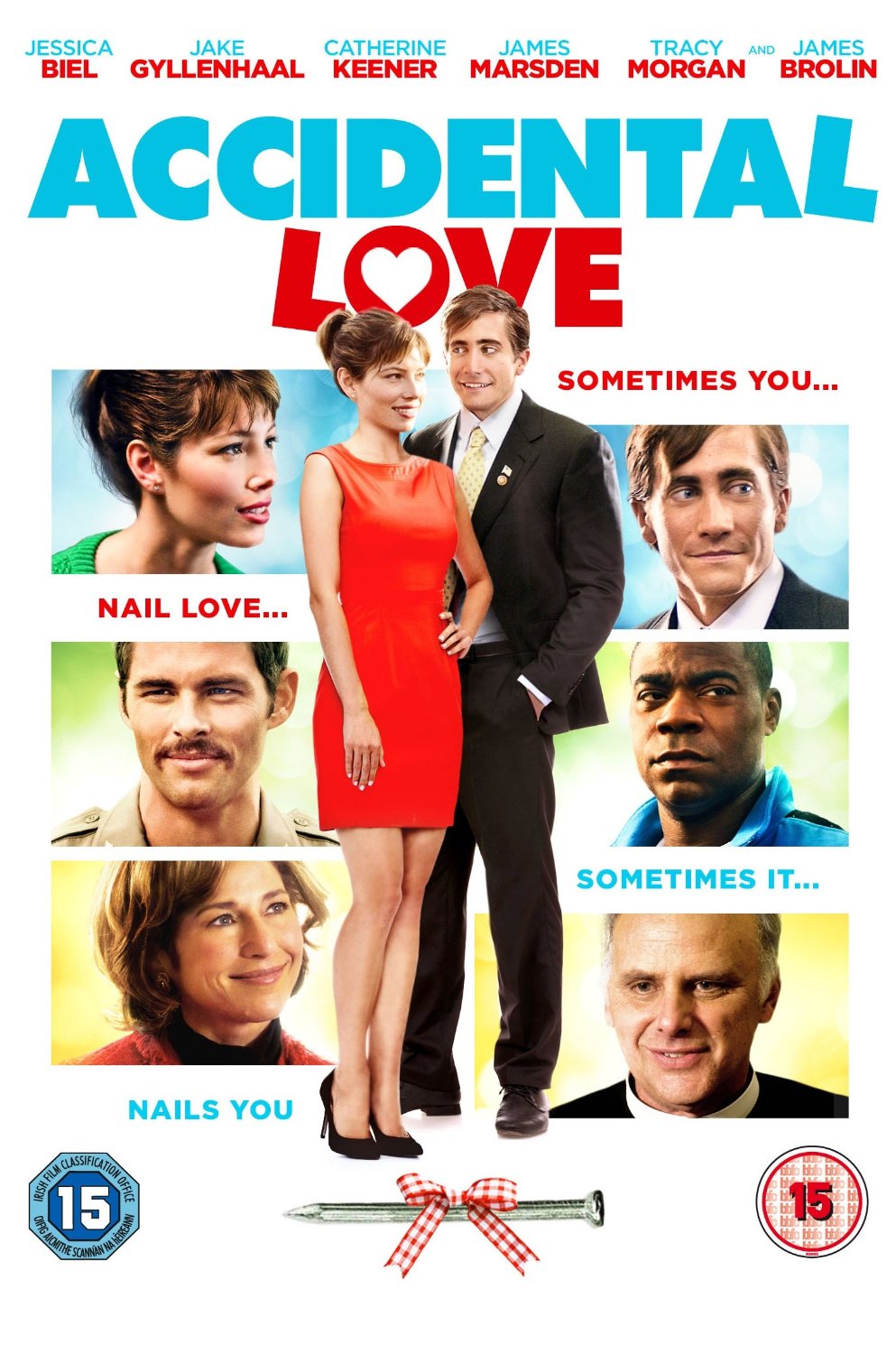 Alice (Jessica Biel) is a roller skating waitress in a small town. One evening Alice's long term boyfriend and vain state trooper Scott (James Marsden) takes her to a restaurant where he intends to ask Alice to marry him. The restaurant is currently undergoing some repairs and before Scott can put the ring on Alice's finger a clumsy workman falls and accidentally fire a nail from his nail gun into Alice's head. She is rushed to hospital but before any treatment is administered Doctors discover that Alice does not have enough insurance to cover the $150,000 bill for treatment. The nail embedded in Alice's head has caused her to have sudden mood swings and lose her sexual inhibitions. With a possible lifetime of 'heavy drooling' in front of her, and after an abortive attempt at home surgery Alice sees Congressman Howard Birdwell (Jake Gyllenhaal) on television and decides to travel to Washington to appeal to him for his help. Once on Capitol Hill Alice starts and affair with Howard as she attempts to get a change in the law to help people with bizarre medical injuries such as hers.

Let's get this straight from the get go. This 'film' is a mess. I say 'film' but it's not really. It's a sequence of shots from an unfinished production. Originally shot in 2008 the 'film' was never finished due to money problems. What was left has been taken by the producers, in one can only assume is an effort to get some of their money back, and stitched together like some kind of Frankenfilm. There are shots in the 'film' that never should have been used and there are clearly shots missing adding the uneven tone of the product. Originally Accidental Love was to be called 'Nailed' and what we have here was directed by David O Russell but has been credited to the fictional director 'Stephen Greene'. This DVD is so bad that even Alan Smithee did not want anything to do with it. But it's the cast one feels the most sorry for (apart from the viewer, that is). As well as the aforementioned actors it also stars the likes of James Brolin, Kirstie Alley, Beverly D'Angelo, Tracy Morgan and Catherine Keener. To have this abomination thrust upon their curriculum vitae's is cruel indeed. The 'film' finally concludes with a dance number which is filmed with the same nuance as a homemade video at a wedding. Interspersed with this dance number are a series of bloopers which is faintly ironic in that the whole 'film' is one big blooper reel. If this does not win the Razzie award then there clearly is no justice in this world.

Video


1.85:1 Anamorphic. Incredibly the picture is extremely sharp. Considering the nature of the production and what the producers must have had to work with the picture quality is extremely good. An example being that at one stage the viewer is able to discern all the freckles that cover Jessica Biel's chest.

Audio


Dolby Digital 5.1 sound. Nothing wrong with the sound mix either. The sub woofer is underused and the rear speakers are only used for background noise but a perfectly acceptable mix. No subtitles are provided whatsoever.

Extras


Behind the Scenes of Accidental Love - Talking heads documentary with cast members Jessica Biel, Jake Gyllenhall, James Marsden, Paul Reubens, Catherine Keener, and Tracey Morgan talking about their characters and how they became involved with the production. These are interspersed with footage taken behind the scenes of the production. This feature runs for 20 minutes and 32 seconds.

There are three start up trailers before the main menu appears. These are for 'The Stag', 'Love Is All You Need' and 'Arthur and Mike'.

Overall


I think by now you all know what my final verdict will be. This 'film' is a complete mess. It's not funny, it's not romantic, it's not political, it's just awful. What could have redeemed this disc would have been a frank and open documentary about the problems it suffered but sadly we get no mention of that and instead we get a 'fluff' piece about the making of the film. At least Jessica Biel had the decency to look vaguely embarrassed during her interview in the behind the scenes documentary. A decent cast, completely wasted. This DVD is destined for shelves of Poundland and even then I recommend you leave it there.
| | | | | |
| --- | --- | --- | --- | --- |
| The Film: F | Video: A | Audio: B- | Extras: D | Overall: D- |

---
DVD Compare is a participant in the Amazon Services LLC Associates Program and the Amazon Europe S.a.r.l. Associates Programme, an affiliate advertising program designed to provide a means for sites to earn advertising fees by advertising and linking to amazon.co.uk, amazon.com, amazon.ca, amazon.fr, and amazon.de.