The Film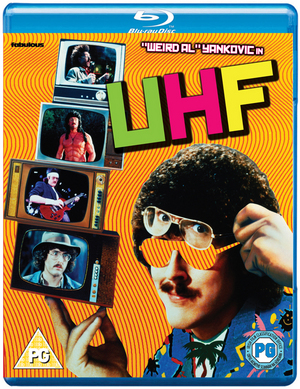 ***This is an A/V and Extras review only. For reviews on the movie from various critics, we recommend visiting HERE.***

"Weird Al" Yankovic, Kevin McCarthy (Innerspace), Michael Richards (Seinfeld), David Bowe (The Cable Guy), Victoria Jackson (Saturday Night Live) and Fran Drescher (The Nanny) star in this inspired comedy about a offbeat guy who turns a deadbeat TV station into a raging success! Broadcasting Weird Al's unique brand of humour, UHF is a pace you'll want to visit-with increasing frequency!

George Newman (Weird Al) is a daydreamer whose hyperactive imagination keeps him from holding a steady job... until his uncle hires him to manage Channel 62, a station that's losing money and viewers fast. But when George replaces the station's reruns with bizarre programs like "Wheel of Fish" and "Raul's Wild Kingdom" (Where poodles fly from third-story windows), ratings begin to soar! Stay tuned!

Video


Independent British distributor have released "Weird Al" Yankovic's cult comedy fan favourite "UHF" on to Blu-ray in the United Kingdom at an aspect ratio of 1.89:1 (original aspect ratio is 1.85:1). The transfer is 1080p, and it receives an AVC MPEG-4 encode. As far as catalogue titles go, this is an above average effort, and will leave fans surprisingly pleased!

Those going into this release expecting a pristine print will need to hold their horses as it appears Fabulous have used the same source as Shout! Factory used in America. The print has light but consistent specks throughout the run time, as well as the occasional larger blemish and scratch, most of which are barely noticeable. However, despite these specks, it isn't what I would deem an issue as overall, the print does look in pretty damn good condition for an eighties catalogue title. Filmed on 35mm, there is a layer of natural film grain for the duration, and the levels remain consistent. Details are a bit inconsistent, with the various random segments like having "The Beverly Hillbillies" on the screen, or the "Money for Nothing" animation not as detailed as the rest of the transfer and looking a little dated and soft. Generally speaking though, detail is strong, especially in facial close-ups and in the scenes which utilise more vivid colours. The astroturf on the gaming board at 44:20, the details of the painted house on the set, and details on people at mid-range in the crowd are all worthy of praise and shows just how good this transfer often looks. Black levels are fine (though pushing grey on occasion), with little crush, and saturation levels no concern. There are no issues with too much tinkering like digital noise reduction either. Of course, there is some faux aliasing to give the impression of low budget commercials such as the Spatula City" scene, but this is obviously done on purpose. Some improvements could be made to eradicate the low-level damage, but this is great transfer overall, and a huge improvement on the previous MGM DVD.

The feature is uncut and runs 97:09.

Audio


Fabulous Films provide a single English DTS-HD Master Audio 2.0 Surround track which I think we can say is an accurate representation of the original track. Despite the limitations of the track, it is rather enthusiastic and has good levels of depth, especially for action and music based scenes which require that bit of extra oomph. Dialogue is clear at all times, but the occasional line of dialogue does feel slightly muted in comparison to the rest of the feature. Channel separation is very good when you consider this is a low-budget comedy, and direction is without issue. There are no problems with the track such as drop outs, scratches, or pops, and there is no background hiss. A solid track.

Extras


Just a theatrical trailer (1:26).

Overall


I became familiar with "Weird Al" when living in Canada for a short time as a child where his music is insanely popular. His 1989 film "UHF" is as mad and fun as his music. Fabulous Films does it justice with a solid technical presentation that is certainly worthy of a purchase.

Note the following trailer is not indicative at all of the Blu-ray picture quality.

| | | | | |
| --- | --- | --- | --- | --- |
| The Film: B | Video: B+ | Audio: B+ | Extras: E | Overall: B |