The Film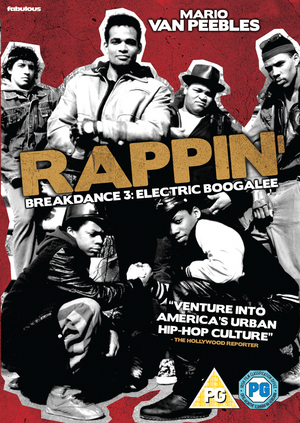 ***This is an A/V and Extras review only. For reviews on the movie from various critics, we recommend visiting HERE.***

Catch the rhythm and feel the heat of this non-stop, rappin' house party starring Mario Van Peebles (Ali), Tasia Valenza and Eriq La Salle ("ER")!

Featuring the talents of some of hip- hop's biggest stars, RAPPIN' is an explosive film that put rap on the map!

Just out of jail, John "RAPPIN" Hood (Van Peebles) returns to his old neighbourhood to find it threatened by a money-grabbing developer and a vicious gang leader. To save the homes of his friends - and win the heart of the girl he loves - Hood rallies his gang of fast-talking friends to fight back, not with their fists... but with their streetwise rap!

Video


Independent British distributor Fabulous Films have licensed eighties 'treasure' "Rappin'" on to DVD in what is the movies first ever home media release in the United Kingdom. The feature is in the original aspect ratio of 1.85:1, but is non-anamorphic. Despite this, it looks pretty reasonable.

So the year is 2015 and here we are, still receiving non-anamorphic transfers! A bizarre move it must be said. Thankfully, that seems to be the only major problem with the transfer. In the opening credits, there is some noticeable dirt and minor damage, but once the credits are over the print is generally cleaner but with some small specks to contend with throughout the run time (more prevalent in external scenes), and some occasional brief scratches (64:32 for example). Colours look good, and although blacks can appear a little soft, they are generally strong. Brighter colours pop where required, but are also slightly muted to give some scenes the look of poverty the area is supposed to portray. Details are surprisingly strong, especially in scenes such as at 31:52, where mid-range litter the landlord's car crashes into and buildings in the background both show a surprising amount of detail for the format and for a film of this age. Close-ups also fare well with good levels of clarity in clothing and faces. Shadows are slightly more clunky, but are at least satisfactory. There is no aliasing or major banding, though there are some instances of edge enhancement noticeable (not to an extent worth worrying about). The transfer for "Rappin'" certainly won't be winning awards, but it is better than expected, and the majority of people will be satisified about everything apart from the fact it is non-anamorphic.

The feature is uncut and runs 88:52.

Audio


Fabulous Films have provided a single English Dolby Digital 2.0 Surround track, and it does the job. When the film relies heavily on eighties hip hop beats with family safe rap, then the track needs to be solid and show depth, which this manages to do with ease and we really benefit from the 2.0 surround over the slightly more basic stereo option we could've been given. Dialogue is understandable at all times, if lacking sharpness in some scenes. Channel separation is good and without misdirection. I'm sure the track would gain from a 5.1 upmix, especially with added bass, but I believe the 2.0 track is certainly worthwhile. There are a couple of very minor crackles that are barely noticeable, but apart from that, no issues to speak of.

No subtitles have been included.

Extras


Just a theatrical trailer (1:24)

Overall


"Rappin'" is absolutely awful, yet so charmingly hilarious that you can't help but enjoy it from the very first cheesy rap. It is worth picking up for a laugh. It's good to see another unreleased catalogue finally reach the UK, even if it isn't a major title.
| | | | | |
| --- | --- | --- | --- | --- |
| The Film: C- | Video: C | Audio: C+ | Extras: E | Overall: C- |