Glassland
R2 - United Kingdom - Kaleidoscope Home Entertainment
Review written by and copyright: Matthew Crossman (14th July 2015).
The Film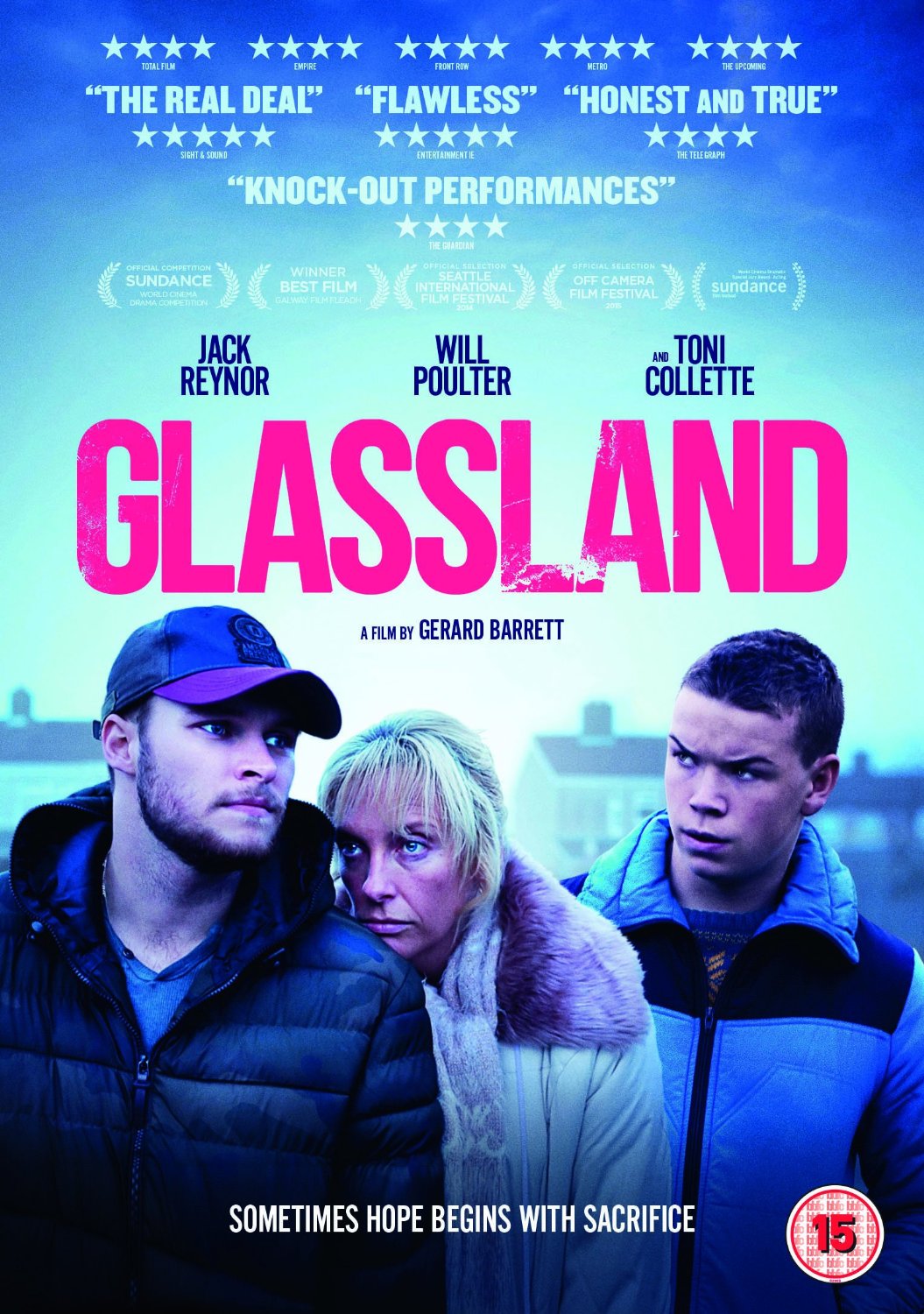 John (Jack Reynor) is a taxi driver who lives with his alcoholic Mother Jean (Toni Collette). John returns home one morning after working through the night to find his Mother unconscious in her own vomit. John rushes Jean to hospital where she recovers but this is a regular occurrence and John realises his Mother needs professional help. Jean has two other Sons. Mark, the eldest, who is only mentioned in passing and is never seen and Kit, who is Jean's youngest child. Kit is 18 years old and has Down's Syndrome. Jean blames Kit for the break up of the family as Jean's Husband left as soon as Kit was born and so consequently Jean blames Kit for her illness of alcoholism. John adores Kit and would do anything to see his family reunited but Jean will not even identify Kit as a child and describes him as 'a thing'. Kit lives in a home for people that suffer from Down's Syndrome but would love nothing more than to go home with John and be re-united with his estranged Mother. John manages to get his Mother into a programme for alcoholics but is warned that it is a Government funded scheme and the longest she will be able to stay is seven days. Jim (Michael Smiley), the man who runs the shelter for alcoholics manages to get Jean into a better, privately funded, shelter but it will cost John eight thousand Euros, money which John does not have. John then has to make a decision. To get his hands on that kind of money, and save his Mother's life, he will have to do something that is completely outside of his normal behaviour and that will change his life forever.

The crux of this film is would you do something morally repugnant if it meant saving the life of a family member? In this case John is put in that position. His life turns on two wheels. By night he works as a taxi driver, taking any and all jobs available, and by day he has to look after his Mother Jean who is drinking herself to death. The film puts us in John's shoes as he also see his best friend, Shane (Will Poulter), leaving Dublin to start a new life abroad. Shane quite clearly cannot see how lucky he is and it is obvious that John would love to change places with the happy-go-lucky Shane. John also has responsibilities to his Brother, Kit (Harry Nagle), who John adores. If anything it appears that John is willing to help his Mother so that he can therefore help his Brother realise his dream and come home to be part of the family.

Jack Raynor, fresh off 'Transformers: Age of Extinction', is on screen for nearly all of the film and carries it well. One cannot help but feel sympathy for John as he never asked for any of his situation and always does his moral best towards his family and friends. Toni Collette is excellent as the alcoholic Mother. Collette manages to capture the mood swings of the alcoholic perfectly and even delivers when given a rather clunky piece of exposition in the script. The supporting cast are all terrific, especially Michael Smiley as Jim. The direction from writer/director Gerard Barrett is unfussy and often leaves the camera static allowing the actors to become the focus of the film.

It is a powerful drama which is poignant and heartbreaking but with a glimmer of hope.

Video


The 2.35:1 anamorphic image is perfectly acceptable. The film is dark, and the grimness of the council estate and house where John and Jean live are captured well. It's certainly not going to be used by the Dublin Tourist Board as a reason to visit their fine city as the film focuses on the dirty underbelly of the housing estates instead.

Audio


English Dolby Digital 5.1 English Dolby Digital 2.0 Stereo are the choices. The 5.1 mix is subdued with the rear speakers only used for ambient noises such as rainfall or traffic so if you do not have the capabilities to play 5.1 I would suggest you are not missing much. The film does not have subtitles of any kind available. I think this is a particular oversight as not only people with hearing problems going to miss out but, particularly at the beginning of the film, the Irish accents are so thick it is difficult for anyone, save a native of Ireland, to understand some of the dialogue.

Extras


A trailer for the film is included and runs for 1 minute 51 seconds.

A series of cast and crew interviews are also included and these are a simple straight to camera interviews:
Gerard Barrett (Writer/Director) (10:07) - Barrett talks about where the title 'Glassland' came from. He also talks about John's relationship with his Mother and the juxtaposition of the characters of John and Shane.
Jack Raynor and Will Poulter (6:59) - Both actors discuss their characters and the back story to them plus they talk about how they worked with each other and what scenes they found most rewarding.
Jack Raynor (9:41) - Raynor talks about his preparation for the film and the differences between working on a blockbuster $300,000,000 film and a 350,000 Euro film like 'Glassland'. He also discusses the relationship between his character and his Mother.
Will Poulter (7:10) - Poulter talks about how he cultivated his Irish accent for the film and about how he felt overawed by his fellow cast members plus about how he and Raynor have bonded during the filming process.
Michael Smiley (6:14) - Smiley talks about how he got the part and about the back story of his character. He goes on to discuss how he normally gets parts that put him as the villain or a hit man and how it was going back home to his native Ireland to make a film.

Overall


Glassland is a slow burner but ultimately rewarding as a piece of drama. There is not a weak link in the cast and Director Barrett simply lets them do their work from his script. It can be difficult to follow at times as certain aspects within the story are deliberately ambiguous but ultimately this works to draw the viewer in rather than confuse them. Not the most cheerful of films to watch but certainly an honest one that wears it's heart on it's sleeve.
| | | | | |
| --- | --- | --- | --- | --- |
| The Film: B | Video: B | Audio: B- | Extras: B- | Overall: B- |

---
DVD Compare is a participant in the Amazon Services LLC Associates Program and the Amazon Europe S.a.r.l. Associates Programme, an affiliate advertising program designed to provide a means for sites to earn advertising fees by advertising and linking to amazon.co.uk, amazon.com, amazon.ca, amazon.fr, and amazon.de.