The Film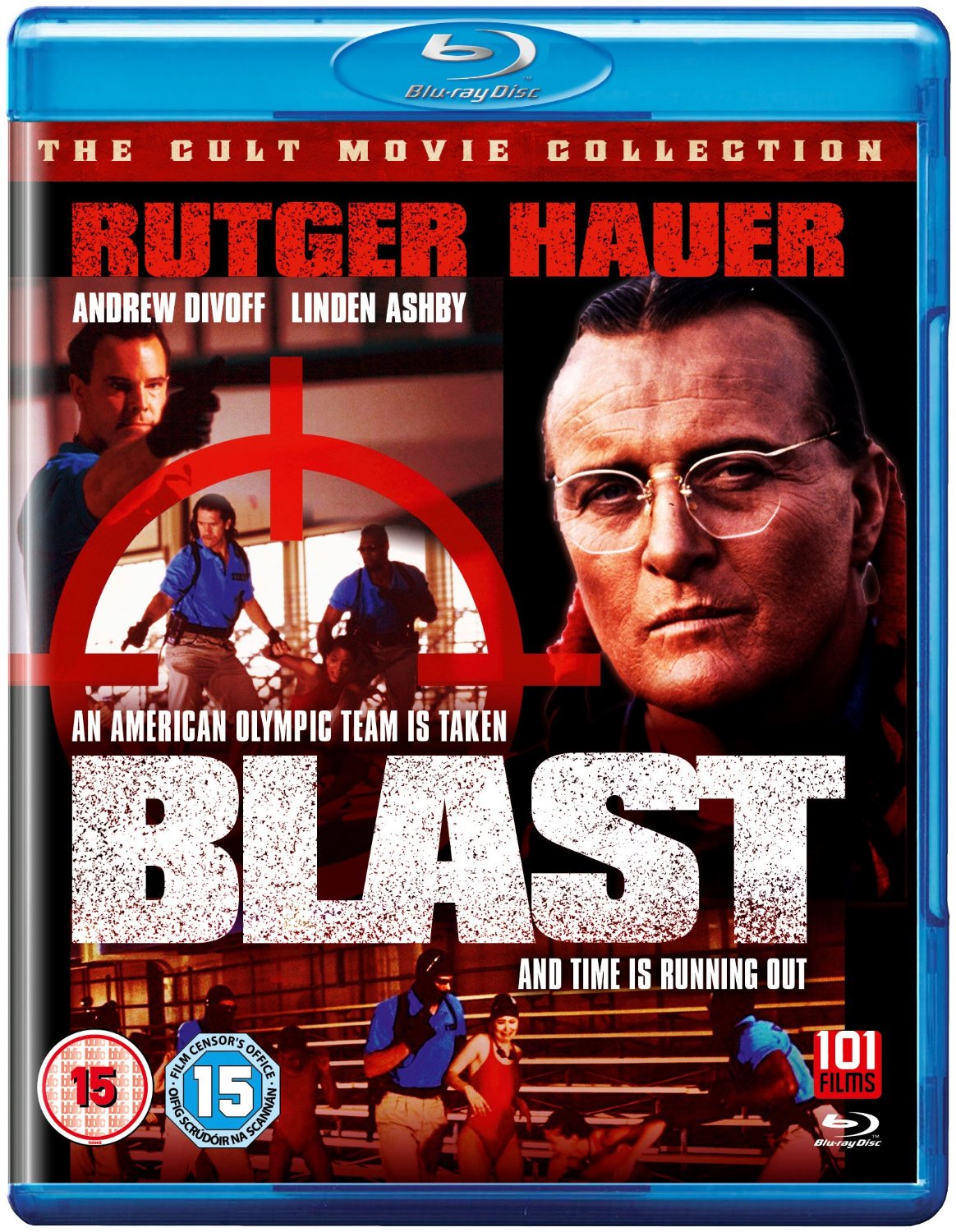 ***This is an A/V and Extras review only. For reviews on the movie from various critics, we recommend visiting HERE.***

Terrorism has a new arena.

Just before the games are about to begin at the Atlanta Olympics, a deadly team of terrorists led by Kalal (Andrew Divoff – WISHMASTER) mount a precision attack on the Aquatic Center and succeed in taking the US Women's swimming team hostage. The terrorists seal off the center and wire all the exits with powerful explosives. Unbeknownst to them, they have missed a janitor (Linden Ashby – MORTAL KOMBAT) whom is trapped in the sprawling complex.

Working against the clock, the FBI enlists the help of the mysterious Leo (Rutger Hauer – BLADE RUNNER), who coordinates his efforts with the trapped janitor to stop the terrorists in their tracks.

Video


Independent British distributor 101 Films complete a clean sweep of Albert Pyun's 1997 films with "Blast". Released under their Cult Movie Collection banner, it receives an AVC MPEG-4 encode and is 1080p. The transfer is 1.78:1, and is easily the better looking of the three releases.

First off, I have to wonder why 101 have again opted to release a film that has an original aspect ratio of 2.35:1 at 1.78:1. They have done this with all three of their recent Pyun releases, and it is a little annoying here as a couple of times there are some framing issues that affects what we see on screen. This title has a slightly more prevalent grain structure than "Crazy Six", though it is a very inconsistent. It does suffer from DNR, like a couple of frames at 24:56 shows hair going from reasonably detailed to just a block of blond with no detail, and at 92:30 where some tiles at the swimming pool above Rutger Hauer's head stop looking like tiles and instead turn into a blob of white with light blooming - thought the DNR isn't as enthusiastically used as other similar titles. When the terrorists set off a bomb to make a point, there is some fairly good detail of debris but some other effects seem a little off. There is also a weird effect around the lady on the right hand side at 5:52, making it look as though she was imposed into the scene whilst everyone else looks fine. This doesn't appear to be the result of the visual effects of a low budget title, though I'm not sure what has caused the anomaly. Close-ups can reveal more miniscule details, especially in the faces of the cast, but things like stubble do lack clarity at times. The odd scene shows a drop in quality and softer colours, usually when characters are being chased by the terrorists around the corridors of the sports complex. The print is clean apart from a couple of very minor specks here and there, with no major debris or scratches. There is some minor banding from time to time, but nothing too detrimental.

The feature is uncut and runs 99:12.

Audio


101 Films provide a single English LPCM 2.0 Stereo track for this release. When the feature first starts, and the Imperial Pictures logo unravels, there is a horrible crackling sound which made me a little nervous about what was to comes. Thankfully however, that was the only major issue bar some flat sounding dialogue at times. Like the transfer, this is the better audio of the three recent Pyun releases, with dialogue always clear (despite occasional lack of depth) and sound effects releasing some added oomph. The score is once again by Anthony Riparetti, and suits the tone of the film well, feeling tense at all the right moments. Apart from the crackle over the Imperial logo, there is nothing to worry about. No drop outs, pops or background hiss. Plenty of room for improvement, but sounds fine overall for a film of this ilk.

No subtitles have been included.

Extras


None.

Overall


This is essentially a poor man's "Die Hard", but instead of fighting terrorists at Nakatomi Plaza, our lone wolf fights terrorists at an olympic swimming stadium. It may be a far cry from being as good as "Die Hard", but it is certainly worth watching with a few beers and enjoying for what it is.
| | | | | |
| --- | --- | --- | --- | --- |
| The Film: C+ | Video: C+ | Audio: B- | Extras: F | Overall: C+ |