The Film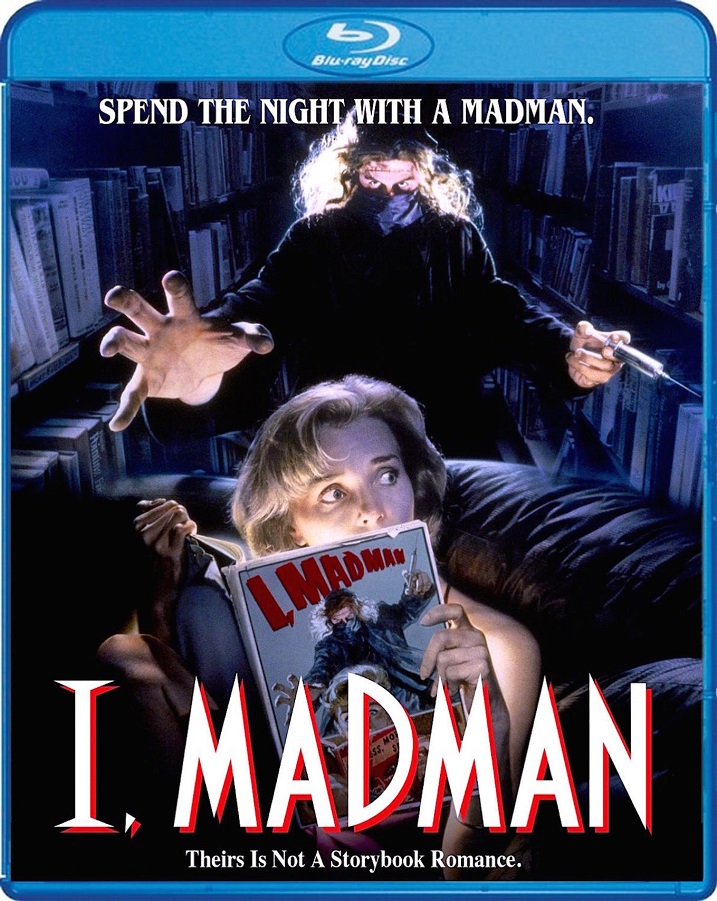 It can sometimes be both frustrating and fascinating to look over a director's career path and wonder how it got off track. Take someone like Fred Dekker, for instance. The guy knocks his first two directorial efforts out of the park, with "Night of the Creeps" (1986) and "The Monster Squad" (1987) becoming instant cult classics. He then directs "RoboCop 3" (1993) a few years later and, thanks to that film's notoriety for being a massive failure, is more or less never heard from again. Canadian director Tibor Takács didn't drop off the map like Dekker; however, he did exit horror filmmaking after delivering two minor cult classics – "The Gate" (1987) and "I, Madman" (1989) – and one underrated sequel, "The Gate II: Trespassers" (1990). Each of those three films is unique; featuring moody scores, a foreboding atmosphere and impressive stop-motion FX work from Randall William Cook. Post-"The Gate II", Takács segued into directing television and didn't return to horror until over a decade later. By that time, sadly, whatever magic he'd used to make his early films had evaporated.

"I, Madman" stands as an original horror film that successfully combines two genres: horror and film noir. Takács' pulpy tale centers around Virginia (Jenny Wright), an erudite bookstore employee who often gets lost in the pages of the lurid horror novels she habitually reads. Her latest obsession is with the works of Malcolm Brand (Randall William Cook), of which there are just two novels – "Much of Madness, More of Sin" and "I, Madman", the latter of which Virginia can't seem to locate. One day, however, it unexpectedly arrives on her doorstep. She immediately dives in, unable to put down Brand's grotesque love story about a deranged doctor, Kessler (also played by Randall William Cook), who is infatuated with actress Anna Templar. Kessler has removed his own face (think Mason Verger, if he were a surgeon) and reassembles it using severed facial features from those he has killed. As Virginia reads on, the words of fiction spill over into the real world and many of those closest to her wind up becoming victims of Brand/Kessler. The local police, of whom her lover Richard (Clayton Rohner) is one, think she's loony for suggesting a book character has come to life and is stalking her. Brand is relentless is his quest for Anna/Virginia, leaving a wake of bodies before a fateful meeting with his true love.

It's a bit hard to explain the plot of "I, Madman" because the film vacillates between reality and fiction so often – and so seamlessly – that it can be difficult to tell where one ends and another begins. This is, of course, intentional. Takács' film uses a standard noir boilerplate and elevates it immensely by reversing roles and blending in heavy elements of horror and fantasy. Virginia is the film's proverbial private eye. She's constantly nosing around, digging deep into the history of Brand and his estate. She walks down dark alleys. She smokes cigarettes. Her cop boyfriend, typically the hero in films like this, is second banana here. Virginia does all the heavy lifting, and it's her keen wit during the climax that makes all the difference.

One little touch I absolutely love is that Virginia lives in an apartment right next door to a large piano restoration factory. Late at night, when her windows are open to let in a cool breeze, the factory's security guard sits down at a piano and plays beautiful music that makes him an unwitting composer of the film's score. Just like the images seen on screen, the music exists in a place between diegetic and non-diegetic. It's a cool little touch.

Remember how cool those little evil minions from "The Gate" are? Randall William Cook once again handles FX duties here – applying his own makeup to become Kessler/Brand – and, once again, he puts in some serious effort to pull off impressive stop-motion animation. One scene in particular involves cutting between live-action and stop-motion characters as they fight to the death, and Cook makes the transitions look seamless. The jackal boy is a great example of an artist having a signature design style without aping his own material, too. On the non-stop-motion front, every death in the picture is gruesome and features bloody, realistic, nasty wounds.

Originality in horror isn't always easy to come by, and seeing it done well can be even harder to find. "I, Madman" is an excellent underrated gem and it's great to see Scream Factory giving it some proper love and exposing it to a whole new audience who may not have even known it exists.

Video


Until now, the only way to see "I, Madman" on home video was an unmatted full-frame DVD. Scream Factory has gone widescreen with their release, with a 1.85:1 1080p 24/fps AVC MPEG-4 encoded picture that looks great. Colors are mostly muted, with the exception of colored lighting gels that add punctuation to a drab palette. Black levels look rich and dark. Film grain occasionally spikes as the movie moves from day to night, from in-camera to optical effects, but it never looks noisy. The print used for this transfer has only very minor flecks and damage, leaving the image mostly pristine.

Audio


There are English DTS-HD Master Audio tracks included in both 5.1 and 2.0 stereo, of which the latter worked better for me. This film was mixed in Ultra Stereo originally and it sounds more concentrated with the stereo option. There isn't very much going on in the rears in the multi-channel track anyway. Dialogue is clear and the track is clean. The score is a highlight but otherwise it's a bit dated and lacking in weight. Subtitles are available in English for the hearing impaired.

Extras


Finally, a proper special edition for one of Takács' earlier films. "I, Madman" features an audio commentary, making-of featurette, theatrical trailers, extra footage and a still gallery.

Director Tibor Takács and actor/artistic supervisor Randall William Cook sit down for an audio commentary track with Icon of Fright's Rob Galluzzo. It's breezy, chock full of information and a lot of fun.

"Ripped From the Pages – Making "I, Madman"" (1080p) is a featurette that runs for 33 minutes and 23 seconds. As you'd expect from Scream Factory, this piece covers every point along the way from inception to release. It's too bad they weren't able to get Wright to appear here.

"Behind the Scenes Footage with audio commentary by Randall William Cook" extra footage (SD) runs for 11 minutes and 7 seconds. After watching Cook apply his own makeup, we see the intricate choreography required to "fight" with a stop-motion creature.

The theatrical trailer (1080i) runs for 2 minutes and 11 seconds, under the name "Hardcover".

A video trailer (1080i) runs for 1 minute and 16 seconds.

There's a still gallery (1080p) with audio commentary once again by Randall William Cook, running for 6 minutes and 47 seconds.

Packaging


The single disc comes housed in a standard Blu-ray keep case.

Overall


I really like this movie. A lot. Takács had magic at his fingertips for just a couple short years, but in that time I think he made some really fun, occasionally unique horror pictures.
| | | | | |
| --- | --- | --- | --- | --- |
| The Film: A- | Video: B+ | Audio: B | Extras: B+ | Overall: B+ |