Chocolate City
R1 - America - Paramount Home Entertainment
Review written by and copyright: Eric Cotenas (8th August 2015).
The Film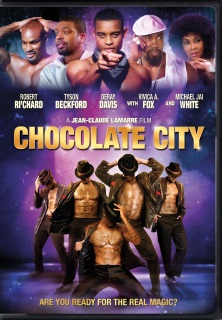 "Y'all heard of Magic Mike? Well, we gonna add a little chocolate," says Chocolate City M.C. Princeton (Michael Jai White); but despite director Jean-Claude La Marre's seeming goal of putting a different spin on Steven Soderbergh's provocative hit film, everyone from the writer (also La Marre) to the cast simply go through the motions like a weekday stripper working the early shift. Flipping burgers just isn't cutting it for college student Michael McCoy (Robert Ri'chard) – get it "M.M." – with his older brother Chris (DeRay Davis) chronically unemployed and his mother Katherine (Vivica A. Fox) working herself to death just to keep the lights on. When the suave Princeton slips Michael a business card in the restroom of a female strip club with the promise of easy money, Chris pushes him to follow up on it. Both are surprised to discover that Princeton (looking more like Prince in his work attire) has invited Michael to strut his stuff on amateur night at a male strip club. An instant hit with the ladies, Michael – or "Sexy Chocolate" as his brother/manager christens him – is not only instantly hired but becomes immediately unpopular when he is shuffled into the performance order ahead of Magnus (Darrin Dewitt Henson) which the latter feels will have an impact on the amount of tips. Fellow dancer "Rude Boy" (Tyson Beckford) requires no such reason to hate the younger man and tries to intimidate him into quitting. As Michael and Chris rake in the money (Chris tells his mother he's "selling chocolate"), his mother soon begins to suspect that Michael has fallen in with the wrong crowd and is involved in criminal activity. It is just a matter of time, however, before his girlfriend Carmen (Imani Hakim) realizes that his sudden cash flow is from something other than working with children when sassy friend DeeDee (Eurika Pratts) persuades her to give the studies a rest for a night and come out to a special club. Like the other African American Magic Mike-pretender American Bad Boy, director La Marre also appears onscreen as Pastor Jones – the protagonist of a series of direct-to-video features by La Marre – and voice of morality, but he remains ignorant of what has been going on within his flock and does not need to reexamine his moral stance. As such, there's no novelty to the overfamiliar scenario which could have stood to be more outrageous and subversive rather but remains by-the-numbers unambitious. The only performers with any real conviction are the background dancers – the one that inevitably gyrates to "My Pony" turns out to be the artist himself Ginuwine – and supermodel Beckford who seems more interested in proving that he is still wrinkle-free and limber than in playing a villain in a half-hearted subplot (also yanked out of the nineties is Carmen Electra as the club DJ).

Video


Shot on RED Cameras, Paramount's single-layer disc has a respectable progressive, anamorphic encode for a film that was never going to get the deluxe treatment.

Audio


The English Dolby Digital 5.1 track mainly uses the surrounds for music and atmosphere during the club scenes. Optional English SDH and French subtitles are included along with English closed captioning.

Extras


The sole extra is a blooper reel (5:51) focusing mostly on the cast trying to master the choreography.

Overall

---
DVD Compare is a participant in the Amazon Services LLC Associates Program and the Amazon Europe S.a.r.l. Associates Programme, an affiliate advertising program designed to provide a means for sites to earn advertising fees by advertising and linking to amazon.co.uk, amazon.com, amazon.ca, amazon.fr, and amazon.de.